DSEI Exhibition – 12-15 SEPTEMBER 2023 – Excel – London,
Stand Number H2-514
Lane Electronics,  a market-leading franchised distributor for many of the industry's major electrical, electronic and optical connector manufacturers will be welcoming visitors to its stand at DSEI 2022 where they will be displaying the latest connector innovations and demonstrating their UK based assembling and value add services.
Lane Electronics will be introducing their latest franchise at the exhibition, the FIBRECO range of expanded-beam connectors and cable assemblies, which offer high performance, flexible, cost-effective solutions to critical harsh environment communication applications.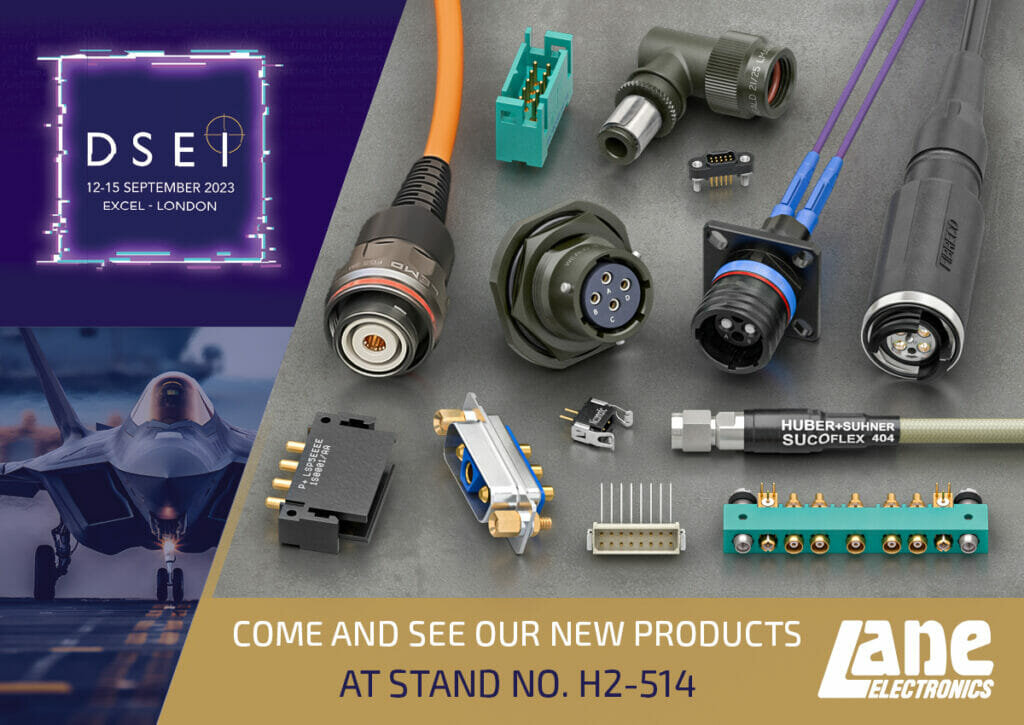 In addition, a wide range of connectors and accessories from Lane Electronics' other key suppliers will be available for visitors to discover, including:
Souriau MIL-DTL-38999 connectors and derivatives including JVS, high power and ELIO fibre-optic and the micro-38999 range as well as the 8STA and rectangular microComp metric-pitch connector and their rack and panel stackable and power connectors.
Weald Electronics LMH, LMG, LMF, LMJ and MG circular connectors and a number of popular PCB connectors such as the 801/801CX.
Huber & Suhner RF and Microwave connectors and cables.
Positronic SCORPION and high-power Goldfish connectors along with their widely used standard, sealed and combo D-Sub connectors.
Nicomatic CMM, DMM, EMM and AMM high-density rectangular connectors,
LEMO M series micro-circular and the similar F series with quick push-pull mating.
LEMO M Series high power connectors.
Neutrik powerCON, etherCON and opticalCON.
Lane Electronics will also be showing their comprehensive selection of accessories including backshells, dustcaps and blanking/shorting covers from Weald Electronics and heatshrink boots and shapes from HellermannTyton.
Nick Wheeler, Sales Director at Lane Electronics, says, "Our products cover a wide range of Defence and Security Equipment applications that are so well represented in this exhibition. Our last DSEI exhibition was in 2019 and we are very much looking forward to meeting with our customers in this vibrant exhibition atmosphere after such a long time."
As a leading franchised distributor for many of the industry's major electrical and electronic connector manufacturers, Lane Electronics are the preferred connector source across many industry sectors including defence, avionics, motorsport, marine, communications, medical, test and measurement, general industrial solutions and geophysical. A major source for all key connector types, Lane Electronics has a multi-million-pound connector and piece-part stockholding and can offer next-day delivery.
For more information call +44 (0) 1403 790 661, email [email protected] or visit https://www.fclane.com/