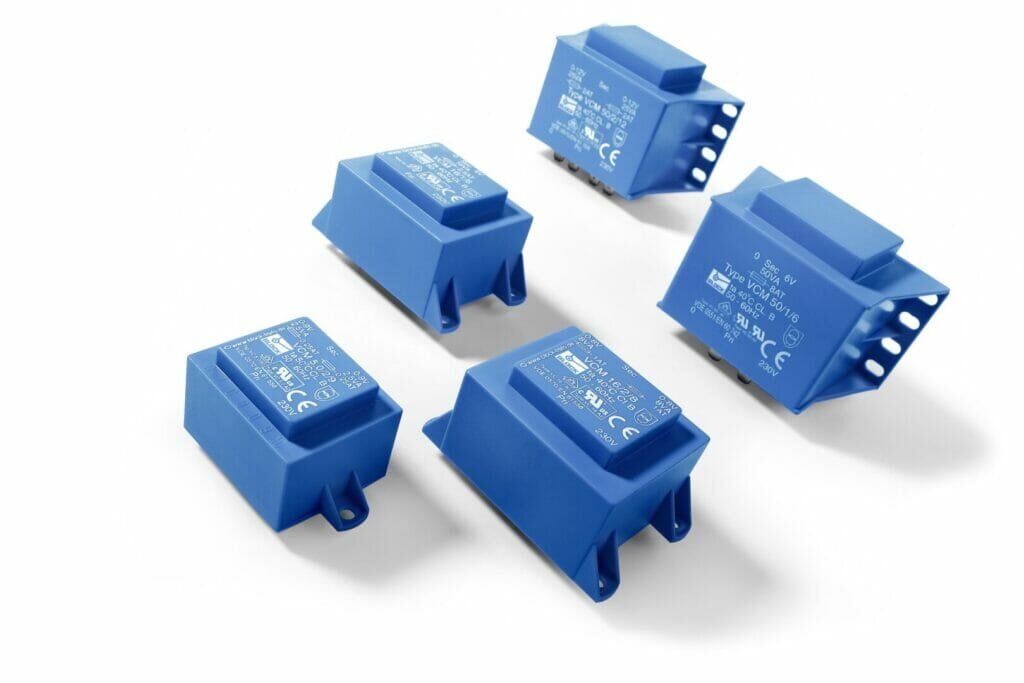 Power output range from 0.35 VA to 50 VA
450 Versions across 6 product ranges
Agile Electronics, specialists in supply chain solutions, electronic kitting and turnkey manufacturing, can now supply PCB mounted power transformers from BLOCK. Block is one of the largest manufacturers of transformers, power supplies, electronic circuit breakers and uninterruptible power supplies for the reliable supply and distribution of power.
BLOCK PCB transformers are vacuum moulded, providing a rugged, reliable and very high proof voltage device. When designed into a PCB mounted product for use as a power transformer they provide safe electrical isolation between power input and output sides, providing the function of an isolating or safety transformer.
BLOCK's wide range of standard PCB Transformer solutions provide an ideal power supply for circuit design, from basic transformers to devices offering absolute or limited short-circuit protection. Key standard features include:
• Minimal footprint with high power output
• Double input and output voltage for series or parallel connections
• Power output 0.35 VA to 50 VA
450 transformer versions are available from 6 product ranges:
Short-circuit proof PCB transformer, versions with dual output voltage, input 230 Vac, output 6 – 24 Vac, 0.35 – 3.2 VA
– Short-circuit proof encapsulated PCB transformer, input 2 x 115 Vac, output 2 x 6 – 2 x 24 Vac, 0.35 – 3.2 VA
– versions with dual output voltage, input 230 Vac, output 6 – 24 Vac, 3.2 – 16 VA.
– versions with dual output voltage, input 230 Vac, output 6 – 24 Vac, 5 – 50 VA
– encapsulated, input 2 x 115 Vac, output 2 x 5 – 2 x 24 Vac, 2 – 52 VA
– short circuit proof, encapsulated, input 230 Vac, output 6 – 2 x 24 Vac, 4.5 – 30 VA
Sarah Eddowes, Director of Agile Electronics, says "The addition of BLOCK PCB power transformers to our portfolio not only adds value to our kitting service but also provides UK customers with a local, reliable sales channel for their own requirements."
Agile Electronics services a wide variety of industries, such as industrial, transport and communications, and can provide complete sub-assembly solutions enabling customers to stay focused on their core business aims. Agile works with their customers to provide a distribution service addressing problems or single-itemed vendors. They can also consolidate suppliers to reduce inventory, streamline invoicing and order procurement, reduce transactions and bottom-line costs, and improve customer's end profits.
Agile have a wide-ranging knowledge of the electronics industry allowing them to source any manufactured part and keep customer projects running on time and budget. Their bespoke kitting software and extensive knowledge of assembly techniques allows attrition to be factored into projects, ensuring customer's production runs are completed in full, the first time.
Agile are ready to discuss any potential requirements and are happy to provide advice on projects or problems customers may be facing.
For more information on BLOCK Transformers from Agile Electronics visit and for information on all of Agile's services please call +44 (0)1953 571525, email [email protected] or visit www.agileelectronics.co.uk