Ritchie Engineering Solutions, based in North Essex, is a family business which prides itself on bespoke engineering product design and manufacturing quality items. Run by brothers Duncan Ritchie and Alasdair Ritchie, the company has a strong ethos for precision engineering which feeds into everything they design and produce.
A concept-to-cart company which now produces parts for Motorsport, automotive and aerospace industries, Ritchie Engineering Solutions came from humble beginnings. Back in the 1980s, Duncan and Alasdair's father left his full-time job to follow his passion: producing steam launch engines. From the shed in the back garden, Ritchie worked alongside one other employee John Riffel, to build his business. During this time of manufacturing steam engines and steam plant, Ritchie's thermodynamic and mechanical engineering expertise lead him to be invited to work on Richard Branson's hot air balloon in the mid 1980s. Ritchie was tasked to produce the high altitude propane burners and capsule pressurisation equipment, which would fly the balloon from the US to the UK. A world's first! The balloon successfully completed its journey thanks to the work and innovation of craftsmen and engineers throughout the country, including Ritchie.
After the passing of his father, Duncan and Alasdair decided to carry on the legacy of Ritchie Engineering Solutions. Still running from the shed in his mother's garden, they managed to squeeze in a CNC Lathe and 4axis CNC mill, and from this business began to steadily grow. Alasdair, who had in the meantime completed a degree in engineering design, left his full-time job to team up with Duncan 8 years ago, and since then the brothers have built up Ritchie Engineering into a successful business. Moving on from their mother's shed, the brothers now have premises in North Essex where they currently have 9 dedicated employees and have invested more than £1.2m in the company.
On the road to becoming what is now a much larger operation, Ritchie Engineering Solutions made contact with Ceratizit UK for guidance with machine inserts and tooling. Adam Cross, Technical Sales Engineer for Ceratizit UK, first started visiting Ritchie Engineering in 2015. Having first started visiting Ritchie Engineering Solutions in the days where they were still based in a shed, Adam has been a constant source of technical support to the brothers.
Once Ritchie moved to their new premises and invested in more machines, Adam helped them to solve problems as they arose and worked with the engineers to optimise their processes in order to make profit from what they were producing. Duncan commented how 'Working with Adam has been invaluable and has been integral to our journey. He never just sells us tools; he solves problems for us and helps us to improve our processes. Working with him has given us the confidence to quote on jobs and be more competitive in the engineering industry. He is always at the end of the phone, and we've never had any problem contacting him if we need him. We really can't sing high enough praises of him or thank him enough for what he has supported us to achieve.'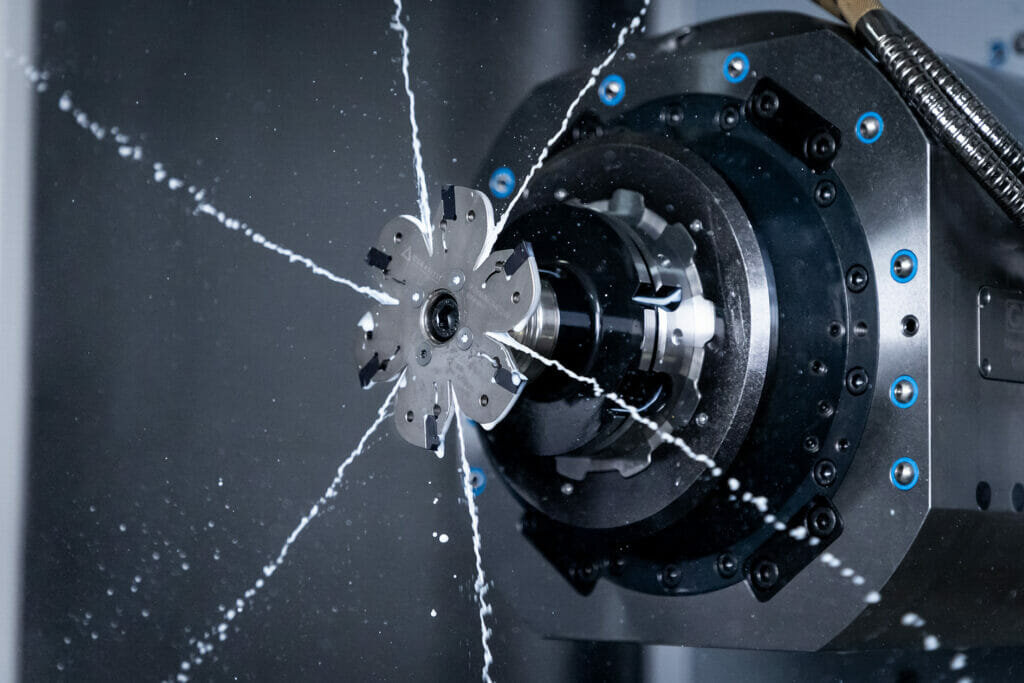 Adam visits Ritchie Engineering Solutions on a regular basis and has a constant line of communication with the brothers. Aside from Adam's support, Ceratizit's tooling has had a huge impact on the costs and operations in the workshop. On the Matsuura machine, which is running 24/7 in the workshop, Ceratizit's inserts have more than doubled the tool life than the ones which were previously used, which has equated to a considerable saving in tooling costs. The MaxiMill SX indexable Parting Off tool from Ceratizit has been a standout product for the company, as the reliability of this part has meant that they have been able to run more single operation jobs and conduct more lights out running. This has allowed products to be manufactured much quicker and with considerably less scrap from damaged parts.
Alasdair explained that 'Investing in Ceratizit's tooling has always been worth it for us, as investment in quality tooling achieves a longer tool lifetime and more reliability, which in the long run saves you a lot of money. They have a holistic view to tooling in this way, it's never just about them making a profit, everything they recommend to you is done with consideration for your own processes and the profitability of these.'
Like many companies who work in partnership with Ceratizit, Ritchie have a Ceratizit vending machine in the workshop so that inserts and tools can be accessed immediately. Duncan described how 'there are two practical elements to have the vending machine here. Firstly, it means that there is a robust supply chain, and secondly that we have spares available when we need them. Their tooling is now an integral part of our everyday machining, so having parts on demand is brilliant for us.'
Ritchie Engineering, with Adam's support over the years, have grown into a business which is able to retain competitiveness whilst not compromising on the quality of what they produce. This ethos for quality, which has been passed down by their father, lies at the heart of Ritchie Engineering. True to the heritage of where the business began, they still produce parts for hot air balloons, although these have advanced since their original designs from the 1980s!
Alasdair and Duncan are looking to the future of Ritchie Engineering Solutions optimistically and are excited to see what is in store for the company in the coming years. Duncan commented that 'We are excited to see what's to come for Ritchie. The constantly evolving tool range from Ceratizit means that we can improve our processes as and when appropriate tools and associated cutting strategies are recommended to us.' Whilst they are now working towards achieving more accreditations in aerospace, more of their bespoke designs are bound to be in the skies in coming years.