Optical Surfaces Ltd. reports how high precision off-axis parabolic mirrors it is supplying to OPTIKOS Corporation (Wakefield, USA) function as key components for collimation in their OpTest® product line of MTF measurement devices.
Founded in 1982, OPTIKOS Corporation is a leader and pioneer in lens and image testing, and their products and systems are based on over forty years of experience and innovations in optical engineering. While other suppliers compromise by manufacturing their systems around off-the-shelf components, OPTIKOS OpTest® systems are composed almost completely of custom optics, mechanics, and electronics designed solely for the purpose of lens testing. The modular components of OPTIKOS OpTest® systems allows them to be configured to test a wide variety of VIS, NIR, SWIR, MWIR and LWIR lenses.
Dr Aris Kouris, sales director at Optical Surfaces Ltd said "Over the last 3 years we have supplied a range of different off-axis parabolic mirrors (120 – 350mm diameter) to OPTIKOS Corporation for their customer specified optical testing systems. The main challenge in manufacturing the high precision mirrors is associated with their very demanding slope errors. Typically, such errors for the supplied off-axis parabolic mirrors must be very low (something like Lambda/20 P-V/cm) and particularly good around the centre. The latter, allows labs to use the instruments manufactured by OPTIKOS for a wide range of sizes in a reliable manner, since the very high quality of the mirrors near the centre enables users to test optics reliably even when the aperture of these lenses is quite small. As such, labs can use OPTIKOS instruments to reliably test optics that could start with as little as 30mm in diameter and up to full aperture that each individual Off-axis parabolic mirror allows".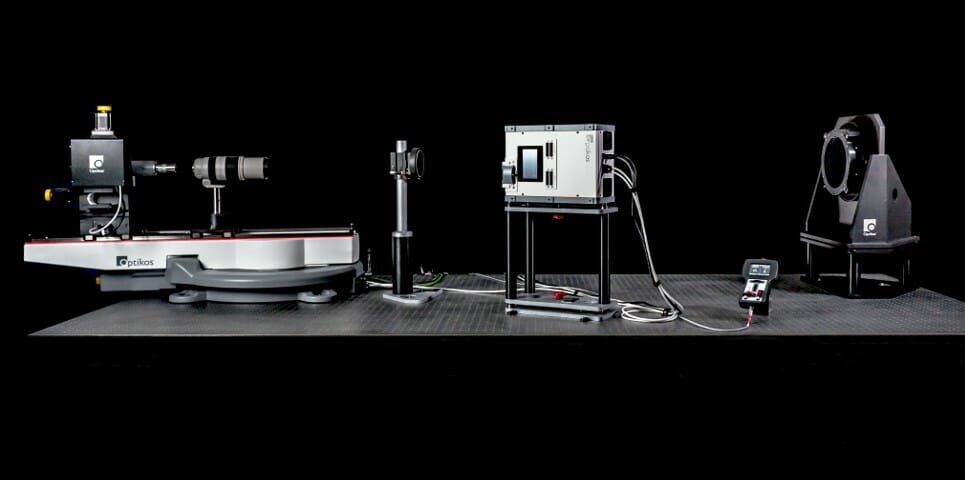 Director of Operations at OPTIKOS Corporation – Dennis Fantone commented "When sourcing key components for our instruments, it is important to trust and collaborate with suppliers that have a good understanding of our customer's needs and can translate this into reliably producing top quality optics.  The state-of-the-art off-axis parabolic mirrors that Optical Surfaces manufactures for us helps extend the capabilities of our advanced optical testing instruments".
Over the last 60 years – Optical Surfaces has established itself as a world leading producer of high precision off-axis parabolic mirrors. Benefiting from a highly skilled team of engineers and craftsmen, and a uniquely stable manufacturing environment, the company can routinely produce OAP mirrors with surface accuracy to lambda/20 (peak-to-valley) depending upon off-axis angles. Using proprietary polishing techniques Optical Surfaces can, depending on the surface accuracy required, achieve the natural limit to the off-axis angle of around 25-30 degrees and surface micro-roughness of less than 1 nm. A range of coatings is available for standard and custom components from metallic with or without protective overcoat to multilayer dielectrics and ultra-hard coatings.
To learn more about the advanced optical testing instruments from OPTIKOS Corporation please visit  https://www.optikos.com/lens-testing-equipment/.
For further information on high precision off-axis parabolic mirrors please visit https://www.optisurf.com/index.php/products/off-axis-paraboloids/ or contact Optical Surfaces Ltd on +44-208-668-6126 / [email protected].
Optical Surfaces' ISO 9001-2015 approved manufacturing workshops and test facilities are deep underground in a series of tunnels excavated in solid chalk. This provides an environment where temperature is naturally thermally stable, and vibration is extremely low. With such stable conditions testing of high precision optical components and mounted mirrors becomes quantifiable and dependable. In addition to these natural advantages, Optical Surfaces has invested in an extensive range of test equipment and have developed methods to ensure accurate and reliable testing.