PTC has announced a major 'cloud' breakthrough for its industry-leading computer-aided design (CAD) solution.
Creo+™ combines the power and proven functionality of Creo with new cloud-based tools to enhance design collaboration and to simplify CAD administration.
Building on the market-leading capabilities for model-based definition, simulation-driven design, and advanced manufacturing, the software as a service (Saas) includes real-time design collaboration tools to enable multiple team members to review, explore, and edit product designs.
Creo+ also includes the PTC Control Center™ application, powered by the PTC Atlas™ SaaS platform, which enables simple deployment and management of software licenses for cloud-based tools.
"With this latest development, our customers will be able to design faster, easier, and more collaboratively than ever before," said Brian Thompson, General Manager of Creo at PTC.
"We've combined the market-leading design capabilities of Creo with productivity benefits that can only be achieved through the power of the cloud. Now, Creo+ users can collaborate on the same designs simultaneously with internal and external partners, which helps accelerate the development process and reduce redesign.
"This release is a significant milestone for our customers, for PTC, and for the entire CAD industry."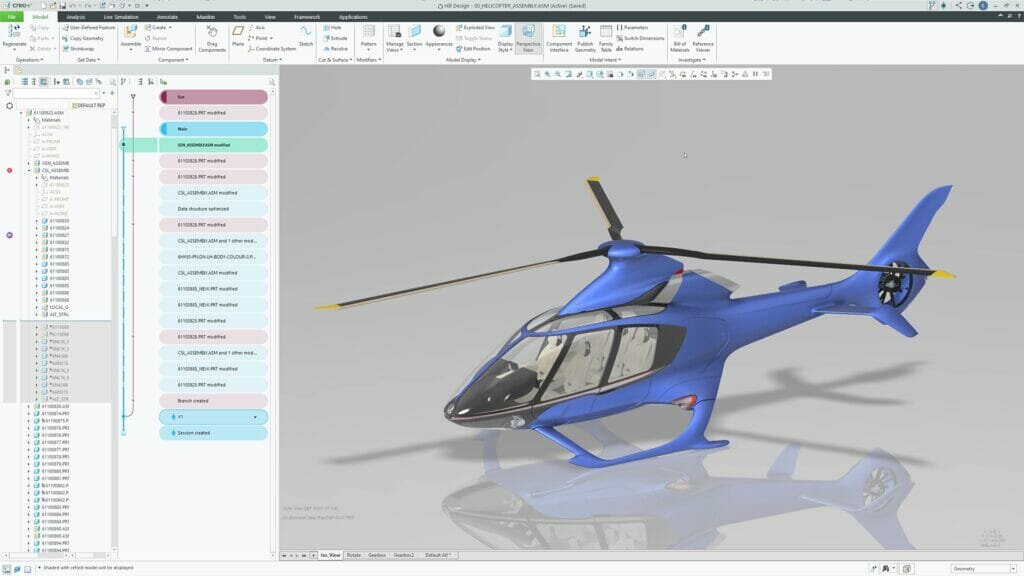 With Creo+, customers have access to:
Real-Time Collaboration and Branching Tools: Teams can collaborate in real-time to review, explore, and edit product designs using a dedicated workspace with any number of people. This drives early design feedback from manufacturing, suppliers, and other stakeholders, while promoting concurrent design rather than sequential design. Easy-to-use branching tools provide visibility to exploration activities, and when ready, these exploration branches can be merged back into the main design.
PTC Control Center: Administrators can deploy and update Creo+ across the organisation from a single desktop, minimising the time spent installing, configuring, and updating the software. Creo+ enables users to be more efficient when assigning and deploying named licenses and adjusting licenses according to user requirements. The PTC Control Center is accessible with a simple cloud-based interface.
Creo+ is fully upwards compatible from on-premises versions of Creo and is built on the same core technology as Creo, so no data translation is needed.
In addition to the release of Creo+, PTC announced the simultaneous release of Creo 10. With this solution, users can now design and simulate with composite materials for lighter products that maintain strength and durability.
Additionally, it introduces Ansys-powered thermal stress as well as non-linear materials and contact simulation, which significantly broadens addressable simulation-driven design use cases.
Creo+ includes all the capabilities of Creo 10.
For additional information on both offerings, please read the "What's New in Creo 10 – and Creo+" blog on PTC.com.
About PTC
PTC enables global manufacturers to realise double-digit impact with software solutions that enable them to accelerate product and service innovation, improve operational efficiency, and increase workforce productivity.
In combination with an extensive partner network, the company provides customers with flexibility in how its technology can be deployed to drive digital transformation – on premises, in the cloud, or via its pure SaaS platform.
For more information, please visit www.ptc.com.
PTC, Creo, Creo+, PTC Atlas, PTC Control Center and the PTC logo are trademarks or registered trademarks of PTC Inc. and/or its subsidiaries in the United States and other countries.