Single-phase, high performance power supplies
Maximum power in minimum space
From 120 to 960 W
5A, 10A and 20A models available from stock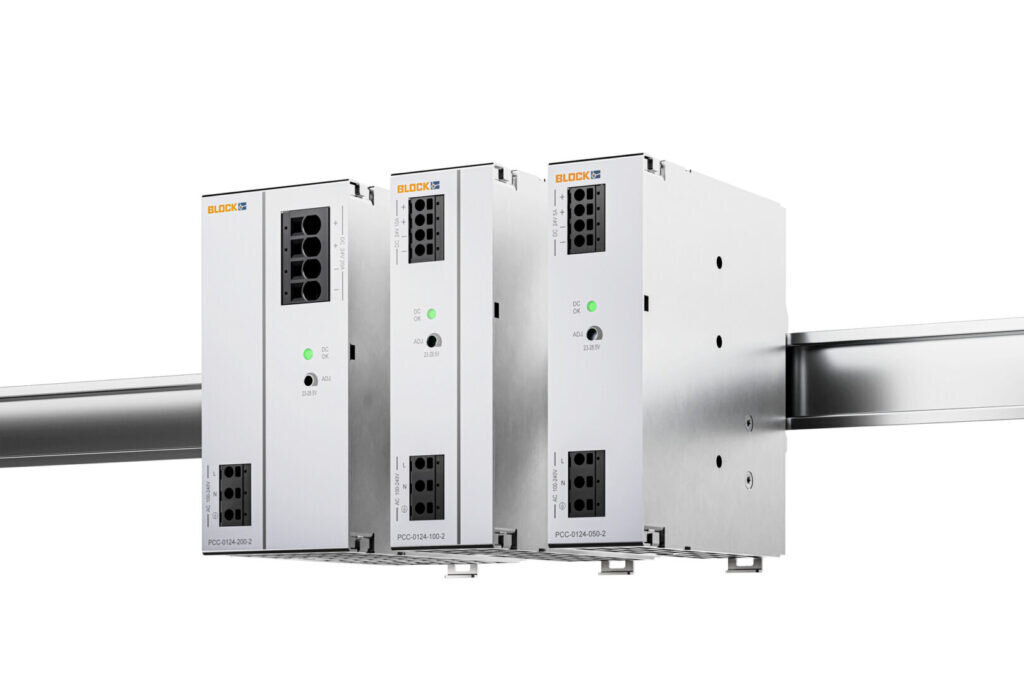 Agile Electronics, specialists in supply chain solutions, electronic kitting and turnkey manufacturing, are now an authorised reseller for BLOCK Power Compact Champ (PCC) DIN-Rail power supplies. The new single-phase PCC series is a market-leading technically and economically superior product featuring a light weight, space saving slim-design, excellent communication capabilities and maximum power reserves for optimum system reliability, while being highly cost-effective. Available with power ratings from 5 A – 40 A the PCC series offers maximum system availability and is robust and flexible, meeting the needs of a wide range of applications such as industrial, automation, instrumentation, test and measurement, smart buildings and industry 4.0.
These multi-application power supplies will meet the most demanding requirements and challenging environmental conditions of temperature range, shock and vibration, mains fluctuations and high-energy overvoltage pulses. The PCC series has been designed around the core functionality of a power supply – reliable power even under difficult conditions – while being a compact design with market-leading electrical and mechanical robustness, high reliability and long service lifetime.
Key features include:
Top Boost – Enables the use of conventional circuit breakers for selective protection of DC 24 V power supply circuits.
Power Boost – large power reserves secure the start-up of loads with high inrush currents.
Mains input fuse – integrated fuses permit device protection without the use of required preliminary fuses.
Monitoring – interfaces and configurable signal outputs ensure extensive input and output supply monitoring possibilities.
Software-free parameter diagnostic software is available for devices with integrated interfaces.
Active inrush current limiting – options are available which limit inrush currents to a minimum, avoiding unwanted tripping of the upstream fuse.
High efficiency and compact design.
Protection against shock and vibration.
Protection against transient mains overvoltage events.
Wide range of safety standards and approvals.
Complies with the latest EMC standards.
Transient protection up to 2 kV L- N.
Transient protection up to 4 kV (L, N) – PE.
Overvoltage category lll.
Sarah Eddowes, Director of Agile Electronics, says "We are very pleased to have been appointed as an authorised reseller for the new BLOCK PCC DIN-Rail Power Supply series. We can now sell these industrial power products to our customers as part of our kitting service as well as integrate them into our box-building service which further enhances our capabilities."
Agile Electronics services a wide variety of industries, such as industrial, transport and communications, and can provide complete sub-assembly solutions enabling customers to stay focused on their core business aims. Agile works with their customers to provide a distribution service addressing problems or single-itemed vendors. They can also consolidate suppliers to reduce inventory, streamline invoicing and order procurement, reduce transactions and bottom-line costs, and improve customer's end profits.
Agile have a wide-ranging knowledge of the electronics industry allowing them to source any manufactured part and keep customer projects running on time and budget. Their bespoke kitting software and extensive knowledge of assembly techniques allows attrition to be factored into projects, ensuring customer's production runs are completed in full, the first time.
For more information on BLOCK Power Compact Champ (PCC) DIN-Rail power supplies available from Agile Electronics click here https://agileelectronics.co.uk/block-power-supplies/ or for information on all of Agile's services please call +44 (0)1953 571525, email [email protected] or visit www.agileelectronics.co.uk