Having installed a multitude of large-capacity gantry-style milling machines worldwide, Starrag UK is in the enviable position of not only being able to showcase its established expertise at combining machining centre operations (boring and drilling, as well as milling) on oversized parts, but it can also demonstrate how it can skillfully complement machining with applications engineering on very large workpieces in all material types. The result is globally-leading solutions for accurate and cost-effective production.
Part of Starrag UK's dedicated large parts solutions, up to six-axis Droop+Rein gantry milling machines (also capable of turning) feature fixed portal/moving table and overhead gantries, have main motors of up to 150 kW. Gantry models have spindles rated at up to 100 kW and machine tables can be 30,000 mm long – which can be supplied in different configurations including rotary and turning options.
Importantly, Droop+Rein models can finish machine parts up to 30% quicker than comparable, competitor machines and they are being used successfully in all industry sectors – particularly energy, transportation, toolmaking and general engineering.
Droop+Rein machines have been specifically developed to tackle the difficult task of machining very large workpieces with, for example, gantry-style models being constructed to reliably prevent dynamic losses through the table and workpiece and promote high-accuracy machining thanks to best-in-class machine construction principles that include:
Hydrostatic guideways in all linear axes
Thermo-symmetrical RAM design that ensures all heat sources are thermosymmetrically aligned with the RAM slide cross section
Digital drives offering torque ratings of 2,400 to 10,000 Nm
More than 300 different milling heads.
The versatility of multi-axis Droop+Rein machines is demonstrated by one US-based customer, Metalex Manufacturing, which selected a portal-type machining centre "to provide it with the ultimate in flexible production capacity" to meet all foreseeable demands in terms of producing highly-accurate milled and turned workpieces in a single set-up.
Not only is the six-axis T Series machine forecast to satisfy existing projects but its extraordinary machining envelope of up to 19 metres table length, 9.5 metres between the columns and 7 metres under the spindle will also attract new work.
A distinctive feature is the table design. The X bed carries two 6 by 8 metres tables that can be operated separately under the spindle while the other table is unloaded outside the machining area. Coupled 'in tandem' the tables can be extended to an enormous length of 18 metres for machining extra-long workpieces.
In addition, each table holds an integrated 6 metres rotary table that utilises the two x 111 kW main drives to turn components weighing up to 200 tonnes (using one of the turning tool holders provided in addition to the milling heads) or to position as a C axis for high accuracy milling and drilling operations.
The result is the ultimate one-stop precision machining source of extra-large components with complex geometries that require precision tolerances.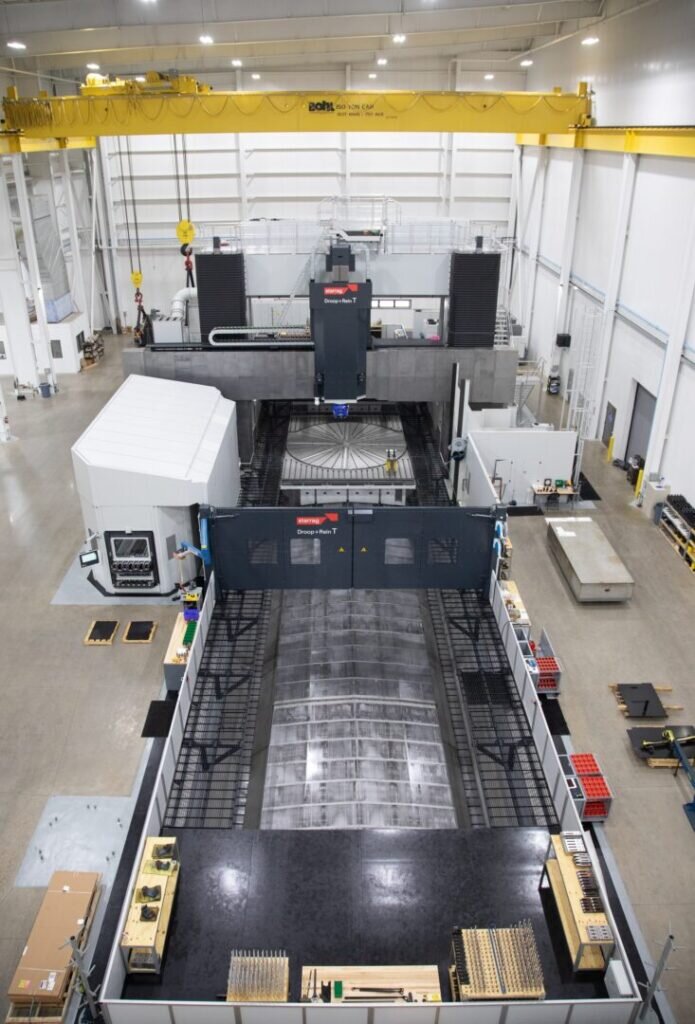 Another example of the benefits of Droop+Rein machines is demonstrated by Germany-based Schmedthenke Werkzeugbau, which installed its second overhead gantry five-axis Droop+Rein FOGS mill while an existing FOGS machine was being retrofitted with new drive technology and a new CNC.
The purchase of a secondhand FOGS 2500 model in 2012 made the company a sought-after specialist in large, sophisticated tools for automotive bodywork, with the machine's 6,000 mm x 2,500 mm table, 60-tool ATC and fork head with three motor spindles – maximum 24,000 rev/min – also enabling expansion into the machining of very large structural and exterior body parts.
When the machine was out of action for 22 weeks for the retrofit, the company had no hesitation in installing another five-axis Droop+Rein model, a FOGS 40 68 C having axis capacities of 6,800 mm (X), 4,000 mm (Y), 1,500 mm (Z) plus C and B axes of ±200° and ±115°, respectively. It also has a 6,000 mm x 3,000 mm table, 51-tool ATV and a fork head with two motor spindles of 10,000/20,000 revs/min.
The second machine is now mainly used for finishing the high-alloy workpieces – to micron accuracies – while the retrofitted model focuses on roughing. The newer machine not only provides security in the event of a machine failing but, says Schmedthenke Werkzeugbau, it also provides much-needed extra capacity for future as well as existing work.
In addition to Droop+Rein machines, Starrag UK's large parts solutions include several other machine ranges:
Berthiez – vertical grinding and turning, also milling, using single- and double-column machines. Grinding diameters extend to 6,000 mm and table capacities are available for workpieces weighing up to 20 tonnes – with table/pallet changing solutions and robotic head changers.
Dörries – vertical turning, milling and grinding on single- and double-column machines. Single-column machines have swing diameters up to 2,800 mm and table capacities of up to 25 tonnes; double-column models can accommodate loads of 350 tonnes and have swing diameters of up to 12, 000 mm.
Also, exclusively for UK and Eire customers, Starrag UK is now offering the SMT range of universal/multi-tasking/multi-functional horizontal lathes incorporating milling and BTA drilling, if required, and horizontal RAM borers of travelling column design and with multiple ram options. Lathes offer turning between centres of up to 30,000 mm x 6,000 mm diameter and RAM borers can have travel of 20,000mm x 9,000mm and be built in many different configurations.
Starrag UK's Director for Sales and Applications Lee Scott, adds: "The success of our Large Parts Machining Systems division is exemplified by the two companies highlighted and their experiences show how large Starrag machines can bring big rewards – whatever the application and in any country!"