Established in 1963, LK Metrology has an impressive heritage dating back to the birth of coordinate measuring machine (CMM) technology. Founded by former Rolls Royce engineer and CMM pioneer Norman Key and his father-in-law Jim Lowther, the company is credited with many innovations in the CMM industry. In 1972, in partnership with Rolls-Royce, Mr Key worked alongside the person who would co-found Renishaw a year later, Sir David McMurtry, who today is its executive chairman, to develop the now industry standard Renishaw touch-trigger probe.
Other industry firsts accredited to LK include successive introductions to the market of the bridge-type CMM, inspection software, exclusive use of air bearings and granite guideways, carbon fibre composite spindles, microprocessor-controlled drive systems, true thermal stability of the measuring platform, and a high-accuracy horizontal-spindle CMM.
With its headquarters, product development and CMM manufacturing facility in Castle Donington, UK, the company is headed by owner and CEO Angelo Muscarella, whose ASF Metrology group bought the company in 2018. It now not only manufactures CMMs, but has also added to its product portfolio a range of FREEDOM branded portable measuring arms and many metrology accessories. They include a new range of laser scanners, a surface roughness probe, stylus cleaning and sensor changing equipment, an indexing table and a checking gauge for CMM calibration. First written in 1977, LK's renowned CAMIO measurement, programming, analysis and reporting software is continually enhanced to provide industry-leading functionality, with the new CAMIO 2023 revision due in July.
Mr Muscarella commented: "When I acquired LK, many staff had been with the company for decades and continue to give their total commitment. They and indeed I are proud to work in such a prestigious company. There is dynamism throughout our network of offices and distribution companies around the world, with everyone sharing common values and operating as a family.
"We are looking forward to maintaining our rapid growth and would like to thank all our customers for making this possible. We look forward to catching up with everyone on our stand (9505) at the Control show in Stuttgart in May and at many other trade shows around the world during 2023 and beyond."
Global successes
LK staff looking after the various sales regions have been keen to add their comments too. For example, Brian Samson, Managing Director of LK Metrology Inc in New Hudson, Michigan is pleased to report strong trading in the United States: "We and the Precision Measurement Group of the Cross Company have finalised an agreement that brings the LK line of CMMs and related metrology products to the Cross Company's calibration labs and service centres across Southeast and Central US."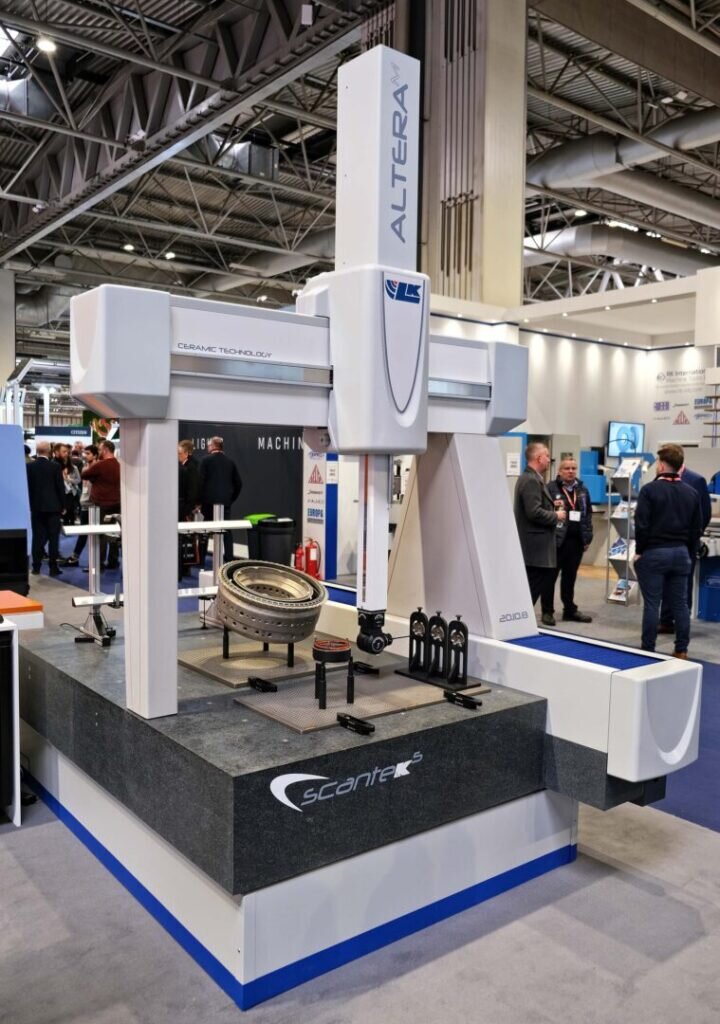 Last year, LK USA was awarded a large contract to supply 35 new CMM cells to a new aerospace manufacturing facility, with installation of all systems due for completion by December 2023. The supplier is also experiencing a resurgence in CMM retrofit enquiries and has added a dedicated technical product specialist to focus on this area. To support contract inspection services, the technology and demonstration centre in New Hudson has been expanded by 21,000 sq ft to accommodate a total of six CMMs and two FREEDOM portable arms.
At the UK headquarters, the customer demonstration area, training facilities and factory were all extensively refurbished in 2022, including a complete redecoration, new windows, doors and flooring, plus environmentally-friendly lighting and ventilation systems. A new engineering research team was put in place and the company was accredited to ISO 17025 for testing and calibration and ISO 9001 for quality management.
Business in Asia continues to be buoyant. Paul Druce, LK's Service Manager based in Castle Donington who is familiar with this market said: "We have an exclusive master distributor in China. This financial year has seen sales of more than EUR 1.8 million, with 15 machines ordered. It represents a 62% increase on the previous 12 months in this fast-growing market.
"We first exported to China in 1979 and the number of LK CMMs there and in Hong Kong and Taiwan now exceeds 600. Working volumes range from 600 x 500 x 400 mm up to a 6,000 x 6,000 x 3,000 mm Colossus. In two offices in Beijing and Shanghai, LK China currently employs seven staff including two service engineers, both of whom have been with the company for over 20 years."
In terms of product development, LK has been very active of late not only in respect of its CAMIO software but also with hardware introductions. It recently launched a high-end laser line scanner with a nominal 20 mm line length, the SLK20, and a larger version is imminent that can be interchanged between a CMM and a manually-operated portable measurement arm. Recently released also was the SRP12.5 probe to offer surface roughness measurement as part of quality inspection on a CMM. Orientated using an indexing head, the probe adopts the most convenient pose to perform reliable and repeatable surface measurements. Additionally, with customers requiring more and more probes to complete inspection cycles on increasingly complex parts, LK is about to release a tool changer with a capacity of five probe ports per changer and the option to install multiple units on a single CMM.