~ Why automating inspection can improve sustainability ~
A recent study showed that container glass production grew by 18.6 per cent since 2012, with manufacturers producing 83.3 billion bottles and jars in 2021 alone. As many companies embrace sustainability, glass is becoming a more environmentally friendly alternative to plastic, and accurate inspection processes can help production facilities reduce their footprint further by reducing waste. Here Matt Parry, applications engineer at industrial metrology specialist The Sempre Group, explains the benefits of using optical measurement and automated metrology systems for bottle inspection.
We've all seen the images of plastic waste littering our oceans, and many bottle and packaging companies are now trying to reduce their environmental impact to adapt to tighter regulations and changing consumer demand. One option is producing glass bottles instead of plastic, because these can be reused up to 50 times and are easily recycled.
During production, manufacturers heat materials to cast and press their bottles before slowly reducing the bottle's temperature in a cooling oven. If bottles cool too quick, they can become deformed, and invisible hairline cracks may develop, leading to chipping. Similarly, if a bottle is the wrong shape or size and cannot be sold, increasing costs and waste because it will be unsuitable for market.
The value of inspection
Every manufacturer wants to know their product hits the mark, and bottle production is no different. Suboptimal products mean rework, which means spending more time, energy and materials. Ultimately, this means more materials are wasted and the factory's carbon footprint grows because their machines run for longer.
The costs are not just environmental. Recently, we worked with a well-known Scottish whiskey brand that was having trouble with bottles going through the filling process. When applying their branded label it would crease — delivering these to market could cause reputational damage. They also found the screw cap would fail to be fitted, stopping the line and the filling process. The company wanted to know the profile of their bottles around the area of the label and how this compared with the original CAD file. From this, they could see how the bottle deviated during production. They also wanted to understand why the cap would not fit onto the bottle and they established that the neck of the bottle was offset or bent, effectively moving the position of the neck and misaligning with the cap fitting system.
Why automate?
Most automated measurement systems use sensors to measure characteristics, like an object's surface, shape or flatness, without human input. Jenoptik Opticline offers a range of optical shaft measurement systems designed for cylindrical objects. This technology uses green light, received by cameras, to take a full image of a part and provide dimensional and characteristic measurements, such as concentricity. Manufacturers can place a bottle on a turntable and use a camera to scan the shadow created by placing the object in front of the light source. They can then compare the results with the original drawing interchange format (DXF) file to see the deviation.
Engineers can also automate measurement by using the RPS measuring arm, which users can equip with a probe or a laser for non-contact measurements. Once manufacturers have produced a line of bottles, they can move a laser scanner across them to assess the different areas. They can then use this data to generate a point cloud, align it with a perfect CAD model and produce a deviation map. This will show the high and low areas, and how they differ from the design.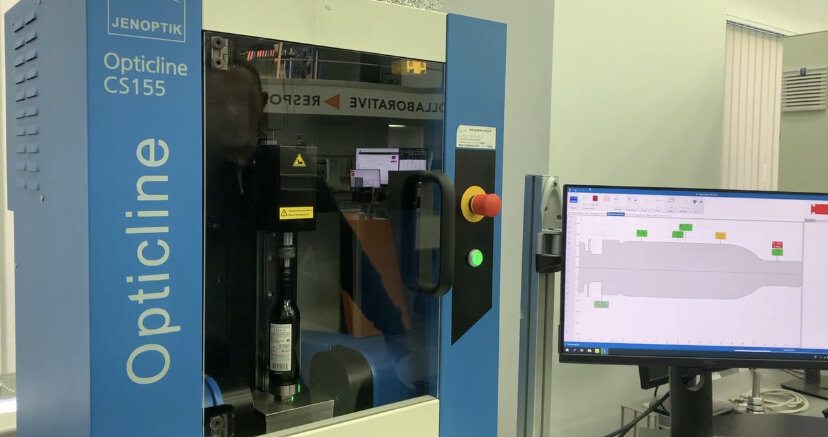 Reporting and evaluation
Automation enables manufacturers to evaluate and communicate measurement data with stakeholders. Traditionally, such information was presented in separate spreadsheets, often confined to out-of-sight filing cabinets. However, using systems like the Jenoptik Opticline and RPS arm, manufacturers can take this data and feed it into SPC software like Prolink to create complete, downloadable reports.
Integrating sophisticated software can elevate inspection reporting significantly. These platforms can display measurement results using a graphical user interface so that manufacturers can identify trends and respond. For example, if the same area on several bottles moves towards the upper limit, manufacturers can alter the production process before this leads to a defective product line.
As more packaging companies pledge their commitment to sustainability, glass bottles will only grow in popularity, and optimising inspection processes is critical. Automating inspection helps manufacturers prevent defects and ensure high quality products while minimising waste and rework. Installing the right measurement systems and training staff to use them is essential and working with a dedicated metrology partner is the first step.
For more information about bottle and packaging measurement, visit https://www.thesempregroup.com/optical-non-contact/jenoptik-opticline/.