ODU will be showcasing several new products at the Engineering Design Show.
ODU-MAC® modular hybrid
The ODU-MAC® modular hybrid, is a series of three connector variants that transmit signals, power, high-current, high-voltage, coax and other media such as air, fluids, high-speed data or fiber optics – all in one interface. Reports from ODU customers confirm that this  rectangular connector can achieve over one million mating cycles, all thanks to its reliable contact systems. 
New to this range is the ODU-MAC® RAPID, a robust half-shell housing system that provides considerable time-savings in assembly and also adds a wide variety of internal-mount options – the ideal way to allow for system up-dates and add-ons.
Also newly introduced is a High-Current Module with a 12mm diameter contact with a current load of up to 225amps and an operating voltage of 1,000volts (VG3).
ODU Threaded Connector
Developed from the well-established ODU-AMC® [Advanced Military Connector],
the new ODU Threaded Connector utilises a screw-locking-with-rachet mechanism [half-turn locking] and is intended for applications requiring additional security,  or where pressure/vibration/temperature could be problematic for other connectors.
This connector is rated IP68, has 360° shielding for excellent, trouble-free data transfer of Cat5 Gigabit/Ethernet, in an operating temperature from -51°C to + 125°C, together  with a lifetime of greater than 2,000 mating cycles.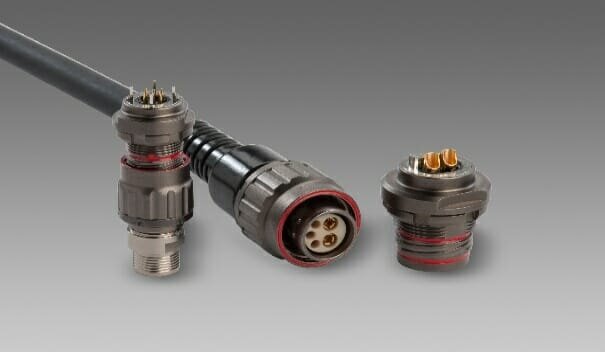 ODU MEDI-SNAP
With distinctive coding options, the ODU MEDI-SNAP is guaranteed for over 2,000 mating cycles. This efficient plastic connector is 75% lighter than comparable metal connectors, has high chemical resistance and is also fully sterilizable.
Available with both user-friendly Push-Pull locking and as a pre-moulded Break-Away version.
Although originally designed for applications in medical technology, this connector is ideal for use in industrial electronics, measurement and test.
A new receptacle has also been added to this ODU MEDI-SNAP range, designed to provide maximum patient protection according to IEC 60601-1 2 MOPP.  This durable receptacle has an extraordinarily long service life and is also IP68-proof when unmated, so it can be used under even the harshest environmental conditions.
ODU – here to help
ODU have established themselves as a true 'problem-solving' connector manufacturer, working closely with their OEM customers to develop both connectors and packaging, providing cost-effective solutions to the problems of modern-day electronics.
So, if you are facing a design or packaging conundrum, why not stop by Stand J16 for a chat about how they can help.
More at: https://www.odu-uk.co.uk