As a business model, convenience shopping is rapidly overtaking large format stores, with nine out of ten consumers claiming to have a visited a convenience store in the last month[i]. Yet, the rise in popularity is placing packhouses under greater pressure to supply retailers of all sizes with a good selection of quality fresh produce, chilled and frozen foods, little and often. David Jahn, director at automation specialist Brillopak examines the benefits of using high speed case loaders and how single picking caters to rapidly evolving British shopping habits.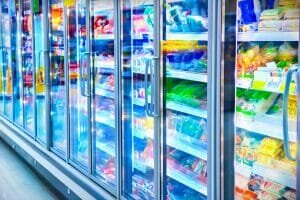 Of 2017's £184.5bn total grocery sales, convenience stores (C-stores) accounted for £40bn, The segment's value is expected to rise by 17.7% by 2022, compared to just 1% for hypermarkets and over 5% for supermarkets during the same period.
With consumers looking to cut down on the amount of time spent doing a big food shop, C-stores are anticipated to remain the third fastest growing grocery channel between now and 2022 (after discounters and online retailing). The ability to do a top up shop, access a good selection of fresh produce, take a more flexible approach to meal choices, while fitting a quick shop in around other daily tasks are cited as the most common reasons that consumers visit C-stores.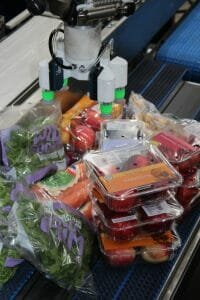 According to grocery research organisation IGD, one in five (19%) of 18-25-year-olds mainly shop in C-stores. That's more than double the number of those aged 26 and over (7%).
Reflecting on how times have changed, David comments: "Twenty years ago I might have purchased the occasional staple items, but I wouldn't have dreamed of purchasing my family's supper at a fuel station. However, today's Gen Y consumers are big fans of C-store food, not only because of the convenience factor but also because of its affordability, choice, improved quality and better merchandising."
The longstanding convenience challenge is balancing offering a good selection of quality perishable items when there's little or no storage space beyond the shop floor. "Fresh produce is the key traffic driver to C-stores," claims David who points out that localised offerings, including locally sourced meats and vegetables are increasingly commonplace. "In most instances, storage is the retail shelf space. There's hardly any backroom refrigeration. And retailers themselves are increasingly waste savvy and look for ways to use sales data to reduce stockholding costs while improving on-shelf availability."
Delivering change at speed
For C-stores, this means daily deliveries to replenish shelves, placing pressure on packhouses to be more responsive to influences like store demand patterns, seasonality, weather, and special promotions, scaling up and down as required.
Responding to demand from packhouses for an automated solution that would enable them to pick multiple SKUs and present different pack formats, ranging from flow wrapped apples, to punnets of grapes, Brillopak launched its Unipick P160 high speed case and crate packer.
David explains: "Packhouses that supply the 41,000+ C-stores across the UK, also tend to supply the supermarkets and hypermarkets. This means an ever-increasing range of SKUs in terms of size, packaging and weight. It also means more use of half size crates for the smaller store format. To ensure that we can pack these products with the flexibility required, we have moved to single pick for most of our machines. This enables packhouses to seamlessly switch between products."
Marking a step change in automation performance, Brillopak's P160 Unipicker packs product into crates and cases at high speeds, averaging over 100 packs per minute. Two three-axis robot spider arms individually place each pack one by one gently into a retail crate. Highly dexterous, with a reach of 1130mm, this gentle handling helps to prevent bruising and damage to delicate and perishable fresh items, while ensure C-store presentation standards are maintained.
Designed to handle tray seal punnets, flow wrap and vertical form fill seal products, including fruit, vegetables, packaged meats, grated and solid cheese and ambient products, David notes: "For many products, single pack picking is the safest and fastest way to meet a C-store retailers' specified case loading patterns and deliver good presentation.
"Traditionally, to achieve anywhere close to 100 packs p/m in case loading, machines pick layers or rows of product," Jahn comments. "However, this method tends to use mechanical devices such as belts and turners for collating products. This means more moving parts; more opportunities to damage the fresh produce items, e.g. apples, and more line stops. These frequent line stops have a significant impact on line efficiency and ultimately bottom line profit."
With the UK continuing to be a laggard when it comes to adopting robots in food manufacturing, particularly at the end of the packing line, David has observed a notable shift in attitudes. "Reservations in the past have centred on the prospect of machinery obsolescence and this has been a psychological barrier for some to fully embrace automation. The food industry operates with a cost-driven mindset, with the focus firmly on efficiency, cost-saving and food safety. However, to keep pace with consumer's evolving shopping habits, technology and processes need to adapt."
He continues: "As processing lines become faster there is an increasing need for the case loading process to match the upstream throughput. It's all very well operating at high speeds but if there are line stoppages or bottlenecks in the process, you have a significant problem. Packers rely on consistency of production across the whole of a ten-hour shift. At Brillopak, we believe that flawless loading with minimal line interruptions can best be achieved with a single product pick. It's the safest way to load a wide range of retail crates and cases accurately and why we developed the P160 Unipicker. It also provides the most flexibility to pack future as yet unknown products into numerous layer patterns. This flexibility to change an existing programme within 30 minutes is important in this changing dynamic."
Incorporating two Omron three-arm Delta robots, both with quick release end-of-arm robot heads for different product types, packing operations can flex quickly to multiple product types and sizes, resulting in a quicker return on investment.
The machine's compact footprint, 3.2 metres by 1.5 metres, makes it an estimated 15% smaller than any other dual robot layer-based automated handling system currently on the market. For optimal efficiency, the cell can be integrated with a Brillopak crate destacker and palletiser. Depending on the application, ROI for the P160 can be between one and three years.
David concludes: "C-stores are rapidly evolving to become foodservice destinations. The technology utilised by other retail channels to manage stockholding and deliver the choice consumers expect requires speed and consistency. Whichever way you look at it, robots help to make shopping more convenient by ensuring shelves stay stocked with products people want to buy."
[i] https://www.igd.com/about-us/media/press-releases/press-release/t/igd-uk-food-and-grocery-forecast-to-grow-by-15-by-2022/i/16927