Rotech's RF Lite TIJ (thermal inkjet) has become an "invaluable part of the process" at P.K.Foods Glasgow Ltd, having transformed the efficiency of the pakora producer's coding operation. The user-friendly coder has won over staff on the factory floor and enabled the fast-growing business to meet the lead time expectations of its expanding supermarket customer base.
"This machine has been fantastic. It has slipped into our operation and become an invaluable part of our process. It is hard to imagine how we ever managed without it. Coding used to be slow, painful and labour intensive. Now a single operator can run off 5000 sleeves in just two or three hours," enthuses Jason Stevenson, Sales Director and Partner at P.K.Foods Glasgow Ltd.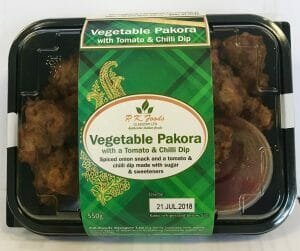 For the last six years, P.K.Foods Glasgow Ltd has grown by 10-15% year on year, driven mainly by contract wins to supply national supermarkets including Scotmid, Costco, Nisa, Co-op and Morrisons. The family business is now producing a large volume of authentic Indian snacks such as chicken and vegetable pakoras and onion bhajis from its 5,000 sq ft facility. Despite the now large scale of its operation, P.K.Foods Glasgow Ltd still adheres firmly to its original ethos of producing by hand from high quality ingredients – a philosophy that is valued by its customers.
Whilst making everything by hand results in an authentic and premium product, it precludes the introduction any sort of 'in-line' processes. This is true of the date coding operation, which was being performed manually.
"We were having to employ staff who just hand-stamped all day. When we started to win more and more business with national supermarkets, this became too inefficient and time-consuming," recalls Jason.
P.K.Foods Glasgow Ltd visited the PPMA show, armed with some sleeve samples, to see some machines in action. The company had already decided it wanted a TIJ coder, on the basis that the cartridge-based technology is clean, compact and cost-effective.
"We were looking for a desktop coder that was compact and simple to use – and the price had to be right. It is pointless buying a machine that can offer additional functions that are not required in the future, the Rotech machine was just perfect in size, functionality  and cost" says Jason.
An initial encounter with Rotech's RF Lite sleeve coder convinced Jason that this might just be the neat system he was looking for.
The RF Lite takes flat cardboard sleeves from a hopper, feeds them through an inkjet printer so they can be date-coded and stacks them again ready for use. It can handle a variety of sleeve shapes and sizes and only takes seconds to swap between sizes without special tools or training. The RF Lite's linear speed is 60m/s, which means it can handle just under 200 x 300mm sleeves per minute or around 250 sleeves at 200mm.
P.K.Foods Glasgow Ltd trialed the RF Lite for two weeks before committing to buy as they wanted to be confident of the coder's performance and of staff acceptance.
"You can have the best machine in the world but if staff don't buy into it, you won't get good results. All our operators found the RF Lite to be easy to use; they had no trouble switching between different sleeves and calling up the correct expiry dates for each customer," says Jason.
Coders can have trouble with code positioning and quality when handling different sleeve thicknesses and materials. Thin, light sleeve materials in particular can be problematic for systems that use a 'push' or 'shuttle feed' mechanism. The design of the RF Lite overcomes this potential feeding issue; sleeves are stacked vertically in a hopper, where friction wheels separate them and feed them one by one to the inkjet printer. The RF Lite's hopper can also be easily adjusted to different sleeve sizes. This was an important feature for P.K.Foods Glasgow Ltd, whose pakoras are packed in different sized trays, depending on the customer. Chicken pakora, for example, are packed in 650g trays for Costco and 360g trays for Scotmid.
Shelf life requirements also vary from customer to customer, so product made on the same day might carry a slightly different expiry date depending on which retailer it is destined for. With a programmable function that calculates the correct expiry date for each product/customer, the RF Lite eliminates the risk of date coding errors.
Following a successful two-week trial last November, the RF Lite with ijet TIJ printer became a permanent fixture at P.K.Foods Glasgow Ltd, coding on average 5000 sleeves per day.
Jason reports that the coder has already paid for itself through labour savings and sleeve waste reduction, saying: "We were employing at least two members of staff to hand stamp all day. Now one person just spends a couple of hours a day overprinting sleeves and the other staff have been redeployed on other picking and packing tasks."
He adds: "The superior print quality has led to a vast improvement in clarity and a reduction in sleeve waste – formerly, with the manual handling and printing, one in every 10-15 sleeves would end up smudged or damaged."
One of the major advantages of TIJ versus other coding technologies such as CIJ is the lower cost of ownership. This is largely because the only ongoing cost is the purchase of new cartridges – it is an on demand service-, maintenance- and consumable-free technology. P.K.Foods Glasgow Ltd reports that it is finding the system to be very cost effective, getting 300,000 prints per cartridge. The company is also making use of the RF Lite's in-built 'grey scaling' software to optimise usage per print on jobs that don't demand true black print density.
Supermarkets are just one route to market for P.K.Foods Glasgow Ltd wholesale, direct to retail, van sales and direct to consumer are other important channels. Historically, products for these customers have all carried labels rather than sleeves, but on the basis of the success of the RF Lite, P.K.Foods Glasgow Ltd is planning to move them to sleeves.
Jason does not yet know whether the current RF Lite alone with be able to cope with this increased throughput, but says: "If our existing RF Lite is finding it too much, I wouldn't hesitate to purchase another."