The TDI Challenge final took place on Wednesday 4th July at, Manufacturing Technologies Association (MTA) member company, Yamakazi Mazak's European headquarters in Worcester.
This year saw an increased number of entries from across the UK, with a select few invited to Mazak to contest the final. Hundreds of students from across the UK submitted either their GCSE, A-Level or BTEC Design and Technology Course Work Projects to be judged by a panel of experts drawn from Industry.
The TDI Challenge is split into three categories. There are two individual age groups; 14-16 and 17-19, with six finalists in each and for the second year there was a third category for group projects with three teams competing.
Stewart Lane, Business Manager, Renishaw and chair of the judging panel for the TDI Competition, said "The standard of entries seems to improve year on year, the thing that most impressed the judges this time round was the breadth of manufacturing technologies being utilised by the students, demonstrating applied knowledge of the processes"
He continued "We were also impressed by the thoughtfulness of the projects, many of the students had taken it upon themselves to design products that would help improve other people's quality of life."
The winner in the 14-16 category was Vivika Martini from Highgate School with her Bike-mountable Wind-Powered Charger, which was aimed at long distance cyclists who need access to keep their phones charged while in remote areas.
Upon winning the competition Vivika said "Just winning the competition makes me feel more confident that I can actually pursue this as a career, I'm excited for what's to come."
She continued "I really want to work on my project more and actually see if it can be a commercially viable product."
The judges noted that Vivika's project was an "innovative use of technology, practical use with a strong commercial potential."
Second in 14-16 category went to Shrey Shah also from Highgate School in North London with his Smartphone-controlled Internet of Things Pet Feeder. And third place went to Daniel Martin of Whitgift School for his Bike Storage Device.
The winner in the 17-19 age category was Robbie MacIsaac of Strathallan School in Perth Scotland, his FLUX Blowpipe design, reduced the amount of moisture that gathers in a Bagpipes, Blowpipe when performing.
Robbie said of winning the competition "It is class, I am absolutely buzzing after traveling seven and a half hours to get here it was definitely worth it. Just through all the people I have met and all these contacts I have made. I'm really looking forward to working with the people that I have met.
He continued "From here I am looking to get my product to market and make a company out of it, so it is really exciting."
The judges said that Robbie's project was "well researched and a great use of materials. This product has a large potential market and Robbie's presentation demonstrated the potential of his product."
Aashi Srivastava from Henrietta Barnett School took second place with her Attachable Support Unit for Primary School Chairs which was aimed at improving the comfort of children suffering from Cerebral palsy in the class room. Third place in the 17-19 category went to Harry Bolton of Keswick School with his Off-road Running Shoe.
The winners in the group category were team CycleLight, from Sutton Grammar School with their illuminated cycling clothing. The judges said "Great use of smart materials with strong commercial potential, this product clearly has great potential for future development"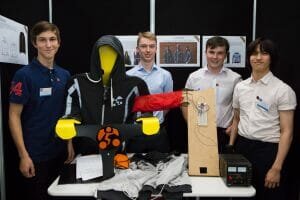 Jonathan Crook of team CycleLight said "We're ecstatic it is nice to see all the effort we have put in pay-off. I was really blown away by the other projects in our category and I think they were by ours as well. There has been a lot of mutual admiration. TDI is great it is a lot of fun and if you should certainly think about entering."
The TDI Challenge 2018 was sponsored by Close Brothers Asset Finance who provided the prizes for the event. Individual prizes picked up on the day included an iPad, GoPro, UE Boom Speaker and a drone. In addition to prizes on offer for the students placing in the top three in each category, the winning school in each category will also receive £2000 of credit to spend with Technology Supplies Limited (Design, Technology & Engineering specialists for education worldwide) on D&T equipment for the classroom. Runner-up prizes of £1000 and £500 are also available for schools in each category.
James Selka, CEO of the MTA said "The TDI Challenge is one of my favourite days in the MTA events calendar. It is as inspiring for us as organisers and judges to see the amount of talent we have in UK schools. We hope that every single entrant in the competition found it worthwhile and left Mazak feeling inspired to pressure an engineering based career path."