Global Intelligent Systems leader Advantech (2395.TW) received an award from ROI Management Consulting for its Industry 4.0-compliant digital factory. The "ROI Industry 4.0 Award China" was given to Advantech at the awards ceremony in Shanghai on 17 October to honor its Industry 4.0 achievements as a pioneer in the practical implementation of "real-time equipment and resource monitoring."
Timo Schneemann, Vice-General Manager of ROI Management Consulting, stated, "What Advantech has achieved is an outstanding example of what can be done in terms of quality and utilization by providing real-time production insights. While today, other companies have key machines connected to a central system, Advantech stands out because they have not only connected sophisticated equipment like SMT lines, but have also upgraded and connected conventional machines, such as stamping machines, to get a full picture of what is happening in production—from start to finish. Whilst connecting machines is one thing, the crucial step other companies are missing is making this data easily accessible to the people who need it, and here is where Advantech scores high again with their data consolidation and visualization framework."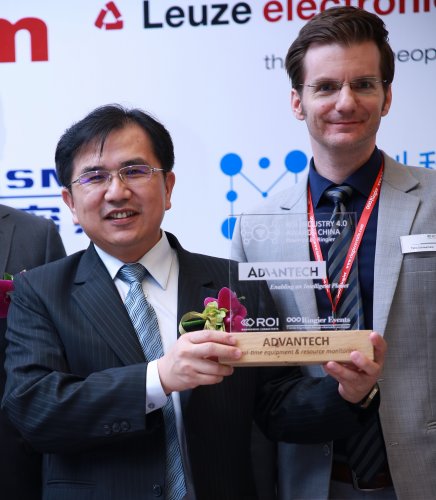 Industry 4.0 Situation Room Enables Real-time Management
From many years, Advantech has consistently optimized its production line in manufacturing centers to improve efficiency. "The Industry 4.0 situation room is Advantech's most important upgrade to Industry 4.0. The situation room is the factory's nerve center where data is collected, analyzed, and visualized for real-time management and data-driven decision-making. This award has demonstrated that we are on the right track with our Industry 4.0 blueprint," said Allan Tsay, Vice President, Advantech Industrial IoT Group. Advantech's Industry 4.0 journey begins with equipment connectivity and process visualization solutions, and continues with optimization processes. Data is the key to improving efficiency in Advantech's smart factory.
"Advantech is not only an end user, but a provider of Industry 4.0 solutions. Advantech has primarily used its own products and solutions in the planning and implementation of the smart factory. Advantech's smart factory is evidence of how iFactory solution-ready platforms (SRPs) and products can be used to implement Industry 4.0 in practice. Advantech's iFactory SRPs are quick-start tools that enable a step-wise approach to achieving Industry 4.0," said Jonney Chang, Associate Vice President, Advantech Industrial IoT Group.
Accelerating Industry 4.0 – Advantech in the Fast Lane
2017 has been an important year for Advantech to continue driving Industry 4.0 growth. Advantech upgraded its manufacturing centers to real Industry 4.0 demonstration sites and has opened them to external visitors in an attempt to accelerate digital transformation and inspire the development of other smart factories. Additionally, Advantech hosted several Industry 4.0 forums in China, Taiwan, Malaysia, Singapore, Korea, Thailand, Japan, Vietnam, Brazil, Turkey and Dubai to share the latest iFactory applications with representatives from industry, government, and academia; collaborating closely to establish a local Industry 4.0 ecosystem. This July, Chaney Ho, the Cofounder, Executive Director, and Acting General Manager of Advantech Europe, received a special award for, "Industry Leader of the Year" from Asian Manufacturing Awards 2017 for his considerable effort in pushing Industry 4.0 in the Asian region. Advantech has not only realized the intelligent factory from a practical perspective, but also encourages customers to embrace Industry 4.0.
"Industry 4.0 is a dynamic process that has no downtime and is constantly advancing and changing," said Mr. Chang. As Industry 4.0 continues to evolve, Advantech will continue developing its smart factory and Industry 4.0 solutions with the aim of providing a brand-new in-depth experience for end users in 2018.
About ROI Industry 4.0 Awards
The ROI Industry 4.0 Awards have been hosted in Germany since 2013 to honor Industry 4.0 solutions in the manufacturing industry. Past winners include ABB, BOSCH, SEW etc. For the first time, in 2017, ROI and Ringier Events hosted the awards in China. This year, 30 companies were eligible for the awards and five winners were finally chosen to receive the prestigious ROI Industry 4.0 Award China – ADVANTECH, BOSCH, TLD, BORCHE, and TRUKING.
---
About Advantech
Advantech Co., Ltd. – Industrial Automation Group – Founded in 1983, the Industrial Automation Group has grown into a global business organization with more than 30 branch offices in 17 countries, and a worldwide partner network comprised of leading Automation corporations. As a pioneer in open Automation technology, Industrial Automation Group is proud of its efforts as global stewards; providing vertical-focused products, solutions and value-added services for a wide array of sectors, including; Building Automation, Machine Automation, Power & Energy, and Intelligent Transportation Systems. https://www.advantech.eu/industrial-automation/