A&M is the exclusively authorised EU distributor of Nikuni VDF robust stainless steel hydrocyclones, which provide the proven element-free method of removing metallic contamination in the machining, cutting and forming coolants used in machine tools.   Nikuni VDF hydrocyclones are available in a range of sizes from 20 lpm to 300 lpm.
Nikuni VDF hydrocyclones will remove as much as 95% of aluminium particles at 10μm and above in one pass.  The product can provide a number operational benefits that include increased capital equipment life, the elimination of filter element replacement, reduced machining costs and can contribute to a better surface finish – often in a reduced cycle time.
One major benefit of the Nikuni VDF hydrocyclone is that it can act as either a standalone product or a component for integration within an existing system.  This simple product, which uses centrifugal force to separate metallic and other contaminants from fluids, is well established across the Far East and the USA and is currently experiencing a demand in Europe.  It is becoming of great interest to many companies involved in CNC machining and precision grinding who wish to reduce the cost of replacement filter media, often a significant element of their operational costs.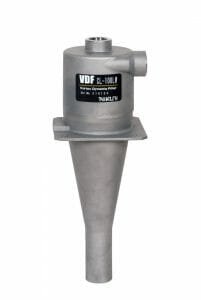 Nikuni's VDF hydrocyclones ensure coolants fed to machine tools are cleaner whilst avoiding the frustrations surrounding downtime from blocked filter elements.  It is normal for a Nikuni VDF to achieve payback for its installation in a short space of time, because the need for conventional filter maintenance is removed along with the cost of repeated filter element replacements.  Furthermore, the optimisation of performance and improvements in productivity are within the reach of all sizes of organisations spanning multi-nationals to single unit SME installations.
As a standalone facility, the Nikuni VDF hydrocyclone can be supplied in C-CAT format, with or without a pump and other equipment such as automated air operated valving and a sludge pod for consolidating and collecting separated contaminants.    One additional advantage of fitting a sludge pod to a VDF hydrocyclone is the volume of coolant in circulation in the cleaning circuit is greatly reduced saving energy and reducing the volume of waste collected.
The Nikuni VDF hydrocyclone can also be applied to the separation of fine particles of non-metallic wastes and Aeration & Mixing welcome enquiries for applications from all sectors.
Tel: +44 (0) 1302 215 156
©Aeration & Mixing Ltd 2017