Alastair Morris, Sales Director at Pryor, explains how digital manufacturing and traceability combine to enhance efficiency and profitability.
The digital revolution is happening all around us. Nowhere is this truer than in manufacturing, where businesses are taking advantage of recent technology development to drive innovation. It looks like this is just the start of things, as industry analysts forecast a 7.6 percent growth in digital manufacturing between 2016 and 2020.
Among the elements behind the emergence of this trend are data and the ability to utilise it to achieve significant improvements in business performance. In particular, managing and analysing data effectively can optimise factory operations and boost efficiency, while enhancing product quality.
One way in which data is helping to make the most of these benefits is in the traceability of critical components, from conception as raw materials to use in application. Through accurate full life cycle traceability, firms throughout the supply chain can identify the origin and process history of each part in real time.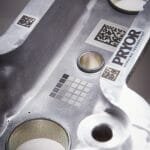 This level of control cuts money, waste and time associated with recalls. It also protects brand credibility, as it's possible to drill down into the data to instantly locate the quality risk and identify exactly where the part is located in an assembly so it can be repaired rapidly. Analysis of the data also enables the root cause of quality escapes to be detected and prevented in future and highlights where process improvements can be made for greater productivity.
Implementing traceability in digital manufacturing operations requires a system that includes three essential tools – precision marking equipment, vision devices and data management software.
Pryor is a global leader in its sector, providing a complete solution that comprises these vital elements. Its sophisticated traceability systems include laser and dot peen marking tools that ensure each raw material receives a unique identification mark as early as possible in the manufacturing process. This ID is then recorded before and after each machining, manufacturing and assembly stage to build up data associated with the part – everything from the details of the machine operative to the ambient temperature in the factory.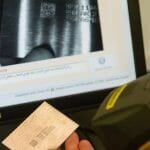 Specially developed software then works in tandem with marking and vision equipment to store and manage big data, and allow for real time reporting of conditions. It also enables information to be shared securely throughout a manufacturer's facility, as well as with other locations and organisations in the supply chain. Thus, the software ensures quick solutions to critical issues as each individual component can be traced in complete assemblies anywhere in the world – making any necessary recalls as quick and cost effective as possible.
Pryor's technology has been designed to seamlessly integrate into existing systems in an operation, including SAP and manufacturing execution systems software. This ability to interface directly with other in-line production procedures also means the system can be used to analyse areas in the digital manufacturing process that could be further streamlined or optimised.
With this degree of intelligence and control, multinational companies can realise the full potential of digital manufacturing and traceability for greater overall efficiency and enhanced profitability.