Demonstrating the innumerable capabilities of its new Profile Series 30 range of aluminium profiles with matching modular elements and fittings, MiniTec UK recently supplied interactive exhibition display cabinets for the National Physical Laboratory's 'Super Sight' stand at the Royal Society Summer Science Exhibition that explores augmented reality – the placement of computer generated images into the human eye's view.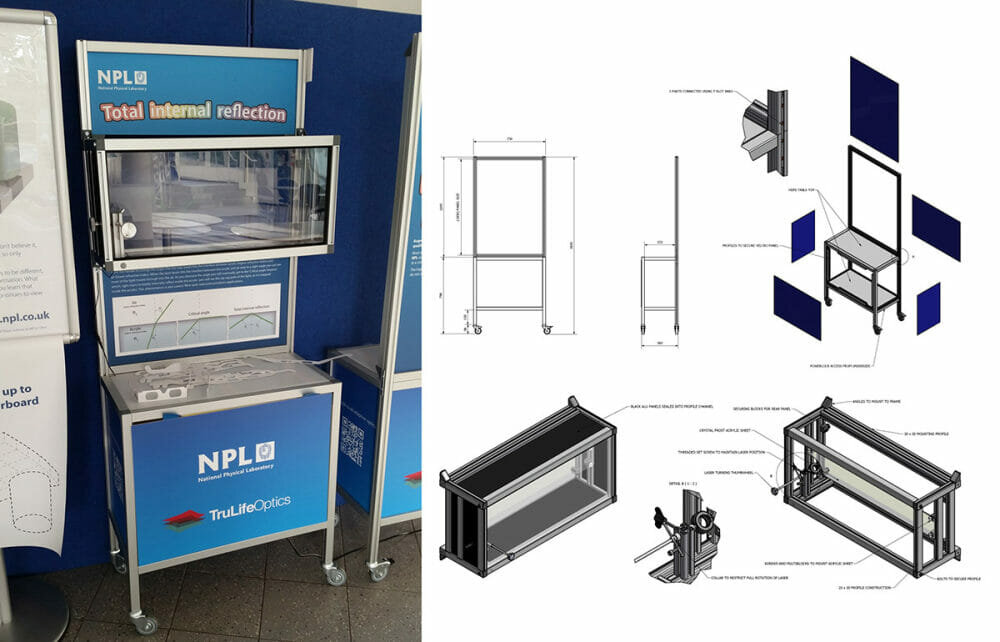 With its nominal sectional size of 30 x 30 mm which suits smaller structures, the wheeled cabinets allowed the exhibition organisers to customise the information panels for the specific subject matter and MiniTec also provided additional engineered equipment for a laser enclosure that allow visitors to set the angle for the 'total internal refraction' cabinet shown in the attached image.
Profile Series 30 aluminium profiles suit smaller machine frames, consoles, panels, fixtures, safety guards and the lightweight range is also particularly suited to structural frames for equipment used in the food and medical industries or for organising component or tool storage in confined areas such as vehicle fit-outs.
The new range also lowers the cost base for light-duty machine applications. With eight new profiles in sectional sizes of 23 x 16, 23 x 30, 30 x 30 and 30 x 60 (mm) and with combinations of smooth sides and T slot profiles that maximises flexibility and aesthetic appearance the range uses a new 30 mm version of MiniTec's Powerlock rapid one-piece fastening system that requires no pre-drilling of the profile and saves considerable assembly time. The range of ancillary components includes angle and adapter brackets, door hinges, panel sealing strips and many other modular construction pieces.
The Royal Society Summer Science Exhibition, ran from 30 June to 5 July 2015 and included a stand by the National Physical Laboratory and TrueLife Optics, about augmented reality, aimed at school students and the general public. All went well and MiniTec's customer was very pleased with the demonstration consoles – over 15,000 people used it.