Thanks to their outstanding precision and efficiency, hydraulic chucks have established themselves as the real hard workers in the world of machining. However, to meet the wide-ranging requirements of the different industries, many variants are needed. This is why CERATIZIT is adding two high-performance adapters to its range of hydraulic chucks: the HyPower Rough for demanding rough machining operations and the HyPower Access 4.5° for optimum accessibility in the machining zone. 
CERATIZIT offers its hydraulic chucks, with VDI interface, as a total solution for hydraulic clamping of cylindrical tool shanks, boring bars, cylindrical tool holders and fixed base holders in the turret of a turning machine. This is complete with through coolant supply! The hydraulic chucks come with a diameter of 20mm for the VDI 30 and 40 interfaces as standard, and a cylindrical shank version is also available for turning/milling centres with through coolant. The chucks come in 16 and 20mm diameters for a 32mm cylinder diameter as well as in variations of 16, 20 and 25 mm for a 40mm cylinder diameter. "This provides high-precision clamping with a repeatability of 3µm and very low tolerance ranges," explains Christoph Retter, Product Manager Clamping Systems at CERATIZIT.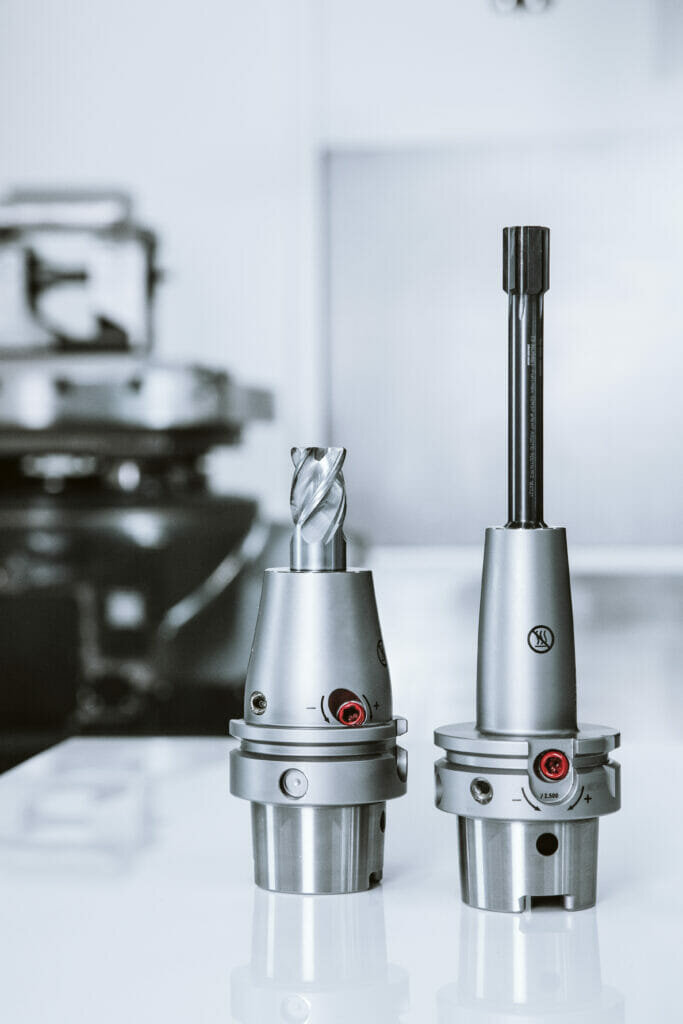 HyPower Rough
The HyPower Rough hydraulic chuck has been specially designed for clamping milling tools with a HA shank. With a high temperature stability of 80°C, even during long milling cycles which last longer than 240 minutes, the HyPower Rough is ideal for highly dynamic milling applications such as HSC (high-speed cutting), HPC (high performance cutting) and SPM (structural part machining). The HyPower Rough is equally as effective during high-performance milling operations of high-quality components up to a maximum of 33,000rpm as it boasts outstanding process security and a large chip removal rate. When used in roughing cycles, which is what the HyPower Rough truly specialises its excellent vibration damping ensures that there is a very high surface quality.
HyPower Access 4.5°
Where high precision is needed, the HyPower Access 4.5° hydraulic chuck is the perfect choice for precision finishing. To pack in as much flexibility and versatility as possible, its dimensions were exactly matched to those of a shrink-fit chuck (DIN contour with 4.5°). The HyPower Access 4.5° additionally offers customers the advantages of a hydraulic chuck for critical component structures. HyPower Access 4.5° is suitable for reaming and drilling, as well as for finishing during milling operations due to its outstanding surfaces and tight tolerances; this award-winning industrial design ensures maximum process security and tool life.
Why Choose HyPower?
CERATIZIT'S HyPower tools are durable and sure to withstand years of use, this is thanks to the HyPower's vibration damping which reduces spindle load and prolongs tool life. Both the HyPower Access 4.5° and the HyPower Rough offer outstanding radial run-out accuracy and an impressive clamping force for optimum results. Furthermore, HyPower hydraulic chucks are easy to change and save time where tool alterations need to be made, as changes can be made in minutes using a single Allen key. These highly reliable tools are sure to meet your machining needs; their maximum clamping force ensure that tools are optimally held and produce the very best machining results.