Wayland offers a reliable, collaborative & sustainable post-sales service that utilizes the advantages of advanced Mixed Reality capabilities.
Wayland Additive is delighted to share its latest advanced options for post-sale Calibur3 service contracts and collaboration. The service packages available from Wayland employ the capabilities of Mixed Reality (MR) technology. This will be delivered via RemoteSpark — a user-focused MR performance support tool that combines the physical and digital worlds by creating a hands-free, immersive and supportive environment and allows instant access to 2D and 3D holographic assets to support task completion, operational efficiency and training. In addition, it also allows immediate low-bandwidth, secure video and audio calls with any Wayland experts should extra assistance be required. The benefits of this approach are many.
Mixed Reality (MR) is a compelling technological innovation that blends the digital and physical worlds to create an immersive experience that allows users to interact in virtual and physical environments simultaneously. Advances with MR are enabling new applications across a range of manufacturing sectors to deliver after sales service and collaboration. Indeed, this is a rapidly growing field that is transforming the way businesses and organizations operate by providing innovative service solutions in a timely, cost-effective and sustainable way.
Wayland is way ahead of the curve in the additive manufacturing sector, and offers full mixed reality service provision post sale of Calibur3.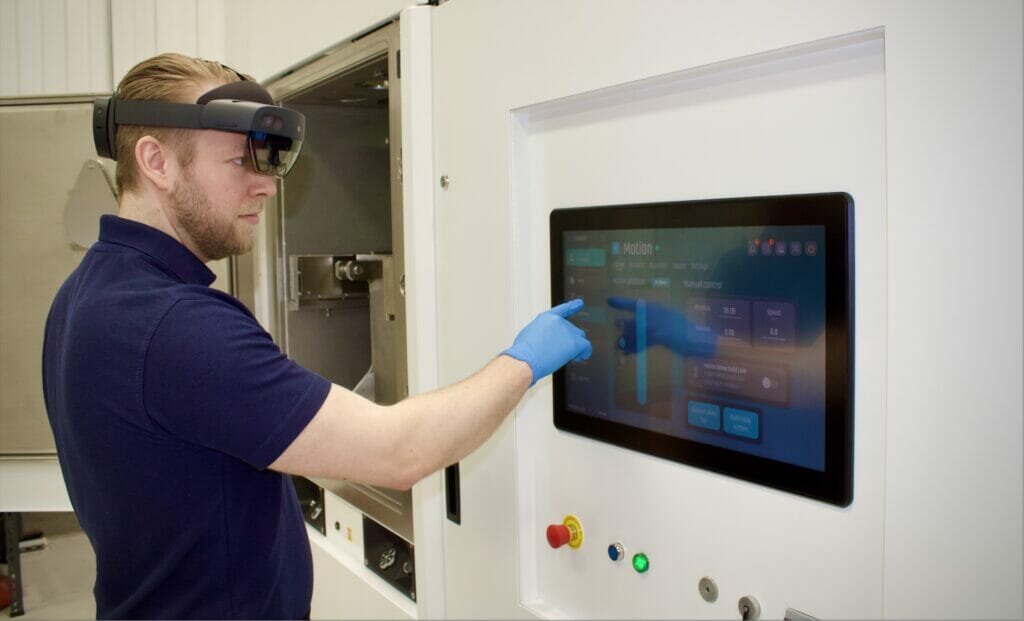 Will Richardson, CEO at Wayland, commented: "At Wayland we are always looking for ways to support our clients and give them the very best access to everything they need from us. RemoteSpark achieves exactly that and offers our customers an improved experience, enhanced employee training options and ease of collaboration – both internally and with Wayland. It also offers peace of mind, because any of our customers can get fast, secure and reliable access to any of our technical experts whenever they need it."
Peter Hansford, CRO, at Wayland, concluded: "Collaboration with our customers is central to how we operate at Wayland and is fundamental to our success, but more importantly, that of our customers. This mixed reality approach to our post sale service contracts helps us to deliver more for them. The sustainability angle is also an important one, in a world where we all need to be more aware of our carbon footprints, we can work with our clients in a meaningful way, in real time without jumping on a plane to help them resolve any issues. It's faster, it's way more efficient and it keeps those carbon miles way down. It just works and is a Win-Win-Win — for our customers, for Wayland and for the environment."