Kemet International Ltd, a leading provider of precision lapping and polishing technologies, has a comprehensive range of cleaning solutions. With a history dating back to 1938, Kemet has established itself as an industry leader in the field of precision engineering, offering innovative solutions for operations requiring exact geometry and finish. Kemet has established strategic alliances with renowned global manufacturers specialising in ultrasonic cleaning equipment, aqueous-based cleaning fluids, and water treatment systems. Through these collaborative partnerships, Kemet significantly broadens its product portfolio, ensuring comprehensive coverage across diverse applications.
Kemet presents a comprehensive range of industrial ultrasonic cleaners, expertly designed and built to exacting standards. Spanning capacities from 40 to 160 litres, these modular units come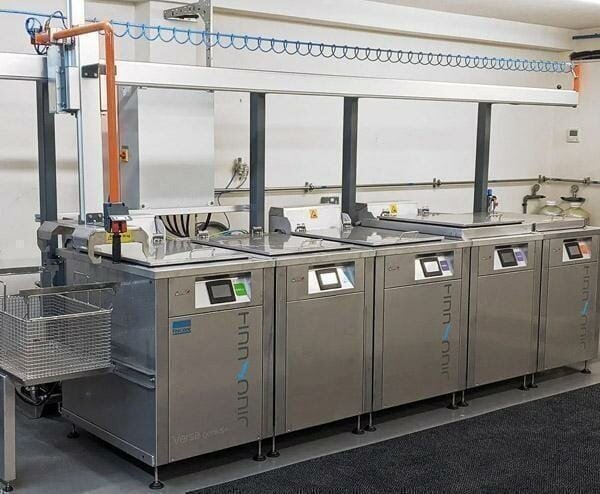 equipped with rinse tanks, hot air dryers, filtration, and transport systems, forming a complete process line for diverse industrial needs.
Furthermore, Kemet possesses the capability to tailor solutions for specific applications, offering custom design, development, and manufacturing of sophisticated systems. This extends to large single tanks and fully automated mass production systems, demonstrating our commitment to meeting the most demanding requirements.
For more compact tasks, Kemet also presents a series of robust benchtop cleaners, with capacities ranging from 5 to 30 litres, ensuring a versatile array of options for various industrial settings. All cleaning equipment is designed to be used with aqueous detergents, which provide stronger ultrasonic cavitation action than solvents and are more environmentally friendly. Kemet offers a wide range of biodegradable cleaning fluids, including over 300 standard cleaning fluids in neutral, alkaline, or acid types. Kemet's technical specialists provide free trials to help customers identify the perfect cleaning solution for their challenges.
Kemet understands that customers find it easier to maintain a high standard cleaning cell when they only need to deal with a single supplier for technical and practical support. The company's strategic partnerships, technical sales representatives, internal technical team, and after-sales and service department offer a comprehensive support structure.
In conjunction with our Aqueous Ultrasonic Cleaners, Kemet provides a diverse array of supplementary offerings, including:
Vacuum Solvent Cleaning: Operates in a vacuum cycle, ensuring excellent cleaning without harmful releases. Reduces construction expenses by eliminating the need for ATEX approved machines.
Passivation: Complies with ISO 7 clean room standards, perfect for aerospace and medical sectors due to stringent regulatory adherence.
Fluorescent Penetrant Inspection: Efficiently detects surface flaws and defects, following ASTM E1417 FPI standard widely used in aerospace and medical fields.
Vapour Degreasing: Safely and effectively removes oils and contaminants while minimising environmental impact and ensuring operator safety.
Spray Washing: Swift and efficient part cleaning in a closed chamber, promoting a better working environment.