ION Science has launched a new, dramatically upgraded version of Titan, maintaining its position as the only fixed benzene-specific monitor in the world; Titan 2. In accordance with recent legislation changes, Titan 2 offers enhanced stability and sensitivity, supporting ION's continued mission of protecting lives and preserving the environment.
"Benzene is a toxic, carcinogenic gas representing a serious threat to many workers, as well as the environment," explains ION Science Group Managing Director, Duncan Johns. "It is therefore vital that staff are protected by monitors that can continuously measure benzene at the low levels required by increasingly stringent international regulations. Titan 2 is the only commercially available, truly selective, fixed continuous benzene monitor worldwide that can meet this requirement."
Titan 2 delivers unrivalled accuracy and sensitivity in benzene detection and is ideal for use in a variety of sectors, such as oil & gas, bulk storage facilities, chemical manufacturing and processing, and asphalt production.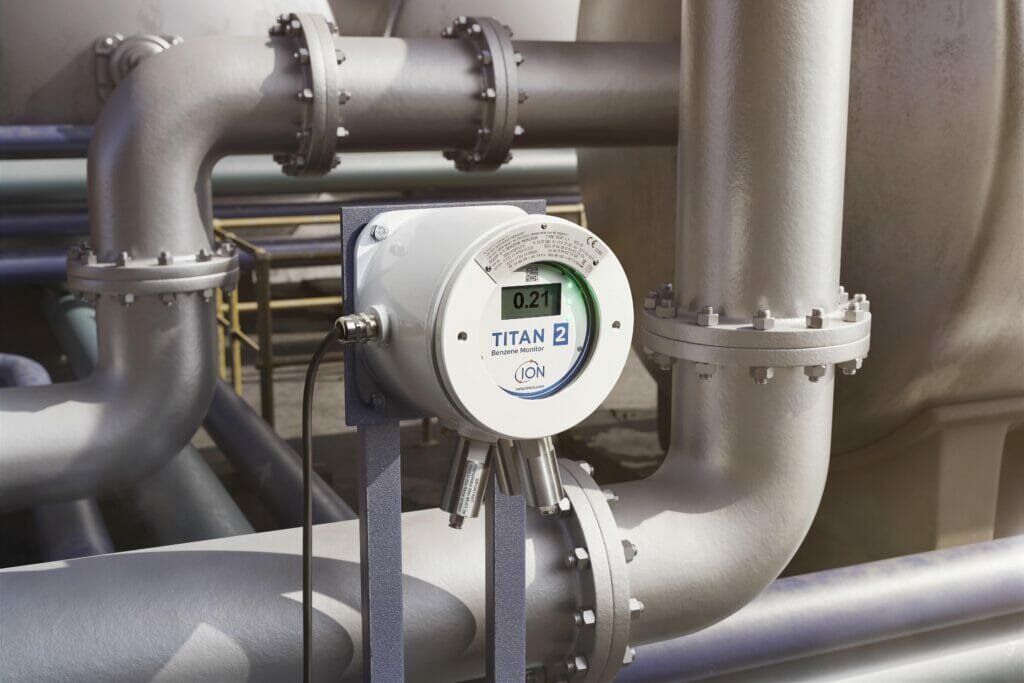 Users of the original Titan will be familiar with the instrument's accuracy and performance, however, within the new Titan 2 they will see core enhancements, such as a new rugged manifold, a piezoelectric micro pump for enhanced stability, a lower limit of detection, and updated PC software for easier management and control.
An occupational exposure limit (OEL) for benzene of 100 ppm was originally recommended in 1946. Following further associations with leukaemia, the OEL was reduced to 50 ppm and then to 1 ppm as the 8-hour time weighted average (TWA) exposure limit (U.S. OSHA, 1987). However, further health problems have been reported at levels below 1ppm so there is pressure in many countries to lower the limit further. For example, NIOSH recommended airborne exposure limit (REL) is 0.1 ppm (10-hr TWA) and 1 ppm during any 15-minute work period. Similarly, the current EU 8-hour TWA for benzene is 1 ppm (3.25 mg/m3). However, from 5th April 2024, the long-term exposure limit will be reduced to 0.5 ppm – and will be cut again from April 2026 to just 0.2 ppm. – Directive (EU) 2022/431 of the European parliament of the council, March 2022.
Regulatory requirements are therefore driving the need for greater sensitivity, and these needs are met by Titan 2. Thanks to innovative technology in conjunction with industry-leading PID sensor technology, the Titan 2 has a reduced likelihood of cross-sensitivity and can detect benzene rapidly at levels as low as 0.02 parts per million (20 parts per billion). At the other end of the scale, it can detect benzene at up to 20 ppm, delivering high speed and high sensitivity.
Titan 2 captures a gas sample once every 60 seconds. The sample is then conditioned within a further 60 seconds to allow precise benzene measurement, ensuring a consistent flow of real-time data. The piezoelectric micro pump in the latest version delivers enhanced pressure and flow accuracy to ensure a rapid response and unrivalled reliability.
Titan 2 also features visible alarm capability, triggering an alert when benzene concentrations reach either of two operator-configurable levels. Twin relay outputs enable the user to integrate the unit with existing site alarm systems, while easy-to-use firmware allows a simplified calibration procedure. For analysis of readings captured by Titan 2, both 4-20mA and RS485 MODBUS communication protocols can be utilised.
A proven, robust separation method ensures specific readings for benzene, with an easy-to-read display. An internally regulated heating system ensures stable operation even at extremes of temperatures, and the new robust housing reduces contamination risk and allows for extended use in the harshest environments.
Titan 2 has been designed to comply with international safety standards, including ATEX and IECEx, making it safe for use in any environment, as well as featuring an IP65 Ingress Protection rating. ION Science's photoionisation detection (PID) technology has been independently verified as the best-performing on the market, providing reliable, accurate solutions backed by outstanding product support. Importantly, the new, unique to Titan 2, MiniPID T2 10.0 eV Sensor features a patented design to nullify potential humidity interference, whilst ensuring a fast response, the highest levels of sensitivity and market-leading reliability.
The Titan 2 service module is designed to be backwards compatible, so in conjunction with a simple firmware upgrade now provides existing Titan customers with a quick and convenient upgrade opportunity.
Summarising, Duncan Johns says: "Benzene is one of the more dangerous VOCs so the Titan 2's ability to reliably speciate this gas is extremely important in the protection of lives, and with lowering regulatory limits, the instrument's enhanced sensitivity is a major advantage."
Further details can be found at: https://bit.ly/44tqfDz