Powered by NVIDIA Jetson Orin NX bundled with JetPack 5.1
100 TOPS AI inference performance
Software-programmable per-port power on/off control
Impulse Embedded, are pleased to introduce the recently announced latest in AI-enabled frame grabbers from Neousys Technology, an industry-leading provider of rugged embedded systems. Both cards, the PCIe-NX156U3 and the PCIe-NX154PoE, are powered by the NVIDIA Jetson Orin NX System-on-Module (SOM) and with the choice of either the 6-port USB or a 4-port PoE+ (Power Over Ethernet) camera interface, they are a turnkey industrial frame grabber solution for AI based vision applications.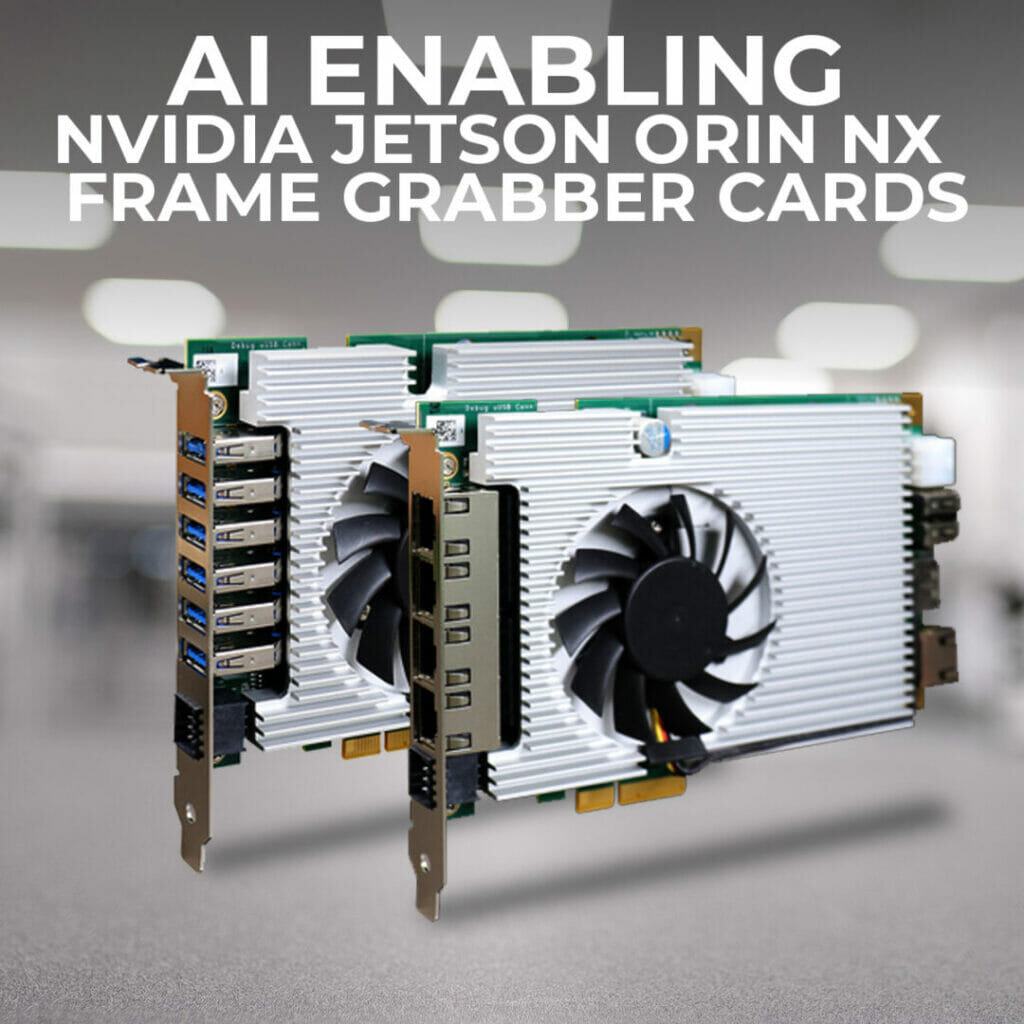 Ideal for developers of machine vision and automated inspection systems, these PCI Express cards make it easy to add the power of Nvidia Jetson to 19" rackmount and x86 Industrial Computer platforms, shifting the AI processing load from the host computer and onto the card. This means that these cards can also make a fantastic addition to existing systems by upgrading them to the latest image capture, pre-processing, and inference technology, especially considering they are designed to withstand harsh environments by supporting a wide operating temperature of – 25°C to +60°C.
Powered by Jetson Xavier NX
The NVIDIA Jetson Orin NX is the mid-range System-on-Module (SoM) from the latest Jetson Orin range, featuring NVIDIA Ampere architecture, offering a 1024 CUDA Core GPU, up to 16GB of LPDDR5 and up to 100 TOPS of INT8 computing power.
Thanks to NVIDIA's Jetpack software suite, which is a comprehensive solution for building end-to-end AI accelerated applications, the application software can be developed on any Jetson powered device and then seamlessly deployed onto these capture cards, which can accelerate time to market for machine vision integrators already fluent with the Jetpack suite. Moreover, these cards can operate in standalone mode, which means developers can create their application before installing the cards into a host system.
The Cards themselves
The PCIe-NX156U3 has a USB interface offering six USB3.2 ports, each with 10Gbps bandwidth and up to 1500mA current for camera connectivity, whilst the PCIe-NX154PoE has four high-speed 2.5Gbps PoE+ ports, supporting a total of 50W for IP cameras, with both cards having software-programmable per-port power control.
The standard, single-slot, half-length cards use a PCIe x4 slot with a x1 signal, which is compatible with both Windows and Linux systems. These AI-enabling frame grabber cards offload deep learning vision computing from the host system, ideal for image processing applications such as object sorting, defect detection, packaging inspection, assembly verification, and robotic guidance.
Impulse Embedded
Founded in 1993 and privately held, Impulse Embedded create reliable, repeatable, and robust systems to help clients reduce costs and development time. With a team of in-house engineers and specialists, all with decades of experience, Impulse offer fully deployable embedded Edge AI computing solutions straight out of the box.
For more information on the Neousys Jetson Orin NX powered frame grabber cards, or any of the Jetson range, please contact the friendly, technical sales team via the website enquiry form at https://www.impulse-embedded.co.uk/ or call +44 (0)1782 337800.