Multimeter empowers utility, manufacturing, building electricians, and industrial mechanics to troubleshoot electrical system components and identify hazards
Teledyne FLIR, part of Teledyne Technologies Incorporated, today announced the DM286 Infrared Guided Measurement (IGM™) Multimeter, and two new clamp meters, the CM57-2 and the CM85-2. The reimagined multimeter and clamp meters replace the predecessor DM285, CM57, and CM85, respectively, providing technicians with upgraded tools to perform safe and accurate electrical inspections and to identify hazards before contact is made.
"The FLIR DM285 IGM multimeter and the CM57 and CM85 clamp meters have proven to be enormously popular for electrical inspection, and we are thrilled to reintroduce these flagship products with even more compelling features," said Rob Milner, business development director, Teledyne FLIR. "The redesigned FLIR DM286 Industrial Imaging Multimeter with IGM now features FLIR-patented multispectral dynamic imaging (MSX®) that adds visible light details to thermal images in real-time for greater clarity. It also includes video recording, longer run time, and compatibility with the new FLIR METERLiNK app."
The DM286 is designed to enable electricians to pinpoint hot spots and other problem areas faster, safer, and more efficiently. It features 160 × 120 thermal resolution from the embedded Lepton thermal micro- camera along with an embedded visible-light camera and bright LED work light to operate MSX in low light. MSX is additive in that the visible light edge details are displayed on top of the thermal image without sacrificing any thermal detail or resolution.
The multimeter can also store up to 30,000 radiometric thermal images and log files and includes longer battery life for inspectors to capture images and log files all day long. For those using other FLIR test and measurement tools alongside the DM286, the new FLIR METERLiNK app, which replaced the FLIR Tools app, can work independently or in concert with compatible FLIR devices.
It is also effective for complying with the updated National Fire Protection Association (NFPA) 70B 2023
rules released in April, which changed the use of thermography for electrical equipment maintenance from "recommended" to "required." For more on the updated thermography rule changes, visit: www.flir.com/discover/industrial/nfpa-70b-2023-new-guidelines-for-electric-inspections/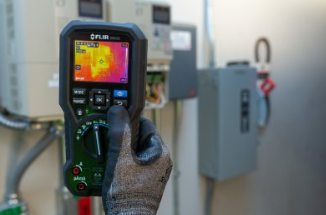 New Era of Clamp Meters
Compatible clamp meter tools provide access to difficult-to-reach areas and adapt to operating condition-specific voltage measurement needs. The CM85-2 Clamp Meter is an industrial power clamp meter with advanced power analysis and variable frequency drive (VFD) filtering functions required by electrical troubleshooters for full-scale equipment. Technicians can accurately analyze voltage in complex machinery by including harmonics, inrush, current, and phase-rotation testing.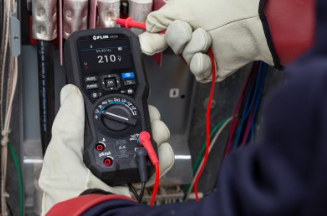 The CM57-2 Clamp Meter is designed to simplify difficult current measurements. Its narrow, 18-inch (45.72 cm) flexible coil clamp lets users easily take measurements in awkward and tight spots and it is ideal for multiple conductor measurements and double-wrap requirements. Like the CM85-2 and the DM286, the CM57-2 is also compatible with the FLIR METERLiNK app.
For more information on each of the products, visit the following links:
FLIR DM286: www.flir.com/DM286.
FLIR CM57-2: www.flir.com/CM57-2.
CM85-2: www.flir.com/CM85-2.