Stand M1, Manufacturing Solutions Ireland 2023, 14-15 June, TUS, Limerick
Highlighting the importance of precision engineering and optimised productivity for Irish manufacturers, automation experts FANUC will unveil the latest version of its ROBODRILL machining technology at Manufacturing Solutions Ireland 2023. Developed in response to customer demand for increased precision, the a-DiB Plus ROBODRILL is FANUC's most advanced drilling and machining solution yet. Visitors to stand M1 will be treated to a live system demonstration and free giveaways of a part, custom machined and engraved by the ROBODRILL, which will be tended on-stand by the FANUC CRX-10iA collaborative robot (cobot).
Organised by the Technological University of the Shannon (TUS) & GTMA, Manufacturing Solutions Ireland is the nation's key event for manufacturing technologies and engineering solutions, attracting over 100 of the most advanced providers of metrology, inspection, machine tools, workholding, cutting tools, and Cad/Cam/PLM manufacturing software. At the heart of the Technology Zone will be leading robotics and automation company FANUC, which opened a dedicated facility in Ireland last year following increased demand from its Irish customer base.
Taking precision to new heights
Building on its solid reputation as a provider of ultra-efficient robot and cobot systems for manufacturers across all sectors including medical devices, food & beverage and metal cutting, FANUC is now keen to showcase its solutions for machining and precision drilling with the launch of the a-DiB Plus series of the ROBODRILL. "Featuring high productivity, high speed and high power, the a-DiB Plus series takes the ROBODRILL's established reputation for precision to new heights," says Nigel House, FANUC's ROBOMACHINE Sales Manager. "At the same time, the enclosed cell is extremely compact and available in versions suitable for an X-axis stroke of up to 300mm, 500mm and 700mm."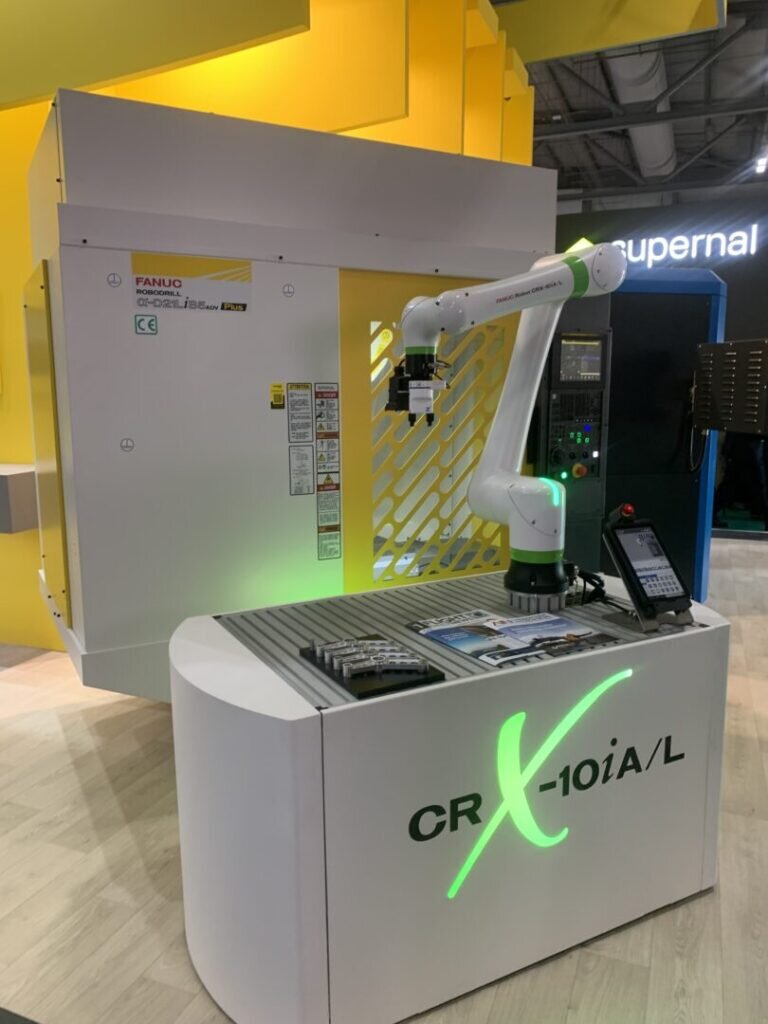 Optimising machining efficiency
The stable machining features of the a-DiB Plus can help to reduce wastage and maximise yield from parts and workpieces. Options for estimating thermal displacement include a touch probe and AI-based technology. These allow adjustments to be automatically factored in, based on the status of spindle and feed axes. They can compensate for temperature-driven changes, resulting from the transition between day and night, for instance, or between seasons.
The CNC system at the heart of the a-DiB Plus series brings its own productivity improvements, too. One example is the Smart Overlap function, which allows machine adjustments to occur in parallel – for instance, a tool change and table repositioning. "This can lead to vastly reduced downtime and significant efficiency benefits over an entire shift," explains Nigel. "Similarly, tapping cycle times can be reduced by maximising spindle motor outputs without losing accuracy."
In addition, servo control on the a-DiB Plus ROBODRILL is optimised for an enhanced level of overall machining accuracy, and for options including smooth tolerance control and high-precision programme command. The system also offers a variety of high-speed and high-power spindles.
"Since establishing a dedicated facility here in Ireland, we've had numerous conversations with manufacturers looking for ways to boost the precision of their machining operations while increasing their overall productivity rates," adds Ronan Rasdale, Robotics Sales Manager for FANUC Ireland. "We're looking forward to demonstrating to visitors to Manufacturing Solutions Ireland how the new and improved ROBODRILL can help manufacturers achieve just that."
For a live demonstration of FANUC's CRX-10iA cobot tending the a-DiB Plus ROBODRILL, visit the FANUC stand M1 at Manufacturing Solutions Ireland 2023, 14-15 June, TUS, Limerick.