One of the UK's leading digital transformation specialists has added an important feature to its augmented reality solution Vuforia, which will support and simplify visual inspection on shop floors across the country.
PTC's Step Check™ will provide employees with a step-by-step guide through inspection tasks with context-sensitive work instructions.
These are superimposed on the physical product that is being inspected and, importantly, will detect improper assembly, missing or misaligned parts, and other errors – all completed by the power of Artificial Intelligence (AI).
Thanks to colour-coded graphics displayed in real time on the part or product in question, operatives can see at a glance whether it has passed the inspection step.
In addition, Step Check automatically documents inspection results and creates dashboards to analyse the inspections performed.
"Step Check uses advanced computer vision to recognise parts or products to be inspected using their 3D CAD models, then it utilises an AI model based on examples of passed and failed inspections," explained JJ Lechleiter, General Manager of Vuforia at PTC.
"The AI models learn from the decisions made by the employees and, as a result, continuously improve the results. Vuforia's computer vision capabilities also recognise things not included in 3D CAD models, such as stickers or labels."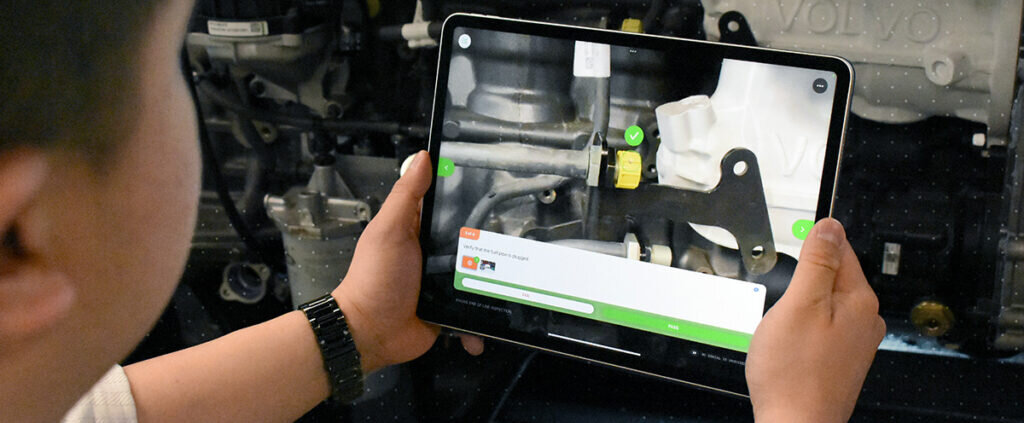 Step Check is part of PTC's Vuforia Expert Capture SaaS Augmented Reality solution, a market leading solution for the quick and easy creation of step-by-step AR work instructions.
The new feature focuses on one of the most important phases of the manufacturing process: visual inspection in quality control.
In this process, employees assess whether a part, component, or product has been manufactured or assembled correctly and is in working condition.
Traditionally, these inspections are performed by the naked eye and paper-based documentation, putting pressure on employees to make decisions quickly and increasing the risk of errors and rework.
For further information, please visit www.ptc.com or follow @ptc on twitter