One of the UK's leading plant hire specialists has extended its working relationship with Spillard Safety Systems to help it reduce accidents on site and keep workers safe.
Flannery, which has more than 1700 operators supporting its nationwide client base, has invested in 'SpillardLive', fitting it to 180 machines so that it can benefit from the human detection system, 360-degree cameras and real time feedback on driver performance.
The intuitive cloud-based platform captures and streams real time video and analytics simultaneously from multiple cameras fitted to plant equipment and vehicles, reducing risks, protecting lives, and saving the firm hundreds of thousands of pounds.
It has been developed and tailored in collaboration with Flannery to have the maximum impact, with feedback on trials being fed into enhancing many of the features of the system.
With up to 5200 machines in its fleet, the plant hire expert is continuing with this project and is now planning to roll-out the technology to the rest of its equipment over the next three years.
"I'm delighted we have been able to expand our working relationship with the team at Flannery…the difference the initial roll-out has made is significant and will only grow as more operators are trained on the system," explained Pete Spillard, Managing Director of Spillard Safety Systems.
"SpillardLive has been proven to increase the safety of machine operators and other members of staff on or around the site and is fast progressing into a valuable business information system when the client is looking to upskill employees and achieve greater productivity."
He continued: "When the ignition is switched on, these cameras can virtually map out a five-metre 'red zone', a further away 'amber zone' and a 'green zone' that indicates a safe distance. The data for that machine can be accessed from our platform and the live journey of that vehicle can be checked.
"This system means that a machine can track patterns and help highlight where changes need to be made on site. For example, a machine could detect that a person has encroached into the dedicated 'red zone' around fifty times at around three o'clock each day.
"This data would then go to an appointed person who would see a clear pattern forming and be able to change site parameters to accommodate the need to enter that area at that time of day."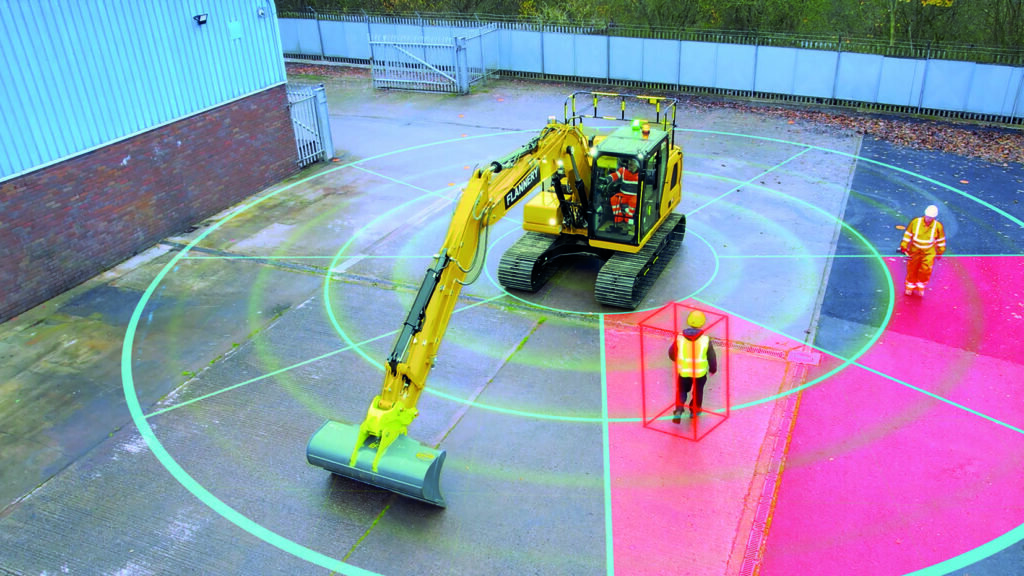 Spillard and Flannery have been working together since 2009 and continue to collaborate with operators to fine-tune the Human Detection System to identify any behavioural changes.
These could be if an operator is showing signs of fatigue, if somebody is smoking or using their phone while operating the machine, or even if a driver isn't present in the vehicle while it is on or meant to be operational.
So far, testing has shown the system works for reducing incidents on site and saving individuals from potentially life-threatening situations.
Patrick Flannery, Director of Flannery, added his support: "The safety of our operators and those of our clients using our vehicles is paramount, which is why we've entered into this agreement with Spillard to incorporate 'SpillardLive' onto 180 of our vehicles and equipment.
"Initial results have been very encouraging; we've already been able to reduce the number of Plant People Interface (PPI) risks on sites, as well as identifying lots of ways we can train our staff to be better and safer, especially in human detection whilst operating the vehicles."
Spillard Safety Systems, which has just celebrated 30 years in business, has had its full team of engineers equipping Flannery's fleet and offers the customer a call out/service window of 24 to 72 hours.
The plant hire specialists are one of 300 companies that have signed up to SpillardLive, with 12,000 vehicles already connected and enjoying the huge benefits of the platform.
For further information, please visit www.spillard.com or follow spillard-safety-systems-ltd on LinkedIn. More details on Flannery can be found at www.flanneryplanthire.com