This high accuracy and low latency IMU (1 degrees per hour bias instability and 0.1 degrees per square root hour angular random walk) provides precise localization and safety, and is designed for developers of autonomous vehicles, self-driving taxis & delivery vehicles, as well as for ADAS systems
ASIL-B Certified, 6DOF IMU with Ethernet and CAN-FD Interface
ACEINNA Inc. (pronounced "A See Nah"), today announced the general availability of the IMU330RA high performance inertial measurement unit (IMU). ACEINNA's new IMU330RA is an easy-to-integrate, high-performance 6-DOF inertial sensor packaged in a ruggedized, sealed over-molded plastic housing at IP69K level. The IMU330RA features a redundant 3-Axis Accelerometer and 3-Axis Rate Gyroscope sensors for excellent accuracy and reliability.
The module supports both 1000Base-T1 Automotive Ethernet and CAN-FD interfaces and provides up to 1000Hz update rate with low latency. The IMU330RA is an automotive grade, ASIL B certified device which serves as the basis for customer positioning system integration to ASIL D.
"Our new ACEINNA IMU330RA IMU sensor is designed for use in Automotive Level 3 and higher ADAS systems," says Teoman Ustun, VP of ACEINNA's Automotive Business Unit. "This new sensor module provides encrypted data, at up to 1000Hz output rate over both Ethernet and CAN-FD interfaces, and supports precise synchronization based on gPTP 802.1AS:2020 and Unified Diagnostic Services."
IMU technology is an essential element of todays and tomorrow's navigation and safety systems for autonomous vehicles and ADAS systems. IMUs work together with a variety of perception sensors (Lidar, cameras, radar, odometry, etc.) to ensure that the vehicle stays on the correct path. However, if the perception sensors fail because of location challenges or environmental challenges like heavy rain, snow, dust, or smoke, the IMU can keep the vehicle on its projected path until data from the perception sensors re-engages or the vehicle is safely brought to a stop.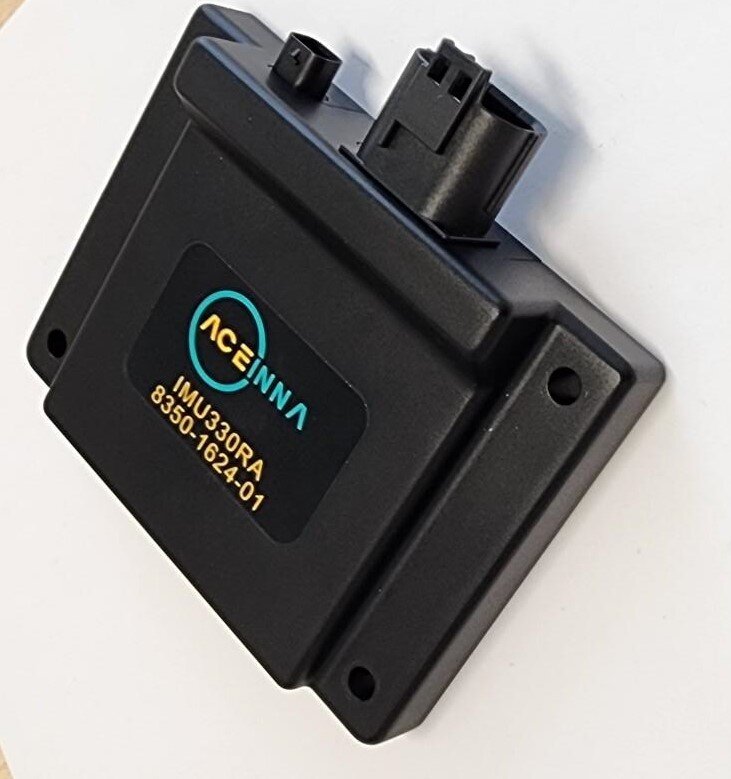 Critical features include:
1 degrees per hour bias instability and 0.1 degrees per square root hour angular random walk
1000Base-T1 Automotive Ethernet and CAN-FD interfaces
Supports gPtP 802.1AS:2020 time synchronization over Ethernet as a gPtP slave
Supports UDS (Unified Diagnostic Services), as defined in ISO 14229-1 and 14229-5 over Ethernet and CAN
Automotive Grade with AEC Q-104 fulfillment
Part Operating Temperature Grade 2: -40C to +105C
IP69K, rugged, sealed, over-molded packaging
Encrypted software updates and communication, with on board hardware security module (HSM)
Level B Automotive Safety Integration
Additional technical details and specifications about the new IMU330RA is available at https://www.aceinna.com/inertial-systems/IMU330RA