When K2 Marine was searching for a lifting device to solve the issue of flipping their boat parts once they come off the mold at their dockyard in Knoxville, Arkansas, they looked no further than Caldwell.
After seeing the Posi-Turner in action at another boat plant, Bill Kenner, co-founder, K2 Marine, which owns BlackJack Boats and Frontier Boats, ordered a 2MP-180 Minimum Profile Posi-Turner from Caldwell's representative, Riptide Sales and Service in Mississippi.
The order took eight weeks to deliver, from customer inquiry to evaluation and qualifying, with concept drawings to final design and manufacture.
Caldwell's Posi-Turner is used by companies around the world to lift, suspend, rotate, and position hard-to-handle objects and is a patented material handling system for objects in light to heavy-duty applications.
"Several years ago, I saw a Caldwell Posi-Turner being used at another boat plant. It seemed to perfectly solve the issue of flipping the boat parts once they come off the mold. These pieces are not heavy but are cumbersome to turn over with manpower and normal hoists. The turn of these parts constituted some risk to the individuals turning the part and it was common for damage to be done to the pieces in the process of turning them over," said Kenner.
"We ordered a RLL-2MP-180SP Posi-Turner with twin bails, capacity 2,000 lbs., matched up with two CM 1-ton hoists. The order was part of an overall plant expansion at K2 Marine and took six months to complete the total project.
"The main challenges regarding installation included proper measurements of the part that would be rotated and what length of straps would be required. Caldwell helped with this and when the first set proved to be too long, they came to the rescue and provided the proper length required.
"Use of the Posi-Turner has proved to be a time saver, turning the parts over with less damage with fewer people involved with a much safer method. I wish all the other equipment purchased for the plant expansion worked as well."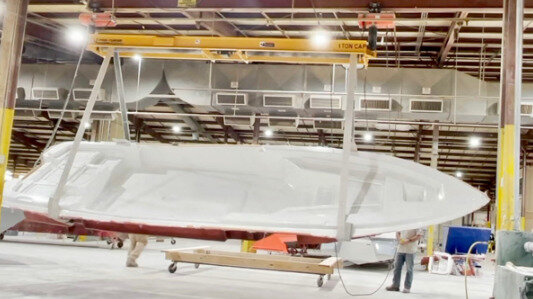 Sean Powers, Posi-Turner Applications Specialist, The Caldwell Group, said safety, efficiency, and damage free products are what makes the technology a popular choice.
"The Posi-Turner units are extremely robust and over built. We have customers still using units from prior to Caldwell acquiring the line in 2000. We always hope for and have repeat customers for the technology, but the biggest factor in the marine industry is the need to continually build customer driven bigger boats. Bigger boats equal larger capacities and longer Posi-Turner units to accommodate," he said.
"Depending on the capacity from 500 lbs. to 110,000 lbs. and more, ordering can take six to 16 weeks or more depending on the parts and materials available. Our Posi-Turner systems are a popular product in our Caldwell line due to all the industries it serves."
Tyler Newton, Riptide Sales & Service, said following discussions with K2 Marine they travelled to Arkansas to meet with Bill Kenner and complete a walkthrough of the location where the Posi-Turner would be in use.
"Once we visited the site visit and discussed what their needs were, we were able to determine exactly what was needed to quote the project. We had some issues at first syncing both hoists on the Posi-Turner but after working with both K2 and Caldwell we were able to get the correct information / codes together to have all transmitters and electrical components working."
Family-owned K2 Marine builds about 250 boats per year, sold through 20 independent dealerships, from New Jersey to South Florida and along the Gulf Coast into Texas.
"Each boat requires one to two pieces to be turned over from the original upside-down position that is built, weighing from 500 lbs. to 1,000 lbs. These pieces are then assembled to build a complete boat. The hull of the boat is built similarly but does not need to be flipped over. A complete boat would weigh between 1,800-3,000 lbs. depending on the model," said Kenner.
The optional patent-pending Auto-Leveler is an easy way to keep a load level during rotations. The product can be added to the Posi-Turner at the time of the order or be field-mounted to existing units. The solution is suited to applications in transportation (auto frames, engines, truck chassis, etc.); heavy equipment; concrete; metal forming; and more.