These latest 817 series of motorised height gauges from Mahr offer incredibly high quality and accuracy and are available in the UK from Optimax Imaging and Inspection. They are available in three measuring ranges, 350mm 600mm and 1000mm. Easy measuring by touch is initiated via large, clearly arranged keys using the swivelling touch panel interface .
Push buttons for the air bearings with quick measurement function keys, thumbwheel with ergonomic operating and transport handles make this the most user-friendly height gauge on the market.
Measurement regimes can be set up using the teach-in or drag and drop functions.
The instrument also features 2D geometry measurement and probe calibration functions with 2D animation.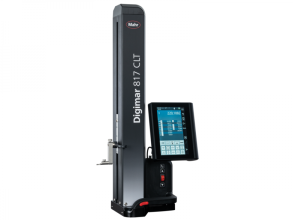 It is supplied with a USB printer and docking station, data transfer software, connection to additional Mahr measuring equipment suing the same software is also possible.
From a technical level the instrument is phenomenally accurate with resolution down to 0.1µm and an error limit of (1.8L/600) mm.
A wide range of accessories and holders for perpendicularity, depth probing and anvils for discs and cylindrical measurement are available.
Full details available from Optimax at https://bit.ly/3TR4vgK, or contact Optimax on 01858 436940 to request further information or a demonstration.