The construction sector is leading the clamor for The Caldwell Group Inc.'s multi-grapple lifting system.
The product, available in 3,000-lb. and 6,000-lb. capacity versions, features three arms that are designed to provide a stable lift of irregularly shaped, heavy debris, including rock / stone, steel scrap (metal shavings), wooden blocks, and more.
The system can work with a crane hook but is more commonly used in conjunction with outdoor construction equipment, such as excavators and backhoes. The 3,000-lbs. version weighs 140 lbs., while the heavier unit weighs 265 lbs.
It is widely stocked by Caldwell's distributor network, which includes McMaster-Carr, Grainger, and other companies that provide hardware and industrial equipment to building, highways, and infrastructure stakeholders. It is common for such dealers to bolster stock ahead of peaks in these marketplaces, which is often seasonal.
The Rockford, Illinois-based manufacturer has historically welcomed heightened demand for the multi-grapple system in the U.S. spring, along with other construction-centric products, such as its patented Rig-Release hook, available in two (manual and radio-controlled) versions, both designed so they cannot release the rigging while loaded; and its barrier grab, perfect for handling concrete barriers.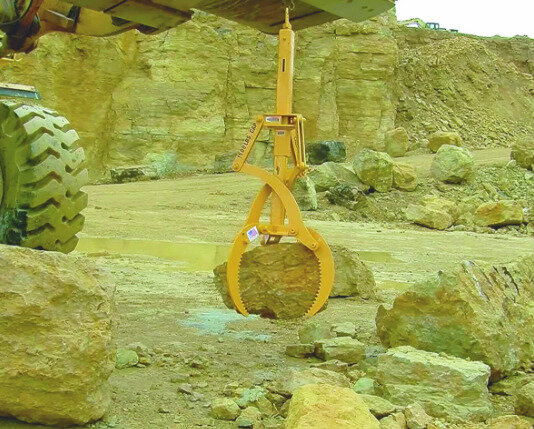 Darrin Noe, director of sales at Caldwell, said: "Generally, there is a build-up of demand for equipment like this in the months leading up to 'construction season' and we're in the middle of that now. But I think that traditional way of thinking has been put to the test lately. Obviously, the timing of the demand is dependent on geography, early-season weather patterns, and end-user pre-season bookings. Working with key distributors like Grainger and McMaster-Carr gives the local landscaping and construction companies the ability to get it when they need it, so they're ready for whatever the season throws at them."
The multi-grapple arms automatically and securely grab onto irregular shapes, eliminating the need for synthetic slings, while meeting ASME B30.20 and BTH-1 standards. Other key features of the multi-grapple lifting system include automatic latching; center-mounted actuator, that automatically locks open the grappler arms; quick load cycles; and an ability to be used with any on-site moving equipment with the proper rated lifting capacity.
Noe added: "In terms of the breadth represented by our channel partners, products like the multi-grapple lifting system are sold through a relatively niche dealer profile; we're talking about consumption by commercial landscapers, quarries, rental companies, etc. In most applications, the user is looking to handle rocks or boulders, which are naturally commonplace in this type of industry."
Custom versions of Caldwell's multi-grapple lifting system are available upon request.