Current Sensors for Next Generation Power Conversion and Management for Data Centers, Telecom & Server Farms, UPS, Motor Drives & Inverters, Electric Vehicle Batteries & Charging Infrastructure
ACEINNA Single Chip solutions provide 1.5 MHz bandwidth and supports fast switching SiC and GaN power stages
ACEINNA Inc. (pronounced "A See Nah"), today announced that they will be at APEC https://apec-conf.org/ (March 19 to 23, 2023 in Orlando, Florida) and will be showing their newest high power current sensing solutions in Booth 863.
"ACEINNA current sensors maximize the benefits of using SiC/GaN and help further increase the overall power conversion efficiency while improving the safety thanks to their industry leading high accuracy, high bandwidth, and fast response time. They are used in broad number of applications ranging from solar panel inverters, wind turbines, data center power supplies, motor drivers in industrial and on-board chargers and fast DC chargers, traction invertors and various power supply and conversion applications in automotive," said Teoman Ustun (VP Automotive Business Unit). "ACEINNA's family of MCx2101 (AEC-Q100 qualified Automotive) and MCx1101 (industrial) isolated AMR current sensors provide state-of-the-art performance in a cost effective, easy to use, plug and play component."
Silicon Carbide (SiC) and Galium Nitride (GaN) are starting to replace Silicon MOSFETs. These new transistors are enabling higher frequency systems with better efficiency and smaller size.
When developing power solutions using these higher frequencies, engineers require a higher bandwidth current sensor for the current control loop.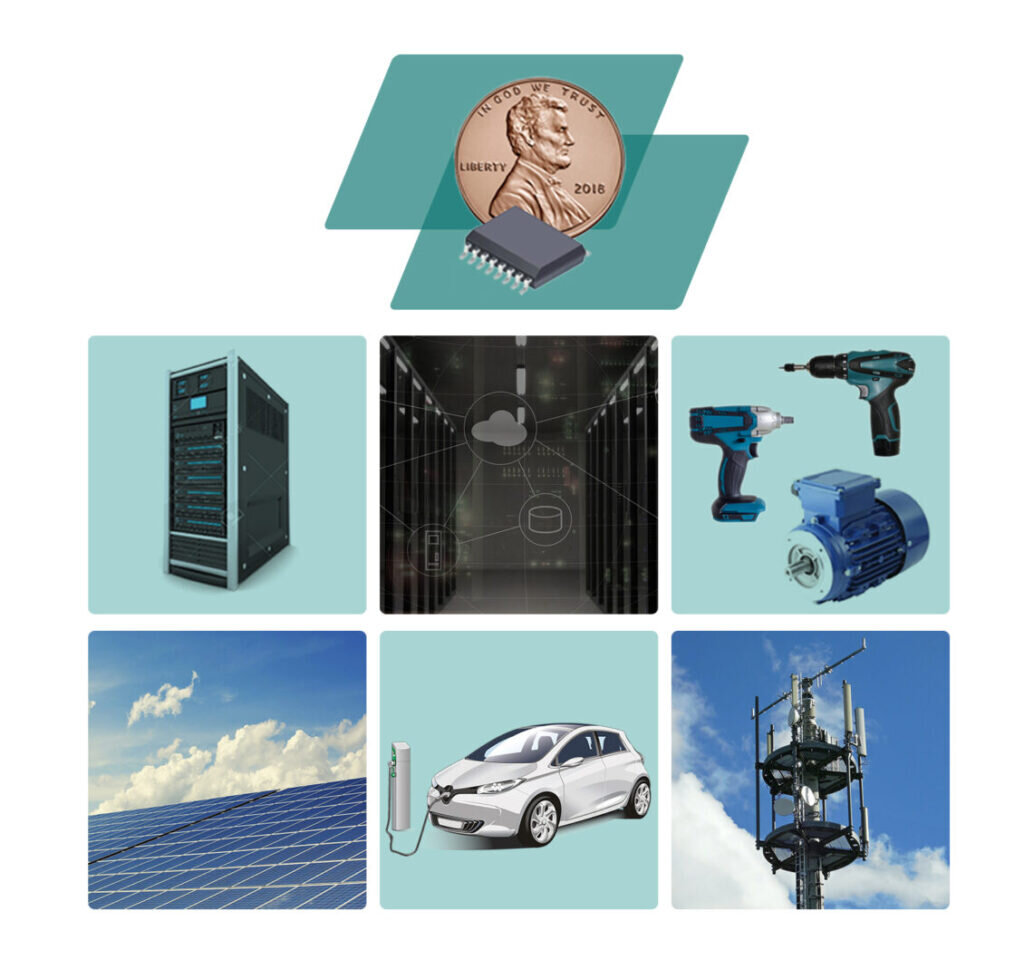 Totem pole PFC requires fast switching ripple current measurement. Motor and inverter apps also require fast ripple current measurement. Higher bandwidth sensors enable fast step response in protection circuits.
ACEINNA Current Sensors are simple to integrate – easy to design in. This small single chip isolated current sensing solution require only a decoupling capacitor,
1.5 MHz frequency response enables SiC/GaN advantages such as higher frequency, smaller system size, and better system efficiency. Benchmark Step Response Time (300ns) minimizes protection timing budget for current sensor and enables the protection of higher frequency SiC/GaN switches. Benchmark Accuracy (0.6% typical) over temperature for ICs provides better control and regulation to improve efficiency and reliability. Low offset and low noise provides high accuracy across the dynamic range
If you are interested in setting up a meeting at APEC, please contact Eric Brown, Director – Channel Sales, via email [email protected] or phone 978 395 1045
More about ACEINNA's current sensor solutions at https://www.aceinna.com/current-sensors