A Black Country charity that predominantly supports men with their mental health has received a funding boost thanks to a kind-hearted local business.
Tough Enough To Care, which was formed by Stuart Bratt after he lost two friends to suicide in four days in 2019, has secured £5000 from Alloy Wire International's 'Wired for Good' campaign.
The additional money will be used to cover the operating costs of the weekly support groups it runs across the country, as well as inspirational presentations and trips they organise to help men and, now women, talk about their issues and get the right support.
Located in Kingswinford, the charity has grown from a simple Facebook page encouraging men to talk into an organisation that has worked with over 6000 people and delivered mental health training to more than 1500 individuals.
Importantly, it has also saved the lives of dozens of people who have been in the process of taking their own lives before being prevented by one of its 70-strong team of volunteers.
"Too many men fall into the trap of having to act macho instead of talking about their feelings," explained Stuart Bratt, a former Armed Forces veteran, industrial engineer and founder of Tough Enough To Care.
"I saw that for myself, when two of my close friends – from different circles – took their lives within four days of each other. This ripped me apart as I didn't see it coming and, as I started to process it, I knew I wanted to do something that will hopefully stop just one more man from attempting suicide."
He continued: "Never in my wildest dreams did I think that this simple idea would have turned into a charity that is supporting thousands of people and getting that 'important' message out worldwide.
"Covid-19 has been tough on charities and finances are stretched, which is why I'm so pleased Alloy Wire International has chosen us as one of the recipients of its 'Wired for Good' campaign.
"That money will make such a difference. Every penny goes into running the peer-to-peer support groups and gives us the freedom to launch additional venues for more men to meet."
Tough Enough To Care has extended its offer to deliver mental health training to community groups, fellow charities, and a growing army of corporates across the UK.
It operates a striking 'Tough Truck' that visits events to start the conversation and, in a bid to offer 24/7 support, has recently partnered with SHOUT to provide a free text support service. All anyone who is struggling needs to do is text TOUGH to 85258.
Stuart went on to add: "One of the latest developments is a peer support group for women, with the first one launching in Halesowen. The idea here is that we offer a similar supportive environment to ladies, who may have been supporting their partners and need somewhere where they themselves can go to talk about their own feelings and pressures."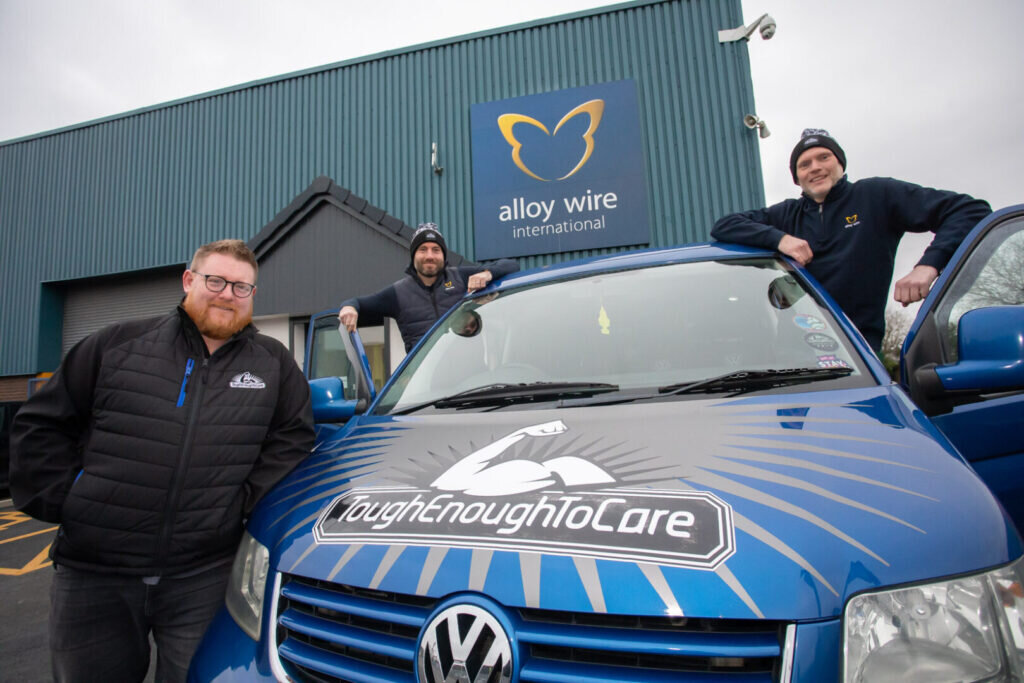 Alloy Wire International (AWI) is one of the Black Country's fastest growing manufacturers, supplying round, flat and profile wire to a 6000-strong global customer base.
To celebrate its 75th year in business in 2021, the company launched its 'Wired for Good' campaign, which aims to donate vital funds to local community groups and charities that are making a difference on the ground.
So far, the Brierley Hill-based company has supported Mary Stevens Hospice, the Chris Westwood Charity for Children with Physical Disabilities, the Giving Hands Mission, Acorn's Children Hospice and, more recently, The Santa's Black Country Toy Appeal.
Tom Mander, Managing Director of AWI, added his support: "We are finally getting to the stage where men are talking about the way they feel and Tough Enough To Care is playing a key role in changing the narrative.
"Stuart and his team of volunteers have saved lives and got families back on track and we wanted to make sure the excellent work they do could be extended to help more people."
He concluded: "We'll also be chatting to the charity about how we can get further involved in its other activities and ensure our own staff are supported if ever they need it."
For further information, please visit www.toughenoughtocare.help or text TOUGH to 85258.