Branson ultrasonic and laser welders provide customized flexible joining solutions for smaller, increasingly complex and delicate plastic parts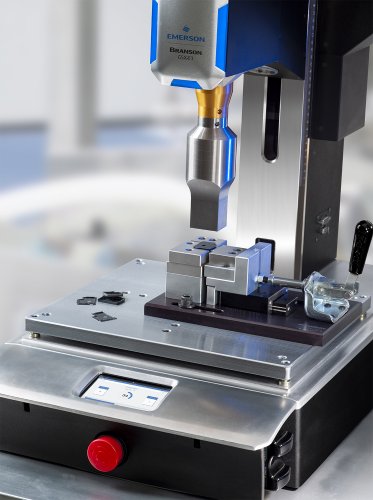 Emerson will be demonstrating a range of new plastic welding solutions at the Fakuma 2018 International Trade Fair for Plastics Processing October 16th – 20th. These are designed to meet the demands of assembling increasingly miniaturized, complex and delicate plastic components and help manufacturers meet tighter project timelines and deliver a product line's expected return on investment.
Emerson will unveil a new generation of Branson ultrasonic welders designed to support the growing demand for the assembly of smaller and more intricate plastic components. The new modular flexible welding platform will provide greater welding precision, control and efficiency, ensuring weld quality and improved operational efficiency.
At the heart of the Branson welding platform is an advanced actuation system that reduces trigger force and improves position accuracy, leading to faster, high-performance welding. This is complemented by a range of hardware and software features that simplify set-up, operation and maintenance, whilst digital connectivity supports Industry 4.0/IIoT applications that provide access to actionable performance and diagnostic data.
At booth #A4-4221, Hall A4 at Fakuma 2018, Emerson will also demonstrate the latest version of its class-leading Branson GLX series of laser welders. The Branson GLX-1.5 offers a cost-effective plastic welding solution, for the efficient assembly of small to medium-sized components with complex geometry, delicate components and embedded electronics and sensors.
Utilizing Emerson's patented Simultaneous Through-Transmission Infrared® (STTlr®) laser technology, the GLX series provides superior weld strength and quality with exceptional speed and flexibility. Particulate-free welds without vibration force makes the GLX series ideal for the assembly of parts requiring superior aesthetics, such as those demanded by the automotive, medical device and consumer electronics industries.
"For manufacturers to realize a product's expected return on investment, it is critical to bring it to market on time, ensure quality standards and maximize production efficiency," said William Vaughan, Vice President, Branson Global Marketing, Emerson. "By providing highly configurable, modular welding solutions, offering design flexibility and superior weld performance, Emerson is helping to meet the challenging production and market demands of plastic components."
For more information about the latest Branson welding solutions, visit http://go.emersonprocess.com/fakuma-2018-international-trade-fair