Unicut Precision invested over £1.5 million in seven machine installations during late 2017 of which six were by Citizen Machinery UK. The Citizen Machinery supplied machines comprised two Miyano BNE-51MSY fixed head and four Cincom L12-VII sliding head mill-turn centres, with one featuring Low Frequency Vibration (LFV) technology. This contribution to improve productivity targets has helped to increase 2018 as a clear sales record to the sub-contractor, putting the firm well in tune to hit sales of £5 million this year.
Said Managing Director of the Welwyn Garden City based firm Jason Nicholson: "Our order book reflects our revised strategy to move from being a sub-contract machinist reacting to orders as they roll in, to one that continuously generates business from being a 'supply partner'.  In this role, we have a policy of a willingness to invest and align our production capability across the company to the customers product and delivery needs."
Unicut is shipping on average 1.2 million parts a month and processes 370 different product orders of which a third is directly exported.  In addition, as the company has moved forward, it has added the responsibility to provide some 30 different 'direct-to-line' assemblies and sub-assemblies to customers.
The decision to install two Miyano BNE-51MSY fixed head machines followed the firm's market review of twin-turret, two spindle turn-mill centres that could suit parts already perfected and produced in batch quantities between 2,000 and 5,000 on top-of-the-range Citizen Cincom M32 sliding head machines which were coming up to five years old.
Said Mr Nicholson: "Such has been our reliability to meet the production schedule we found the customer was then seeking an uplift of some 20 per cent in the demand.  We immediately decided to keep us cost-competitive and maintain the schedule now in front of us, we needed to expand and revise our well-proven 'single-hit' methods on the Cincom M32 sliding head machines and drive ahead with the best technology and application engineering to achieve the levels of productivity we needed."
He maintains that once they looked at alternative machines and discussed the project in some depth, that the Miyano BNE-51MSY better fit the new target due to the combination of power, rigidity and flexibility. In addition, control familiarity plus the ability to maximise the benefit of three tools cutting simultaneously were important factors.
The discussions also included the replacement of sliding head machines which were concluded with four Cincom L12-VII's of which one could be specified with LFV cutting technology. On the Citizen Cincom machines the patented LFV technology is not based on changing macros at the control but on the initiation of selectable G-code sequences programmed at the machine control to impart the most appropriate size of chip to be produced.
LFV introduces oscillation to the action routine of the cutting tool backing it off through the servo axes in the direction of feed using the enhanced development of the machine's special drive system.  This happens in phases of tens of microns which are precisely synchronised with the rotation of the machine spindle.  The resulting controlled 'air-cutting' breaks the swarf into the designated chip length which prevents 'stringing' and 'bird-nesting' and can be applied to turning, drilling and even threading cycles.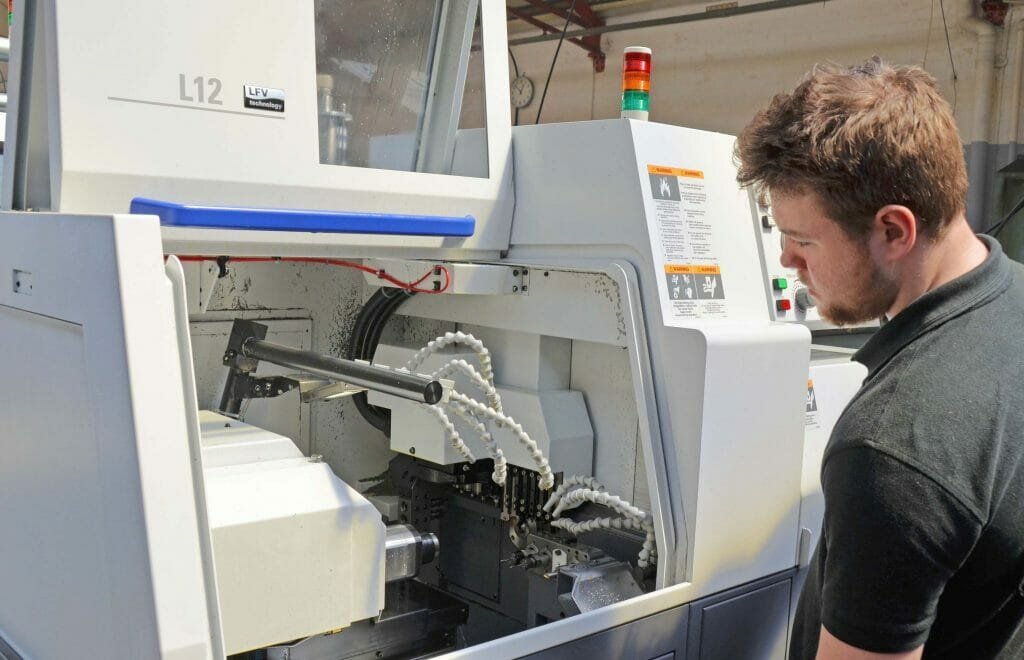 As a result of this six machine order decision it brought the number of machines coming out of the Bushey, Watford supplier to Unicut since 1999 to 70.  As part of the 'Future Proofing' production strategy of Unicut, it tends to replace machines every five to six years. In the case of the four L12s, while the investment might not improve the already well-proven cycle times, the overall influence on the business by upgrading productivity with increased flexibility, higher spindle utilisation and increased security for extending 'lights-out' unmanned operations has proven to be significant.
Said Mr Nicholson: "The usability of the Cincom machines is fundamental to our workforce. They are very familiar with the control and software which integrates with our overall day-to-day business operations." But he added, disappointedly: "At that time due to machine supply demands from Citizen we could only obtain one LFV machine.  So far, from our experience on difficult materials, surface finish, swarf control and overall spindle availability, LFV gives us a much finer edge and in future, our specification on a new machine from Citizen must include LFV especially to benefit from the added security of process when running unmanned."
Unicut Precision originally formed in 1999 now employs 51 people including five apprentices at the Welwyn Garden City factory.  Growth has been steady and controlled from £2.2 million in 2010 to hit £5 million this year. The company exports to both North and South America, Mexico, France, Germany and Malta supplying the high end automotive as well as the demanding aerospace sector.  It is also a very strong supplier to customers in the hydraulic and pneumatics industries.
Set up originally as a sub-contract turning firm it has progressively ventured very successfully into multi-axis turn-milling and now into 5-axis milling with robotised production cells.  Batch work tends to cover 2,000 parts to continuous processing which leads to some 300 tonnes of steel, brass and aluminium passing through the doors each year.
Machines tend to run 20 hours each day – five days a week plus, according to demand, weekends.  'Lights-out' production is common over periods of 4 to 6 hours largely governed by tool life, material management and chip evacuation.  Hence one of the comments by Mr Nicholson over the recent positive LFV technology experiences in controlling swarf when unmanned.
The 8-axis Miyano BNE-51MSY has created an important advantage in work control and lead time reduction due to the ability to overlap in a cycle and cut with up to three tools simultaneously on bar sizes up to 51 mm diameter. The machine has two 12-station driven turrets one with three axes, the other with two that can simultaneously service either, or both spindles.
The main spindle has a 15 kW drive and the secondary 2-axis spindle is powered by a 7.5 kW motor.  Both spindles have a 51 mm capacity with a maximum speed of 5,000 revs/min.  Each driven tool position is ideal for milling with a 2.2 kW high torque 25 Nm drive and programmable speed of 6,000 revs/min.
The 5-axis Citizen L12-VlllLFV machine has a capacity up to 16 mm.  It features a 3.7 kW 15,000 revs/min main and 0.75 kW 10,000 revs/min sub-spindle with a removable guidebush assembly for economic bar usage on shorter components.  The guidebush stroke per chucking is 135 mm and 30 mm when removed.  Rapid traverse rates are fast at 35 m/min to minimise non-cutting positioning times.
Up to 27 tools can be carried on the machine.  The X1-Y1 gang toolpost has six gang turning tools, between four and nine gang-driven tools powered by 0.75 kW, 10,000 revs/min motors and four front and four back gang drilling tools.  The back X2-Z2 toolpost holds a further four driven tools powered by 0.5 kW, 9,000 revs/min motor. Deep hole drilling can also be accommodated on the opposite toolpost.