A new British Standard has been produced to help organisations understand and implement thermal joining process control and introduce best practice in response to the growing application of thermoplastic moulded components across a number of sectors. The standard is aimed at products with critical plastic welded joints using joining processes to produce safe, fit for purpose and consistent product quality.
As industry experts in the field of thermoplastic welding and joining applications, and a leading supplier of ultrasonic welding technology, Telsonic UK has been an active participant on the BSI committee which was formed and tasked to develop this new standard.
Defined as, BS 89100:2018 "Plastics – Joining of thermoplastic moulded components – Specification of variables for thermal joining processes" – the standard specifies the minimum essential variables needed to produce a component of the required consistency and quality for a wide range of thermal joining processes including: ultrasonic, linear and orbital vibration, hot plate, spin, laser, infrared and hot gas convection welding as well as staking processes in ultrasonic, heat, electrical and infrared.
The new standard formalises the approach to plastic welding / joining applications, something which will be welcomed by many involved in manufacturing where plastic welding / joining technology is used. The standard may be adopted as part of a customer specification within a contract, as an industry sector normative standard or to improve business performance as part of a Quality Management System (QMS).
Thermoplastic welding and joining processes are delivered in a number of different ways, from simple hand held units through to robot systems and special purpose machines. Telsonic's expertise in the design and development of ultrasonic technology over a period of some 52 years, coupled with the fact that the company is closely involved in the specification and integration of its technology within production systems, means that manufacturers adopting the new standard can benefit from this valuable expertise when considering new projects or indeed if they wish to re-visit existing applications.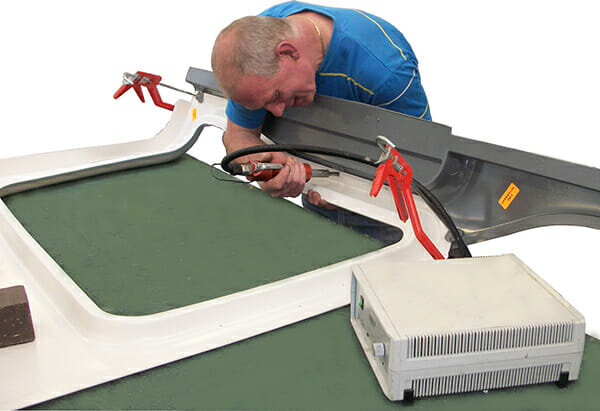 A key element of the new BS 89100 Standard is the development of a working partnership between the process technology supplier and the Plastic Welding Supervisor (PWS), a role within the joining organisation or manufacturer, involving the development of a thermal Joining Process Specification (TJPS) in order to establish and maintain component quality at an acceptable level.
A Joining Process Qualification Record (JPQR) will be produced and become part of the sign off documentation. This involves testing and gathering data to establish the value / tolerance or range for each essential variable in the Thermal Joining Process Specification (TJPS). The TJPS is part of the component manufacturing quality agreement between the joining organisation and the customer. Undertaking these steps rigorously, effectively qualifies acceptable joint quality for the application under review.
Market segments where this new standard will have an impact include: manufacturers of parts for globally marketed products or products with "critical welded joints", automotive manufacture, nuclear, medical devices, drug delivery devices, occupational health products such as breathing apparatus, critical packaging and military / aerospace products. The new standard is available for purchase from the BSI Website – https://shop.bsigroup.com
Telsonic UK's Martin Frost is part of the process supplier team within the standards technical committee responsible for the completed development of BS 89100:2018, and the ongoing development of the upcoming standard BS 89250 "Plastics – Joining of thermoplastic moulded components – Specification for quality levels for Imperfections" due for release in May 2019.
More information on Telsonic's plastic joining technology can be found at the Telsonic Web Site www.telsonic.com. Telsonic UK offer a comprehensive range of ultrasonic modules and systems for a variety of plastic and metal welding, cutting, sealing, cut'n'seal, food cutting, sieving and cleaning applications within a wide range of industries.