Leroy-Somer has been designing and manufacturing motors and alternators for the nuclear industry for over 40 years. Many years of design discipline and experience allow the company to offer superior designed products meeting the requirements of the nuclear industry. Relying on a dedicated team of trained experts, Leroy-Somer ensures the global project management in order to offer the drive and energy generation solutions rigorously tailored to these sensitive applications, considering maximal reliability and lifetime.
A range of motors qualified for normal and accidental conditions and able to drive numerous functions

Leroy-Somer offers a wide range of nuclear motors used for driving auxiliaries, such as pumps, fans, valves, handling and compressors, either inside reactor building or inside conventional islands in nuclear power plants.
Designed to withstand the severe constraints of this industry, the Leroy-Somer low voltage induction nuclear motors range from 0.55 to 750 kW and are available with air- or liquid cooling, depending on the application. They use the most up-to-date design techniques which provide a high level of robustness and reliability.
These motors satisfy the requirements of the main standards in force in the nuclear sector, notably qualification processes according to K1 – K2 – K3AD – K3, IEEE 1EB – 1EC, and have been designed in accordance with the most demanding technical and quality procedures, such as CST 74C014- CCTR, SC1 & SC2 seismic resistance, radiation from 5 to 850 kGy, decontaminable paint, GS-R-3 – SGAQ, etc.
Energy efficiency is an additional asset of the nuclear motors as they offer standard IE2-IE3 Premium efficiency level, specified in the ErP EC/640/2009 directive.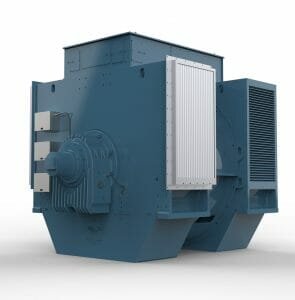 Optimized alternators and regulators for emergency power supply
Leroy-Somer also provides the nuclear sector with a wide expertize in energy power, by offering superior designed alternators for generator sets that supply emergency backup power to the nuclear industry.
Optimized around specific engines and turbines to maximize reliability and lifespan, Leroy-Somer nuclear alternators range from 1 to 20 MW in low- and medium voltage. These synchronous self-excited alternators are available in auxiliary winding AREP excitation with permanent magnet inductor (PMI) and can be equiped with single or double analog AVR (Automatic Voltage Regulation).
Renowned for their high quality level, they are designed according to RCCE K3 requirement or IEEE 1E classification and can meet other nuclear design references upon request.
For maximum safety, the Leroy-Somer nuclear alternators have been qualified for sismic risks and for a 40- or a 60 year lifetime.
Compliance with standard requirements and safety
Qualified by numerous electricity operators including EDF, Tractebel, CGN, Vattenfall, OKG, Rosatom…, the Leroy-Somer electric rotating machines meet the nuclear industry requirements as well as local and international standards applicable in Europe, America and China.
The Company's nuclear activities comply with IAEA (International Atomic Energy Agency) nuclear quality standards such as GS-R-3, and with the General Quality Assurance Requirements of EDF (main French electricity supplier) and ENGIE ELECTRABEL (Certificate of Authorization). In addition, Leroy-Somer has recently renewed its HAF 604 certification (Design and Manufacturing) with the NNSA, the Chinese National Nuclear Safety Administration, for its motor operations.
At last, all Leroy-Somer personnel involved in nuclear activities are subject to special qualification procedures to ensure they completely take into account the nuclear manufacturing requirements in terms of compliance and traceability.
High-end and rigorous project management
Leroy-Somer has built a global organization and processes connecting some of the best experts in Motor & Drive systems and Power Generation around the world. This unique approach allows for global project management, with direct input from R&D and Engineering.
From initial specifications to equipment commissioning stage, including equipment qualification and personnel training, Leroy-Somer ensures an efficient execution of the contract during the design and manufacturing phase in close relationship with the operator or any other entity involved in the project.
As service remains one of the priorities for Leroy-Somer, whatever the country in the world, users always have a certified Leroy-Somer service center close by to give advice in the choice and commissioning of products, spare parts availability and after-sales service assistance for the nuclear industry.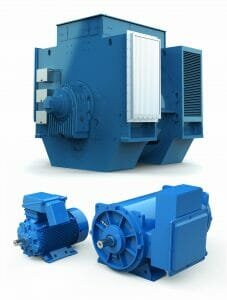 A dynamic sector recording sustainable growth
Due to the urgent need to deploy carbon-free energies to prevent global warming combined with the constant increase in electricity demand worldwide, business is strong in the nuclear sector, leading to a plethora of projects at international level.
Leroy-Somer is a renowned partner in the segment, and is currently contributing to many powerplant renovation and construction programs, particularly by supplying back-up motors for the following projects:
– Jules Horowitz research reactor at Cadarache near to Marseille,
– Hinkley Point C EPR in the United Kingdom,
– Hualong One Fuqing reactor in China,
– VVER 1200 reactor in Leningrad
– Extended life cycle for the Tihange 1 reactors in Belgium (Long Term Operation),
– EDF France reactors currently in use, with investment as part of the French refit project or the Post Fukushima upgrade, such as the emergency diesel generators, etc.
---
About Nidec
Nidec was established in Kyoto, Japan in 1973 by its Chairman, President and CEO Shigenobu Nagamori. In 1979, Nidec became the first company in the world to successfully commercialize a direct drive spindle motor for HDDs based on a brushless DC motor. Since then, the Company has grown into a world-leading comprehensive motor manufacturer encompassing approximately 300 subsidiaries employing 110,000 people throughout the world and with annual sales exceeding 1 trillion JPY. Nidec's motors, drives, generators and related products are found in a diverse range of applications including computers, smartphones, home appliances, automobiles, manufacturing plants, robots and more.
About Leroy-Somer:
Leroy-Somer is one of the world's leading manufacturers in electromechanical and electronic drive systems (electric motors, geared motors, variable speed drives) and the world leader in industrial alternators. Part of the Nidec group since February 1, 2017, the company employs 8000 people in 28 production units and 470 sales and service outlets worldwide.