At PPMA 2018 (stand C50), Brillopak will unveil how it has revolutionised the longstanding challenge of automating the gentle placement of heavier food items, including pre-packed potatoes, vegetables, fruit and larger VFFS wrapped meat joints, in addition to netted and boxed products.
Using a soft, food-grade material, the Glove end effector can be fitted to any dexterous single-pick case loading robot. Unlike grippers, which can pierce packaging, bruise fresh produce or affect vacuum seals causing faster spoilage and discolouration, Brillopak designed the Glove to delicately pick up and release items with precision and control. By cradling products that cannot be lifted by suction due to weight, for example melons, or certain types of packaging materials, including nets, the Glove scoops up items individually and gently lowers each product into retail crates. Brillopak believes it to be the first single pick end effector of its kind in Europe.
Aside from handling root vegetables like potatoes, carrots and parsnips in VFFS plastic packaging, the Glove is ideal for tops fruits like apples and pears where bags may sag and drop causing production to stall while operative clear the line. It also solves the challenge of packing larger fruits such as melons and pomelos, joints of high value meat, netted nuts, shellfish and citrus fruits, and even seasonal items such as cheeseboards and hampers.
With Mintel's most recent Global Packaging Trends Report (2018) indicating that most retailers and brands will get on board with eco-friendly packaging materials, the Glove also helps packers to consider the importance of having a multifunctional end-effector that can handle a range of packaging formats. Among them, netted bags, card, recyclable wood casings, like those used by some soft cheese brands, and even fragile biodegradable formats. Brillopak director David Jahn explains: "As the war on plastic continues, we are anticipating lots of revolutionary approaches where conventional grippers, collation tables and even vacuum may not be the most efficient automated product handling technique."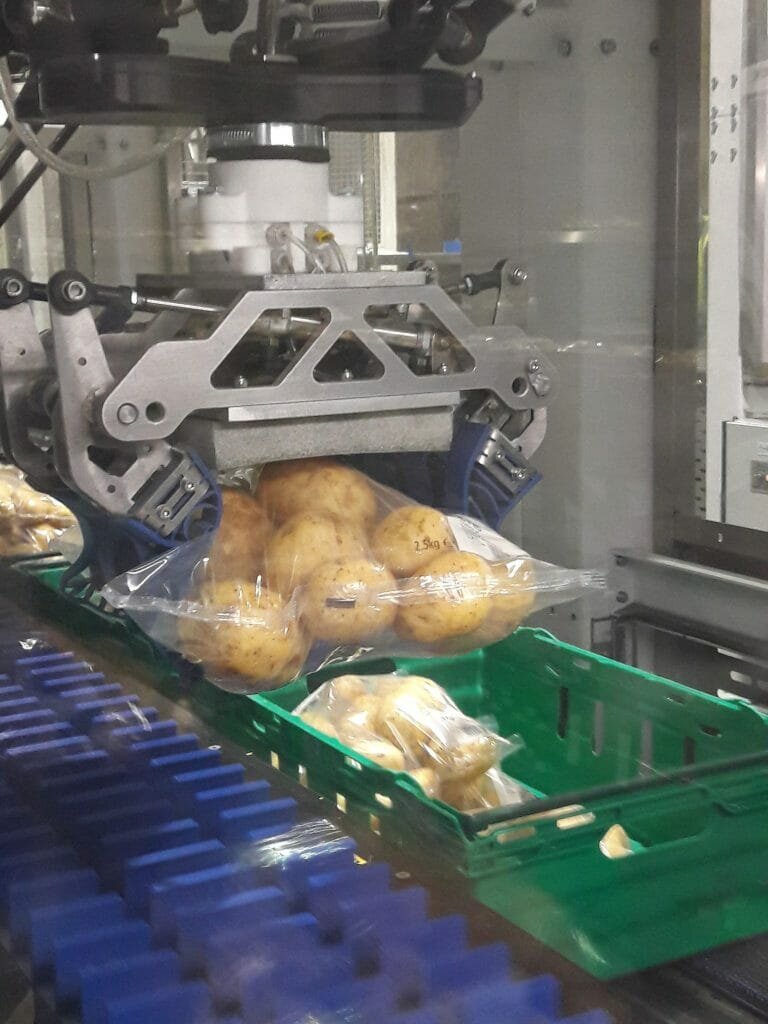 Following a set presentation format, which changes constantly depending on the retailer being supplied and product SKUs, the Unipick Glove effortlessly handles in excess of 85 packs per minute. Designed initially for a leading UK supermarket that wanted the flexibility to load different sized potato packs into crates without impacting line speed, the 'Glove' overcomes the issue of complex reprogramming, as it's much easier to change the coordinates for a single pack placement than an intricate collation pattern.
By using a four-axis Delta robot, with a reach of 1130mm (30% more than similar sized robots), Brillopak's Unipick system fitted with the Glove end effector can tilt the load. "It means that packs can top loaded into a container in a different angle to how they are picked up, resulting in better presentation. It also places packs gently in tight spaces or containers with inverted lips," explains David.
Packers can even extend their portfolio to loading punnets individually into trays, switching over to specialist vacuum end effectors in a matter of minutes.  "Flawless loading with minimal line interruptions is best achieved with a single product pick – it's the safest way to load a wide range of retail crates accurately and why we developed the Unipick system," adds David. The choice of using a three or four arm Delta robot with the Glove is determined by the application and product weight.
Learn about the benefits of single picking, other end effector innovations and see Brillopak's brand new punnet packer – the fastest ever built – at PPMA 2018, stand C50.