FLIR Systems has published an application note that describes how IntelliView, a Canadian specialist video analytics company, developed a smart camera solution based on a FLIR thermal camera to remotely automatically monitor oil pump stations for leaks.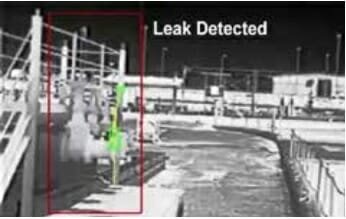 Although pipeline leaks often start small, late detection and identification of leaks can be detrimental. For an oil and gas company, delayed detections can cause millions in financial losses, as well as damage to reputation and the environment. In an effort to avoid these loses, many pipeline operators are taking a more proactive approach to maintaining the safety of their infrastructure and securing high-risk areas from potential leaks.
The application note describes IntelliView's DCAM (Dual Camera Analytic Module) leak detection solution, a compact combination of visual and FLIR thermal cameras with built-in proprietary leak analytics, wireless connectivity and automatic climate control. Within its field of view, the DCAM has been shown to be able to see an oil leak as small as 0.36 cubic meters per hour from a distance of up to 60 meters. The DCAM software then automatically analyzes the event based on user defined leak parameters and, if a critical condition is determined, an alert notification with image and video is generated for instant verification.
IntelliView's DCAM is shown to not only detect leaks based on temperature differences presented by the thermal camera, but also based on smart video analytics that takes into account liquid movement and leak size. This resulted in a very low false alert rate. The analytics work together with a series of algorithms to filter out unwanted events, such as moving vehicles, snow, heavy rain, glare and shadowing. Overall, the Smart camera solution is demonstrated to provide a very efficient way to monitor the safety of pipeline facilities on a 24/7 basis, helping organizations to enhance response time, reduce man power and save costs.
IntelliView engineers commented that they selected the FLIR A65 thermal camera for their system as it is a compact camera with a wide range of lenses offering the ability to discern absolute temperatures thereby providing critical information for use in the DCAM analytic algorithms.
To download a copy of this technical note please https://www.flirmedia.com/MMC/THG/Brochures/AUT_051/AUT_051_EN.pdf For further information on leak detection solutions for oil and gas pipelines please contact FLIR Systems at [email protected] /+32-3665-5100.
---
FLIR Systems, Inc. is a world leader in the design, manufacture, and marketing of sensor systems that enhance perception and awareness. FLIR's advanced thermal imaging and threat detection systems are used for a wide variety of imaging, thermography, and security applications, including airborne and ground-based surveillance, condition monitoring, research and development, manufacturing process control, search and rescue, drug interdiction, navigation, transportation safety, border and maritime patrol, environmental monitoring, and chemical, biological, radiological, nuclear, and explosives (CBRNE) detection. For more information, go to FLIR's web site at www.FLIR.com