FLIR Systems Optical Gas Imaging (OGI) camera technology allows you to see chemicals that are invisible to the naked eye.
Carbon monoxide (CO) is a colorless, odorless gas that results from the incomplete combustion of carbon-based fuels. It's most often used in the production of bulk chemicals and steel manufacturing. Vent stacks and pipe leaks that allow CO to escape can be dangerous, especially if the gas is allowed to collect in an enclosed area.
The FLIR GF346 is a revolutionary optical gas imaging camera capable of finding carbon monoxide and a number of other gases. It is unbeatable for detecting even the smallest leaks. The FLIR GF346 offers a complete unique method of tracing leaks to their source by visualizing this in an image.
The FLIR GF346 can scan large areas rapidly and pinpoint leaks in real time. It is ideal for monitoring plants where it is difficult to reach components with contact measurement tools such as gas sniffers. Literally thousands of components can be scanned per shift without the need to interrupt the process. Using a FLIR GF346 safeguards personnel from the dangers of carbon monoxide poisoning, reduces repair downtime and provides verification of the process. And above all it is exceptionally safe, allowing potentially dangerous leaks to be monitored from several meters away.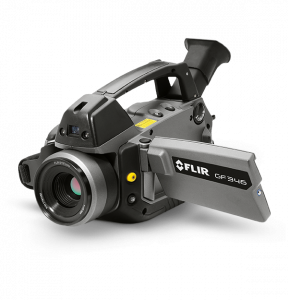 To watch a video of carbon monoxide detection using a GF346 OGI camera please visit https://www.flir.com/ogi/carbon-monoxide/. For further information on the GF346 camera please visit https://www.flir.co.uk/ogi/display/?id=51857 or contact FLIR Systems at [email protected] or +32-3665-5100.
FLIR Systems, Inc. is a world leader in the design, manufacture, and marketing of sensor systems that enhance perception and awareness. FLIR's advanced thermal imaging and threat detection systems are used for a wide variety of imaging, thermography, and security applications, including airborne and ground-based surveillance, condition monitoring, research and development, manufacturing process control, search and rescue, drug interdiction, navigation, transportation safety, border and maritime patrol, environmental monitoring, and chemical, biological, radiological, nuclear, and explosives (CBRNE) detection. For more information, go to FLIR's web site at www.FLIR.com