Advantech, a leading industrial computing platform provider, introduces TPC-5212W – a 21.5" full HD modular industrial panel PC. With the arrival of Industry 4.0 and IoT conventional all-in-one panel PCs lacks the flexibility to meet industry requirements. To address this need, Advantech creates its TPC series of modular panel PC solutions, the first of which is TPC-5212W. Aimed at control applications, TPC-5212W is equipped with a low-power, fanless 6th generation Intel® Core™ i3-6100u processor, 8 GB of DDR4 SODIMM memory and an industrial-grade TFT LCD proviing a high-performance display panel solution. Additioanlly, the system's inclusion of PCIe expansion ports and iDoor integration ensure high expandability and scalable functionality. For enhanced wireless communication, an NFC/RFID module with antenna is embedded in the front bezel to ensure reliable signal recognition. Furthermore, TPC-5212W features three 3xGbE LAN ports with redundancy and multiple fieldbus protocol support, MRAM and TPM 2.0 technology for data security. The product is an ideal solution for a wide range of industrial automation applications, such as machining multi-task control, SCADA/Fieldbus software control, vision inspection, and surveillance.
Modular Highly Expandable Design Enables Rapid Customization
With increasing market demand for product variation and mass customization, modularity is becoming the new standard for next-generation solutions. The incredible flexibility of the TPC-5212W's modular design offers numerous performance and cost-saving advantages, including rapid customization according to specific application requirements, easy integration and deployment, high serviceability and future expandability for long lifecycles. The commonality of components allows customers to produce multiple products using the same solutions, thereby accelerating development and shortening the time to market, while also ensuring a long product lifecycle. Moreover, rather than sending the entire system for repair, customers only need to replace faulty components, drastically reducing system downtime and interruptions to production.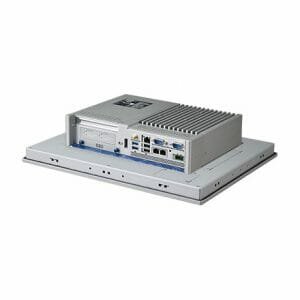 Optimized Design with Multi-Protocol Support for Increased Connectivity
TPC-5212W is equipped with three 3xGbE LAN ports with Intel® chipset support to facilitate IT and OT bridging as well as multi-protocol communication and communication redundancy. Two of the three LAN ports also support CODESYS software to enable extensive connection and networking with OT layer devices for integrating and transmitting OT layer data (PLC, server) to IT layer systems (ERP), making it easy and convenient to develop OT to IT solutions. The TPC-5212W front panel is also embedded with a Wi-Fi/NFC module for rapid signal recognition to provide the enhanced wireless connectivity necessary for efficient productivity.
Built-In TPM 2.0 Technology Offers Enhanced Security for IIoT
TPC-5212W features a built-in TPM 2.0 module that provides hardware-based encryption and control on boot to ensure data integrity and secure transfers across diverse platforms. In addition to offering increased security for industrial IoT and Industry 4.0 applications, the inclusion of TPM technology enables production tracking with the provision of device history records. TPM can also be used as a replacement for smart cards, reducing associated costs and allowing customers to add value by integrating Advantech's iDoor modules.
Datasheet     |     Download     |     Manual     |     Extended Specifications