B2P is a US-based non-profit organization that partners with local communities, partners, and foundations, to build trail bridges that connect residents to education, healthcare, and economic opportunities. Since its establishment, B2P has built more than 500 trail bridges in 21 countries, serving over 1.8 million community members throughout the world.
Nivi Sharma, CEO at Bridges to Prosperity, said: "Rural isolation is a root cause of poverty, and connection is the foundation to opportunity. We have trusted Kito Crosby's products for years to enable our safe, sustainable and scalable solutions and consider Kito Crosby to be a core partner in every bridge we build."
Kito Crosby's contribution will include the supply of critical products such as clips, turnbuckles, snatch blocks, special trolleys, manual hoists, and wire rope tension meters for the construction of bridges in Rwanda and Uganda. The company will also send 10 team members from around world, to build a trail bridge in Musanze District, Rwanda, in November. ​ ​
Robert Desel, CEO at The Crosby Group said: "We applaud the tremendous impact that Bridges to Prosperity has made in communities around the world and are thrilled that our products and expertise contribute to the mission. Last year we sent 5 team members, and this year I am proud to announce that we will send 10 passionate employees ​ ​ who will contribute directly at the site in Rwanda."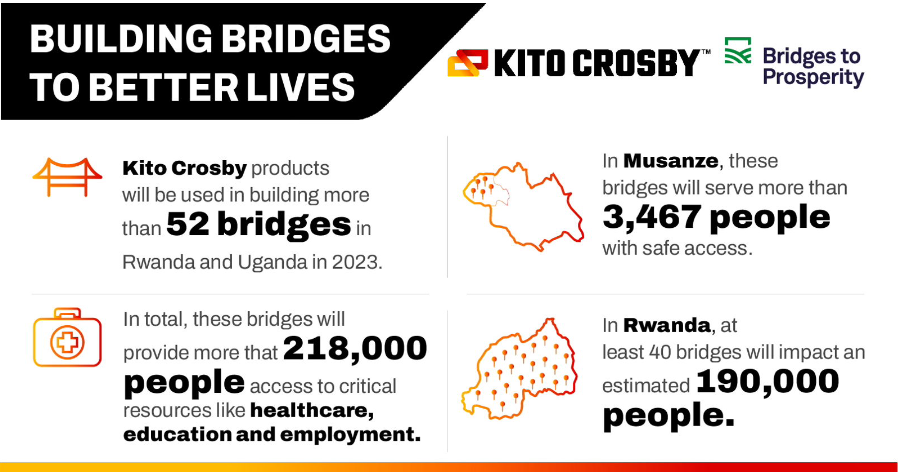 For the residents who live near the future Kansoro trail bridge location, the Rwebeya River is synonymous with missed opportunity. During the rainy season, life can be cruel to the local communities who rely on crossing the river to reach an array of critical resources. The river will stay flooded and pose great danger to anyone who may attempt crossing it. During these times, the river becomes dangerous, and often deadly, to attempt crossing. The people in the communities have some of their businesses and work disrupted as they wait for the water levels to recede so that they can cross.
Most people turn back during the rainy season and don't even attempt, or let their children attempt, to cross. As a result, children don't attend school, located on the other side of the river. Other resources the communities become cut off from include the health center and markets. The Kansoro Suspended Bridge will provide safe, year-round access for the surrounding communities, providing access to opportunity to empower the communities out of poverty.
Desel concluded: "Together with B2P and our global channel network, we look forward to a world where rural isolation no longer exists so that families can access healthcare, children can travel safely to school, and farmers can reliably reach local markets."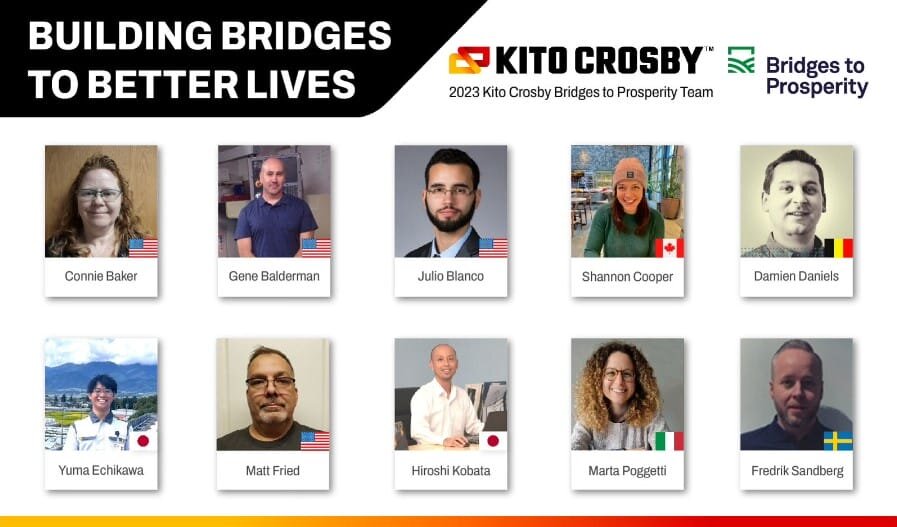 About Kito Crosby 
Kito Crosby is the global leader of the lifting and securement industry it pioneered, and for which it continues to set the quality standard. With global engineering, manufacturing, distribution, and operations, the company provides a broad range of products and solutions for the most demanding applications. Kito Crosby's people, products, solutions, and service have innovated the lifting and securement industry for more than 250 years. Together we lift and secure the world today, for a safer, stronger, and more productive tomorrow.