M & M Turned Parts Limited, an established family-run subcontract precision engineering company based in Redditch, Worcestershire, has revolutionised its operations through the strategic implementation of PSL Datatrack production control software.
Before embracing PSL Datatrack, M & M Turned Parts managed its production administration with a manual Excel-based system. This method proved labour intensive and hindered the efficiency of its processes.
"Quotations, a critical component of our business, were particularly challenging. They often fell outside the standard scope and consumed substantial time," comments Tim Moss, Commercial Manager.
Investment in PSL Datatrack swiftly started addressing M & M Turned Parts' challenges, enhancing its quoting process and overall operational efficiency. Quoting success rates improved significantly and the company now seamlessly manages the entire production process from start to finish, all within the software's intuitive interface.
Material, process, subcontract and tooling information is entered once, at the quoting stage, and reused throughout the rest of the system's modules until a works order is finally delivered and invoiced.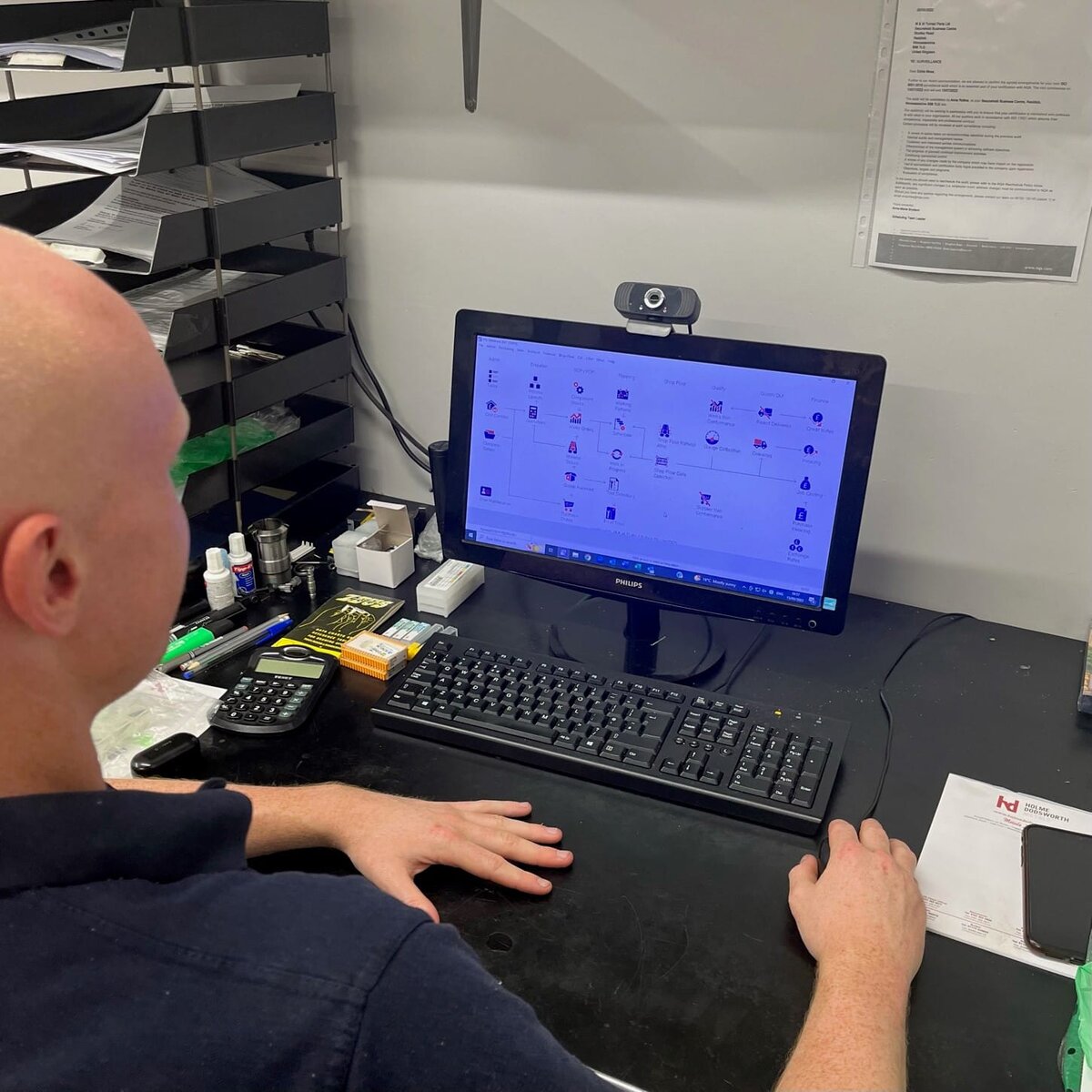 For over three decades, M & M Turned Parts has been synonymous with uncompromising quality and innovation in the precision engineering sector. With a commitment to excellence demonstrated through its UKAS ISO 9001:2015 accredited quality system, the business has consistently exceeded customer expectations.
An industry leader in CNC Sliding Head and CNC Fixed Head turning services, M & M Turned Parts serves a diverse clientele across the UK and Europe. Capable of machining an array of materials, including steel, stainless steel, brass, aluminium and plastics, the company is renowned for manufacturing quality components ranging from 2mm to 65mm in diameter, in batch sizes varying from 200 to 100,000.
In pursuit of a more streamlined and efficient solution, an internet search led Tim to PSL Datatrack. The software was demonstrated and Tim acknowledged that it was the simplest system he had seen, clearly written for and used by subcontract precision engineering companies.
"We decided on using PSL Datatrack production control software after looking at many systems. The deciding factor was its user-friendly interface and ability to work alongside our ISO 9001 quality system. The team are very knowledgeable and provide a professional service," says Tim.
The transition to PSL Datatrack was facilitated through meticulous training and support. Initially provided with onsite training, M & M Turned Parts later engaged in remote training sessions tailored to its developing business needs. Training is offered to all staff in convenient segments, via Zoom, to minimise disruption to the company's core activities.
"Our warehouse staff have really taken to it and commented how much easier it's made their day-to-day jobs. Time is saved booking in materials and raising delivery notes, while all business information they require is available at the push of a button," continues Tim.
The partnership with PSL Datatrack has not only catalysed M & M Turned Parts' growth, but has also enabled smoother audits. The software's transaction history feature offers auditors easy access to required information, significantly streamlining the auditing process.
"There is no longer the need to delve through messy filing cabinets looking for paperwork. Even the auditor has commented on how slick the PSL Datatrack system is," comments Tim.
M & M Turned Parts now stands as a great example of innovation and efficiency in the subcontract precision engineering sector. The company's choice to embrace PSL Datatrack has spurred business growth, improved accuracy and elevated customer satisfaction.
Tim points out that any system is only as good as the information entered at the outset – by investing that time initially, the results will follow. "We now have a system where all information is accurate. If you don't get the administration side of your business right, you might as well pack up!"
As M & M Turned Parts Limited continues its journey of excellence, the partnership with PSL Datatrack remains a pivotal element in their enduring success.
"The support from PSL Datatrack is great – they always have an answer or solution for us to ensure the system continues to fit our business like a glove. It's a two-way relationship and long may that continue," concludes Tim.
For more information, visit www.psldatatrack.com or contact PSL Datatrack, Lily Hill House, Lily Hill Road, Bracknell, Berkshire, RG12 2SJ, Tel: +44 (0) 1344 827312, Email: [email protected]