Bronze 90⁰ Backshells added to Weald MIL-DTL-38999 range of Connectors and Accessories now available from Lane Electronics
Lane Electronics, a leading franchised distributor for many of the industry's major electrical and electronic connector manufacturers, has added a new bronze right-angle backshell from Weald Electronics to its range of connectors and accessories designed for use with D38999 and CECC derived bronze connectors.
Being manufactured in bronze it increases the range of Weald Electronics products suitable for marine applications. Bronze material provides resistance to salt spray without suffering corrosion or binding, unlike stainless steel or plated aluminium alternatives. These 90-degree backshells are manufactured in-house by Weald Electronics ensuring assembly and shipment is available on short lead-times.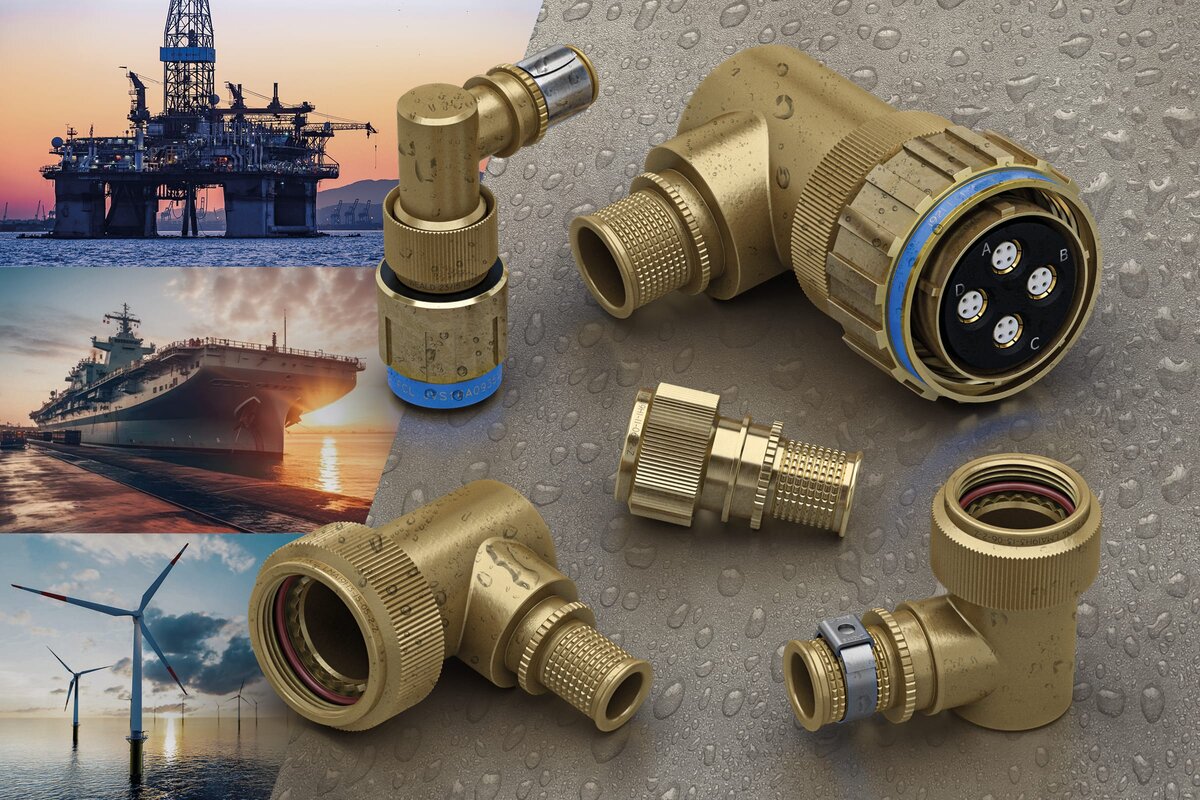 90⁰ Backshells allow for a more compact cable bend than a conventional 90⁰ heat shrink boot while still providing good mechanical protection and EMC performance. Right angle Backshells are frequently used with cable plugs that are connecting to the front of equipment, where the compact dimensions allow the cable to be kept away from the equipment while in use. It is common to use the same teeth that mesh with the teeth on the back of connectors to allow the connection angle to be set or 'clocked' in a convenient position, helping to direct the cable away in exactly the desired direction.
Lane Electronics offer a wide portfolio of connector accessories designed for high performance applications. Based around the latest series of backshells, adapters and protective dust caps from Weald Electronics, it also includes a very wide selection of heat shrinkable boots, tubing, and shapes from HellermannTyton. Lane Electronics can also supply a range of nut plates, protective caps and gaskets to complete product final assembly.
Weald sealing and strain relief backshells are manufactured in the UK and have been designed for MIL-DTL-26482 Series 1 and MIL-DTL-38999 (D38999) Series III and IV connector systems. Known as the LMA19 series, the backshells protect the cable and the integrity of the overall connection. They eliminate cable bending and over flexing and when used with a heat shrink boot, they prevent the ingress of liquids and dirt.
Lane Electronics is an ideal source for all key connector types including circular, filtered, RF, coaxial, subminiature, backshells and adaptors, D connectors, aerospace, test and measurement, IDC, PCB connectors, edge connectors and connectors for rack and panel applications. Key markets served include defense, avionics, marine, communications, medical, motorsport, test and measurement, general industrial, geophysical and emerging technologies.

For more information call +44 (0) 1403 790 661, email [email protected] or visit https://www.fclane.com/