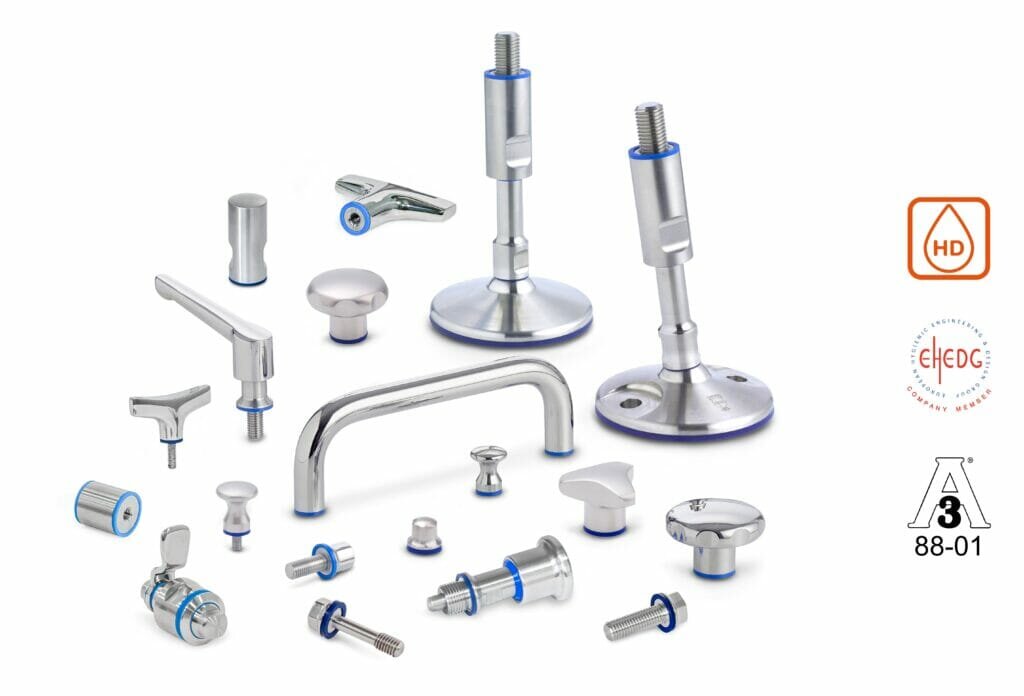 Maximum cleanability and hygiene of the equipment and environment are the main requirements in the food processing sector where risk of contamination must be reduced for human health and safety. However, these requirements also play a major role in other industrial sectors, from medical technology and the pharmaceutical industry to the production of dispersion paints.
Typically, most components and accessories installed on machines and industrial equipment in these environments seem to be sufficiently distant from the critical work areas, but airborne spores of microorganisms are able to spread quickly and to distant surfaces. So even the smallest corner can be the start of contamination across a complete production line.
Hygienic Design line consists of a range of standard components that offer the possibility of achieving optimal levels of hygiene with a minimum degree of probability of contamination, and compliance with very high standards in sanitary matters such as 3-A, EHEDG and DGUV guidelines.
In addition to the more traditional components such as handles, handwheels, knobs and clamping levers, levelling feet, including nuts and screws, today the "Hygienic Design" range is enriched with lever latches, indexing plungers and spacers sleeves.
There are different types of AISI stainless steel used for different types of components from AISI 316L to 304 including CF8, with different surface finishes: sandblasting mat or polished surfaces with maximum surface roughness that remains below Ra 0.8 μm so that dirt particles cannot settle and can be reliably removed during cleaning.
Also particularly important are the H-NBR or EPDM synthetic rubber seals, FDA compliant, which allow the internal part of the mechanism to be sealed from the external environment, preventing the access of substances. Absence of cavities and recesses and geometries with large corner radii prevent adhesion of impurities and facilitate cleaning operations.
The sealing gaskets in H-NBR and EPDM elastomer were tested using simulation software to ensure the retention of the degree of hygiene after assembly, demonstrating that they perfectly adhere to the surfaces and therefore fulfil their function long term.
The components of the "Hygienic Design" line facilitate cleaning operations which can be carried out faster via the "Clean in Place" concept with long-term impacts on the efficiency level of the entire system.