During preparations for the construction of two new cleanroom facilities, NorthX Biologics, a leading Swedish biological drug manufacturer and process developer, reviewed its environmental monitoring and control procedures, and decided to switch to a new Vaisala system, including almost 150 monitoring locations within cleanrooms and associated facilities.
"Obviously, the management of cleanroom environment forms a critically important component of our GMP – good manufacturing practice," explains Lead Validation Engineer Dr Fredrik Amlinger Edin. "We therefore took this opportunity to undertake a review of our existing monitoring systems, because when your only tool is a hammer, there is a danger that every problem you see is a nail, so instead of persisting with our older systems, we explored a wide variety of alternatives.
"Our cleanrooms must comply with the strict GMP guidelines provided by EudraLex – Volume 4 – for medicinal products, laid down in Commission Directives 91/356/EEC, as amended by Directive 2003/94/EC, and 91/412/EEC. In addition, our facilities undergo regular audits, so it is vital that we employ a comprehensive reporting system with real-time alarm capability. However, for us, reliability and ease of use were also of particular importance, and we were keen to minimize the requirement for wiring."
The monitoring requirements of NorthX Biologics initially included temperature, humidity and differential pressure. However, as Vaisala Sales Manager Janne Halonen explains: "We also offer a wide range of instrumentation for other measurement parameters which can be easily added to a Vaisala continuous monitoring system (CMS). For example, at NXBio, we added temperature loggers for freezers and refrigerators, carbon dioxide loggers for incubators, and hydrogen peroxide loggers for monitoring during decontamination."
Vaisala was originally recommended by the cleanroom supplier, and initial discussions included a demonstration of viewLinc software, which highlighted the advantages of Vaisala's continuous monitoring and alarming system. "The viewLinc software made our previous supplier's system look very old-fashioned, so we were excited by the new capabilities offered by Vaisala," Fredrik explains. "The old system was more complicated to manage and was only applicable to cleanrooms, so it was a major advantage to be able to include product and agent storage facilities such as warehouses and refrigerators.
"One of the most important features of viewLinc is the Administrative control which enables us to compartmentalize the system into user groups. With this tool we are able to specify the data which each user group is able to see, and which alarms are allocated to certain users. As a result, we are able to tell our staff: 'If you can see it and you can do it… you are allowed to do it!'"
The cleanrooms at NorthX Biologics employ pressure cascade techniques to ensure that the flow of potential contamination is from clean areas to less clean locations. Hence the requirement to monitor pressure differentials between different zones. Fredrik says: "A further advantage of the viewLinc system is that we can review periods when nobody has been working in a particular zone, and if the pressure cascade has been unaffected it means that we do not have to re-clean."
Monitoring network design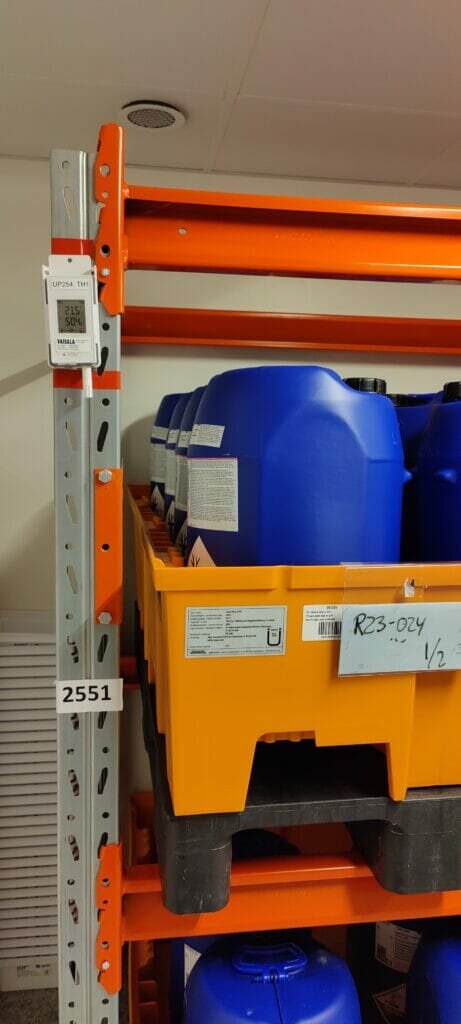 Before designing and specifying the monitoring system, NXBio utilised Vaisala's mapping/validation service, which provided an in-depth understanding of conditions in the controlled environments. Vaisala's technicians undertook studies with Vaisala vLog software and Vaisala data loggers, which were pre-calibrated and accredited to ISO/IEC 17025:2017, ANSI/NCSL Z540-1-1994, and traceable to SI units through national metrology institutes. The vLog software provided documentation that is compliant with all global regulations. This included secure files with traceability of electronic data achieved by administrative security levels, an audit trail report, and data logger file ID numbers. In addition, NXBio rented around 30 of Vaisala's temperature/humidity loggers (model DL2000) to map their warehouses.
The bulk of the installation was undertaken in the spring of 2020, with Vaisala undertaking the set-up and qualification. The loggers gather readings every 1 – 5 minutes and data are transferred to the NXBio central server by VaiNet access points which create links between Ethernet and Vaisala devices using the VaiNet protocol. Whenever a new data logger is added to the system, it is automatically identified by an access point, which forwards the data logger's information to the server. Once accepted in the system, data loggers remain synchronised, and redundancy is achieved by allowing load distribution between VaiNet access points which share multiple in-range data loggers. Vaisala's loggers store data internally for 30 days, so if data flow is interrupted by a network outage, data transfer resumes when the outage is resolved.
Network maintenance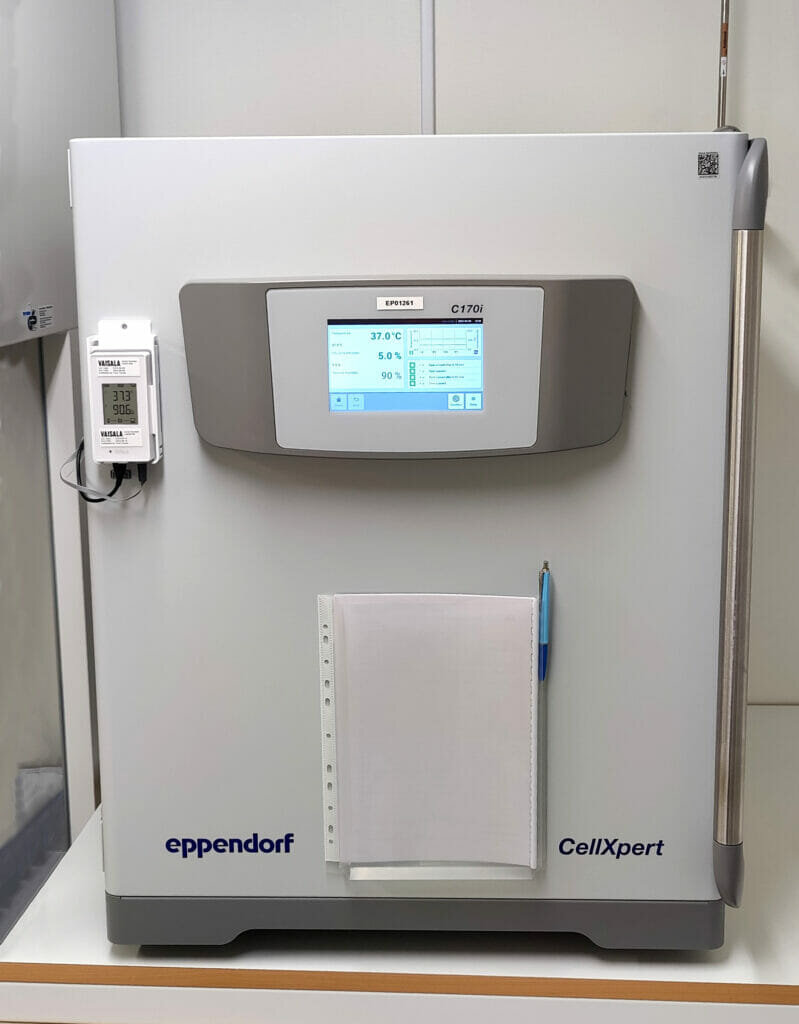 The system was stress-tested to identify any communication weaknesses, which resulted in the purchase of a new wireless access point (AP10) to extend the network.
NXBio has a Life Cycle Maintenance Agreement with Vaisala which is designed to ensure that the viewLinc monitoring system is always up-to-date in terms of performance and regulation compatibility. Under the agreement, NXBio has utilised viewLinc updates and validation protocols, as well as priority access to Vaisala's dedicated support and remote training services. Explaining the advantages of the agreement, Frederik says: "We especially appreciated Vaisala's risk-based validation guideline with recommendations on what needs to be retested following an update.
"We also have a contract for annual calibration by Vaisala service technicians who calibrate all sensors on site, which is quite convenient because it reduces the pressure on our technicians, and we don't have to send sensors for calibration – which would necessitate replacement sensors."
Looking forward
NorthX Biologics has been delighted with the performance of the Vaisala CMS for several reasons. "The hardware is extremely reliable and the software is more feature-rich, more flexible and substantially easier to use than our previous system," explains Fredrik Amlinger Edin. "The modularity of the system also means that it is simple to add new monitoring points, which is vitally important as the factory continues to grow."
Vaisala is a global leader in weather, environmental, and industrial measurements. Building on over 85 years of experience, Vaisala provides observations for a better world, with space-proof technology even exploring Mars and beyond. We are a reliable partner for customers around the world, offering a comprehensive range of innovative observation and measurement products and services. Headquartered in Finland, Vaisala employs over 2,000 professionals worldwide and is listed on the Nasdaq Helsinki stock exchange.
vaisala.com
twitter.com/VaisalaGroup
linkedin.com/vaisala
About NorthX Biologics
NorthX Biologics, a leading Nordic Development and Manufacturing Organization, has expertise in producing cell and gene therapies, proteins, vaccines and other advanced biologics. With two sites in Sweden and headquartered in Matfors, the team has been manufacturing biologics to GMP standards since 1992. In 2021 NorthX was designated a national innovation hub for advanced therapies and vaccines and has the ambition to become a leading cell and gene therapy manufacturer and partner for innovative drug development companies. For more information see www.nxbio.com.
NorthX Biologics Matfors AB
Storjordenvägen 2,
864 31 Matfors, Sweden
Tel. +46 607 858 600