Finally, the wait is over. We are thrilled to introduce the Hawkeye® Q2 Micro Video Borescopes, a ground-breaking solution that will forever transform the way small-scale inspections are conducted. For decades, professionals in need of high-resolution video borescope technology for inspecting small parts have eagerly awaited a solution, and the Micro Q2 is here to answer that call.
A Quantum Leap in Small-Part Inspection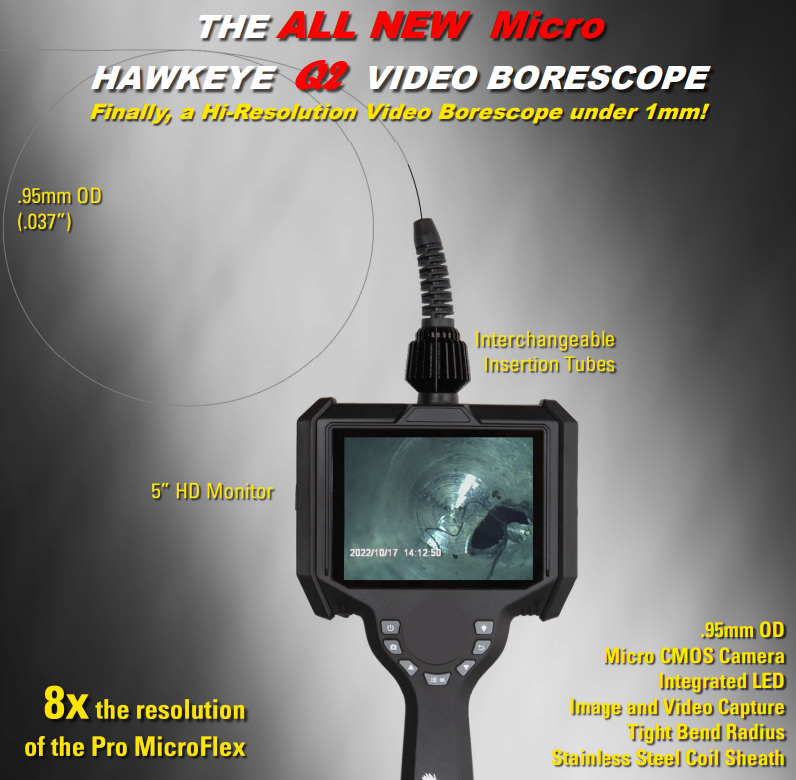 The Micro Q2 Video Borescopes incorporate innovative technology that empowers users to harness the full potential of video borescope technology, even when dealing with the tiniest of components. The star of the show is the full-screen high-resolution image, boasting a remarkable 8x higher resolution compared to the 1mm Pro MicroFlex fiberscope. Say goodbye to limitations and hello to unparalleled clarity.
Compact, Portable, and Power-Packed
What truly sets the Micro Q2 apart is its compact and portable design. This lightweight marvel offers the flexibility you need, available in a .95mm variant with lengths extending up to a generous 2 meters. Gone are the days of struggling with bulky equipment—meet your new companion for seamless, on-the-go inspections.
Versatile Features for Precision Inspections
The Micro Q2 isn't about resolution and portability—it is packed with features that make precision inspections a breeze. With a tight bend radius, 4-hour integrated battery life, interchangeable insertion tubes, and an integrated LED, you have all the tools you need at your fingertips.
Accessible Excellence
We believe in accessibility, and the Micro Q2 embodies that ethos at a competitive price. Quality, precision, and performance have never been this affordable.
Experience the Future Today
Don't miss the revolution in small-scale inspection. Schedule your free demo with Optimax now.