The Nuvo-9166GC, a new model of rugged AI inference PC from Neousys, is now available from Impulse Embedded. Within the context of AI, inference is the process of using a trained machine learning model to make predictions or decisions based on new, unseen data. Inference PCs are designed to efficiently execute tasks, often using specialised hardware and software optimisations to achieve faster and more energy-efficient processing.
This new model combines industrial durability, adaptable camera expansion and server-grade AI inference performance for advanced, versatile artificial intelligence applications.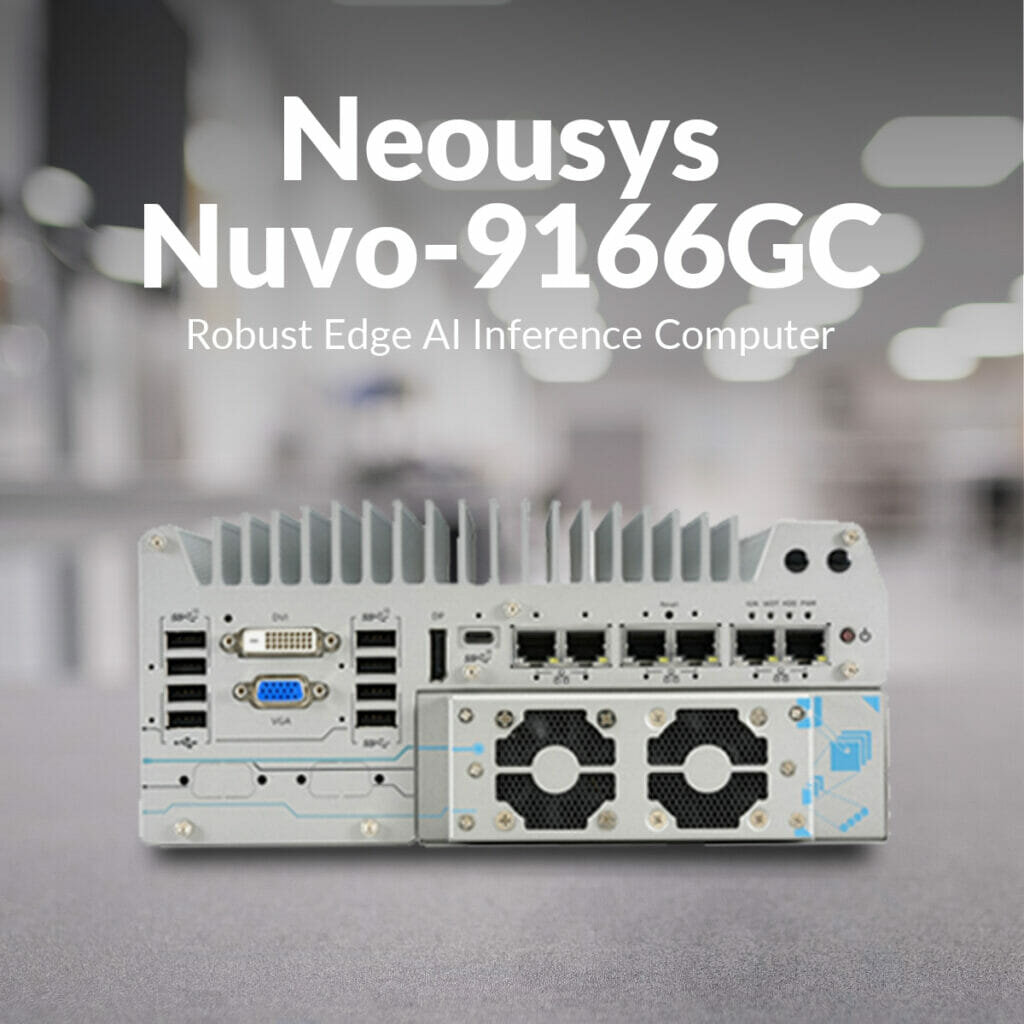 Key features include:
Wide input voltage.
Mil-STD-810H vibration and shock.
Wide operating temperature, from -25°C to 60°C with 35W CPU and 130W GPU.
DDR5 system memory.
Optional IEEE803.3at PoE+ model with 100W total power budget (25W per port).
Remarkable Connectivity, Memory, and Storage
The Nuvo-9166GC has six GbE ports, six USB3 ports, and DDR5 system memory (RAM). DDR5, or Double Data Rate 5, is a type of computer memory technology commonly used in various computing systems including industrial PCs.
DDR5 is the latest generation in the DDR series of RAM, succeeding DDR4. It offers several improvements over its predecessor, making it suited for industrial applications where performance, reliability, and efficiency are crucial.
In terms of storage, the Nuvo-9166GC has 2x internal 2.5" SATA SDD/HDD drive bays, and an M.2 2280 Gen4x4 slot supporting an NVMe SSD which offers up to 7000 MB/s extreme read and write speeds.
This model also supports Intel's Latest 13th Gen (Raptor Lake) Core i9/i7/i5/i3 processors as well as the new NVIDIA L4 GPU. This card replaces the Tesla T4 and features a new architecture named after famous historical mathematician Ada Lovelace. First announced in September 2022, this new architecture boasts three key innovations: a new Ada RT core for faster ray tracing, shader execution recording, and NVIDIA DLSS3 (an improvement on its previous version, with 2 times the frame rates compared to the DLSS2).
The NVIDIA L4 GPU is also an improvement over the Tesla T4 with:
5120 more cores at 7680.
8GB more memory at 24GB.
Double the L1 Cache at 128KB per streaming module.
48MB of L2 cache up from 4GB.
The card only uses 72W power, so it can be powered by the PCIE port with no cables required.
Resilience, Embedded
Rugged construction and wide operating temperatures make this powerful hybrid PC applicable for rigorous operations in intense environments. It has dedicated heat dissipation included in its proven thermal design, with passive cooling for the CPU and DDR5 that guarantees reliable system operation from -25°C to 60°C.
Additionally, the Nuvo-9166GC has been meticulously crafted with the capability to accept a wide voltage DC power input. This feature is advantageous within the industrial sector, where the assurance of a consistent voltage level or reliable mains AC power supply is not always feasible. This adaptability ensures optimal performance even in environments where power fluctuations are common, making it a valuable asset in industrial applications.
Intuitive Embedded Systems with Industry Insight
Impulse Embedded provide lifelong technical support for all their embedded systems and PCs, ensuring complete peace of mind with the knowledge that all purchases come with reliable and long-lasting aftercare. For more detail regarding their embedded systems, please visit https://www.impulse-embedded.co.uk/ or call +44 (0)1782 337800.