Profile Projectors have been in use in manufacturing for many years and are a must for manufacturing companies, but what do they offer, and are they being used to their full advantage?
When used in quality control and inspection processes these versatile machines can offer the user:
Dimensional Inspection, The projector can display a magnified image of the part on a screen or a digital display and by superimposing a profile template or a CAD drawing onto the projected image, operators can compare the actual profile of the part with the desired specifications.
Surface Inspection: An image of the part is projected onto a screen, allowing operators to analyse the surface for defects such as scratches, dents, or imperfections that may affect the product's quality or functionality.
Form and Contour Measurement: By rotating the part on the projector's stage, operators can capture multiple views and project them onto a screen for analysis.
Reverse Engineering: In some cases, a manufacturing company may use a profile projector for reverse engineering purposes. By projecting the image of an existing part onto a screen, engineers can capture its dimensions and contours.
There are a wide range of profile projectors available on the market, floor standing, bench mounted, horizontal, side bed, digital displays or manual overlays. The most common type are the horizontal versions which can be supplied for bench or floor mounting. One entry level version is the Starrett HE400 which comprises of a sturdy, metal construction, with LED surface and profile illumination and is fitted with industry leading Quadra-Check or Metlogix digital readout systems as standard.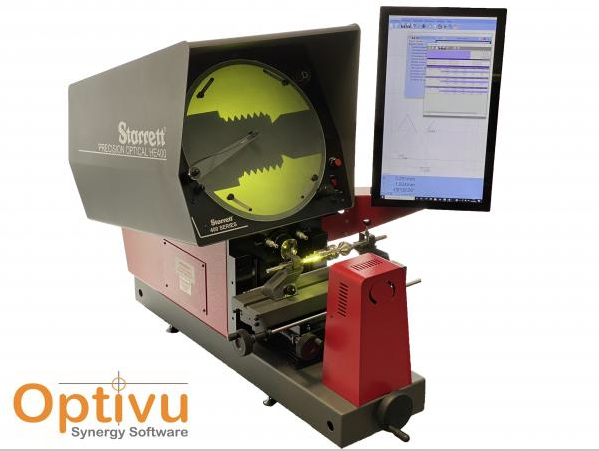 This unit is competitively priced and built to the same high mechanical standards as the full range of Starrett profile projectors for superb all-round capacity and performance. Starrett HE400 horizontal shadowgraph is the perfect addition to your metrology equipment for precision engineering and quality control processes in manufacturing,
The full range of Starrett Profile Projectors are available in the UK from Optimax Imaging and Inspection; www.optimaxonline.com