As the new Audi A8 is launched in Barcelona, the CAR ASYST APP for Audi service and repair shop is now also ready to support the official vehicle data of the new AUDI AG flagship. Furthermore, the current CAR ASYST Version 2.5 now provides the functions Read battery history data, Query fluid levels and Reset service intervals.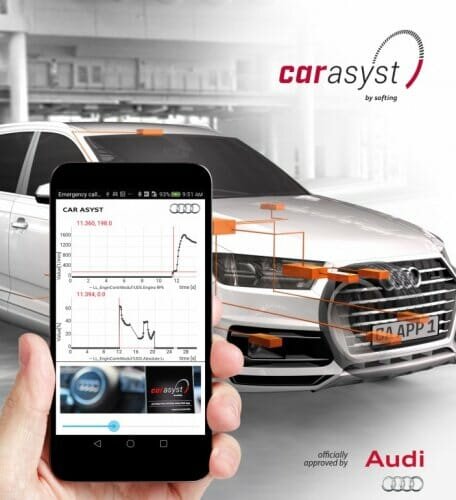 The highlights of CAR ASYST Version 2.5 at a glance
-Display battery history data (vehicle report)
-Display of battery state under transport mode
-Display fluid levels (DEF, oil)
-Reset service intervals (change of oil, interval channel mileage and time)
-Audi A8 vehicle data – available NOW
Battery history data (vehicle report and transport mode)
With the current Release 2.5, users now have battery history data at their disposal under vehicle report, and vehicle functions and the display of the battery state under transport mode. Many Audi Service partners had requested the development of such a function. It can be used in a number of areas, for example in vehicle delivery, in the first-hand (cars up to one year) and used car segment, and in direct customer communication.
Display fluid levels
CAR ASYST APP 2.5 makes it possible to have various fluid levels displayed, for example the oil and DEF fluid level. Users are thus given up-to-date information on how many engine starts are possible and what the remaining mileage is. This makes it possible to reliably estimate service dates and repair shop intervals.
Reset service interval
With just a few clicks you can reset service intervals already read directly in the CAR ASYST APP.
NEW: Access to Audi A8 vehicle data
From Version 2.5, CAR ASYST APP supports the following vehicles: Audi A4, Audi A5, Audi Q5, Audi Q7, Audi Q7 e-tron and NOW Audi A8 as well as Audi Q2, Audi A3, Audi TT with an activated VAS 5054A. Further models are under development.
Current version CAR ASYST 2.5 and free 30-day demo version 
CAR ASYT APP 2.5 is available from the Google Play Store. There is also a free 30-day demo version available for CAR ASYST Version 2.5. Alongside simulated vehicle data (Audi Q7), testing can be carried out directly on Audi vehicles by using a VIN|ING 600 or a VAS 5054A VCI. All other information on the various uses of CAR ASYST and the supported vehicles can be found on the central info site www.car-asyst.com.
General company information on CAR ASYST:
CAR ASYST. The mobile system solution for vehicle communication on smartphones and tablets for Audi repair shops, after-sales service and vehicle testing
CAR ASYST is a mobile fast tester (smartphone/tablet) which has been approved by Audi as an analysis tool. CAR ASYST is a flexible and handy extension to stationary service testers in the repair shop and supports mobile vehicle diagnostics faster than ever before. CAR ASYST has also been released for the Audi ServicePad VAS 601 301.
Main areas of implementation for CAR ASYST
-Mobile tool for service technicians and repair shops
-Fast tester with access to ECU error memory
-Actuator test (actuator addressing) in repair shops and service
-Data recording and fast initial diagnostics
-Error detection for stationary vehicles as well as vehicles on the road
-Enabling/disabling transport mode
-Service and vehicle test on the forecourt
-Breakdown service
-Engineering and vehicle test
-Possible use on the Audi ServicePad VAS 601 301
-Additionally: OBD scan function for Audi, VW, Skoda, Seat and others
For more details take a look at the website www.car-asyst.com.