The founder and CEO of Nidec has visited Control Techniques and Leroy-Somer to outline his vision for the future of the businesses.
Shigenobu Nagamori, who launched Nidec in Kyoto, Japan in 1973, presented to Control Techniques and Leroy-Somer staff at their respective headquarters in Newtown, UK and Angouleme, France on February 2 and 3. The events were simultaneously broadcast to Control Techniques and Leroy-Somer staff across the world.
Mr Nagamori spoke about the opportunities presented to both businesses, and was positive about the impact Nidec could have in the future. Questions were invited from existing staff members regarding investment, job security and proposals for future growth. The First Minister of Wales, Carwyn Jones AM, attended the event and met with Mr Nagamori to discuss the future of Control Techniques in Wales.
Mr Nagamori said: "We are pleased to welcome Control Techniques and Leroy-Somer into the Nidec family. We have strong ambitions for both companies to grow, and Nidec is committed to providing the necessary support and investment to make that happen.
"Industries which require the use of electric motors, and therefore drives, will form the backbone of the world's economy in the future. Look at the expansion in the use of robots, electric vehicles and drones. All these items need motors, and all those motors need drives. There are clear opportunities for Control Techniques, Leroy-Somer and ultimately Nidec to prosper here.
"Our policy is to put the systems in place which will encourage growth. We will hire and train high calibre people, and encourage those already working for the businesses to enhance their abilities.
"We will put great emphasis on research and development. As an R&D engineer myself, I know that it is technology which will ensure our businesses succeed.
"Control Techniques, Leroy-Somer and Nidec offer each other great synergy, and working together we can improve and make our goals a reality."
Nidec boasts a strong track record of facilitating growth among its business, through investment in engineering, design and resources. It has also demonstrated a clear strategy to drive growth in both companies, as well as providing considerable benefits to customers through a far wider range of available products and services.
Both Control Techniques' and Leroy-Somer's product ranges offer a complementary fit with the Nidec line-up, bringing significant benefits for all parties and, importantly, their respective customer bases. The combination will now allow Nidec to sell the entire range of products as a package into all key market spaces, while also allowing Control Techniques and Leroy-Somer access to new markets.
Nidec manufactures electric motors and related components, including small precision motors, motors for automotive, commercial and industrial applications, and medium voltage motors and generators. It employs around 140,000 people worldwide and has operations in over 40 countries. It has been actively developing a new growth platform with particular focus on appliance, industrial and commercial business.
Xavier Trenchant, President of Leroy-Somer said: "We are proud to integrate a business striving to become the world's No.1 comprehensive motor manufacturer and to join forces to meet the needs and expectations of our worldwide customers. With such a dynamic and trustworthy company, we look towards the future with confidence"
Scott Anderson, president of Control Techniques, said; "We believe this is a tremendous opportunity for us to join, work with and contribute to an industry-leading brand which believes in our products and will enable us to grow as businesses."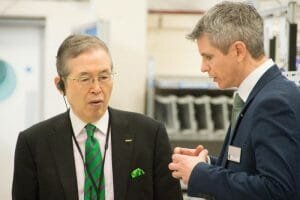 NIDEC CORPORATION
CORPORATE OFFICE: 338 KUZETONOSHIRO-CHO, MINAMI-KU, KYOTO 601-8205 JAPAN
URL: https://www.nidec.com/en-Global/
Masahiro Nagayasu
Phone: +81-75-935-6140
Fax: +81-75-935-6141
[email protected]